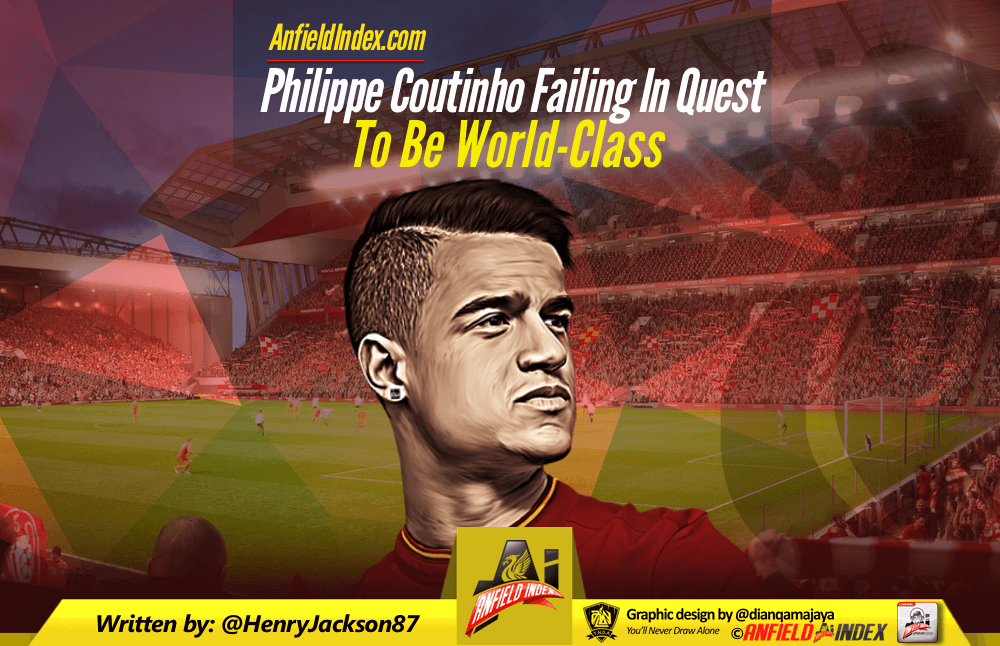 Philippe Coutinho Failing In Quest To Be World-Class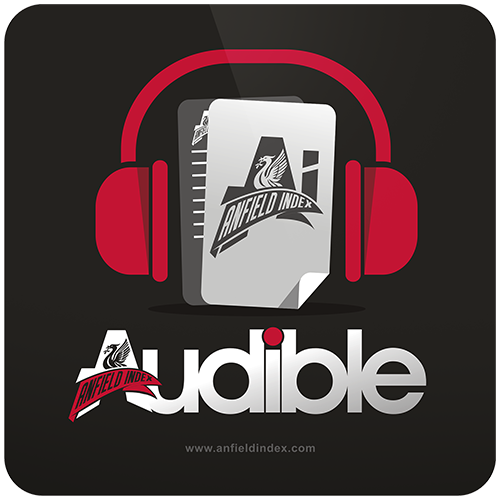 Listen to this article via @AIAudible !
What defines world-class? Every football supporter has a different way of seeing it.
To some, it is only those truly elite players like Lionel Messi, Cristiano Ronaldo, Luis Suarez and Neymar, while others could name 100 who fit into that bracket.
For me, it is someone in and around the top 10 players in the world in their respective position – someone who produces the goods almost every week and rarely hits a genuinely poor spell in form.

Manuel Neuer, David de Gea, Gianluigi Buffon and Thibaut Courtois in goal; Diego Godin, Sergio Ramos, Leonardo Bonucci and Gerard Pique at the back; Luka Modric, Toni Kroos, N'Golo Kante and Sergio Busquets in midfield; the usual suspects in attack.
This is a selection of those I consider world-class, but one man I cannot add to that illustrious list is Philippe Coutinho. That is tough to admit, considering I adore him approximately 90 per cent of the time.
In general, the Brazilian wizard has been a superb signing since arriving from Inter Milan back in January 2013, and he has grown in stature since making his debut as a prodigious 20-year-old.
No player barring Luis Suarez has been more of an attacking talisman for Liverpool in the past four years, with Coutinho scoring a number of both crucial and wonderful goals. Man United, Everton, Man City, Chelsea, Arsenal and Tottenham have all felt the wrath of him at some point.
His loveable, almost child-like personality also makes it extremely tough not to warm to him, and he carries himself with a certain class both on and off the pitch.
When everything clicks, he is nothing short of exceptional, and there have been times when he has been bordering on the Premier League's best player. That definitely applied earlier this season, when everything he touched turned to gold.
Since then, however, Coutinho's form plummeted, and not for the first time in his Anfield career.
The injury picked up against Sunderland in November certainly hasn't helped, but it cannot be used solely as an excuse for some worryingly limp performances.
The 24-year-old has played 12 times since his return, but it is very difficult to think of one occasion when he was excellent.
There were bits of magic against Tottenham and Arsenal, but others were far better, while his lovely finish against Leicester was a consolation goal on an otherwise dismal night for the South American. That remains his only goal since the 6-1 win over Watford back in November.
Sunday's 2-1 win over Burnley signalled Coutinho's poorest showing of the season to date, and to see him deservedly hooked after 60 minutes for 17-year-old Ben Woodburn summed up his current struggles.
Nothing he did came off, and there was a lethargy to his effort levels both on and off the ball that actually left you slightly angry. Jurgen Klopp was absolutely right in taking him off. 
Perhaps I am doing the Brazil international a disservice, with some of the opinion that he could be struggling on with an injury. For all I know, that could be the case, but we have seen him dip like this too often in the past.
Despite winning Liverpool's Player of the Year award twice, he has not yet delivered a campaign of total consistency and world-class brilliance. This is why he is below the Premier League's very best in Eden Hazard, Alexis Sanchez, Diego Costa, Kevin De Bruyne and Sergio Aguero. 
There always seems to be a drop-off point – a point when his attitude and fight look questionable, his decision-making gets slower and sloppier and his shooting becomes irritatingly erratic.
World-class players don't do that.
On another Liverpool site, which I won't mention for fear of being hung, drawn and quartered by Anfield Index's big boss man Gags Tandon, someone hit the nail on the head with Coutinho. He can never influence a game when he is having an off day. Instead, he can almost feel like a hindrance.
The great players still produce the goods when they have been having a shocker for much of the afternoon. Look at Sadio Mane, for example – not world-class either – who always scares the opposition regardless of how badly he is playing. He is more important to Liverpool than Coutinho, and this has something to do with it.
You can often tell very early on whether Coutinho is at the races or not, and if he isn't, that rarely changes for the rest of the match. Believe it or not, he can actually be a disruptive influence when at his worst, which is so frustrating when you consider what an unbelievably gifted player he is.
Before this sounds like I am hounding Coutinho towards the nearest exit door, I must stress how integral he remains to this Liverpool side, and how many great memories he has provided us with since his arrival.
On his day, which happens a lot more than it doesn't, he is the Reds' most gifted, influential player, and he would stroll into Barcelona's current midfield. Part of me wonders whether his mind is already at Camp Nou, by the way.
Few players in the league can make the game look more simple and fun than Liverpool's number 10, and he is someone rival supporters purr about more than most. Every fan of the fellow top teams in England would do unthinkable things to have him at their club. 
With his 25th birthday still three months away, Coutinho should still be regarded as a relatively young player who has plenty of time to become world-class.
He cannot currently be classified as that, however, and he won't be until he can consistently string together top class performances and avoid these all too regular slumps and pesky injuries. 
We are all looking for a Suarez, Steven Gerrard or Fernando Torres figure to be the undisputed main man at Anfield – someone who everyone else can invariably turn to and know he will bail them out if things aren't going to plan.
Coutinho should be that man by now, but unfortunately, he isn't.
Up next for the silky forward is a trip to the Etihad to face Man City on Sunday afternoon – a place where he enjoyed one of his greatest Liverpool performances, in the 4-1 win last season.
We need to see the return of that magical, match-winning Coutinho who was receiving endless plaudits back in the autumn, and see him stay at that level for a sustained period. Only then can we think about calling him world-class.
Like a slightly overly-critical father at parents' evening, I just want to say to him, "you're absolutely brilliant Phil, but both you and I know you can be even better."