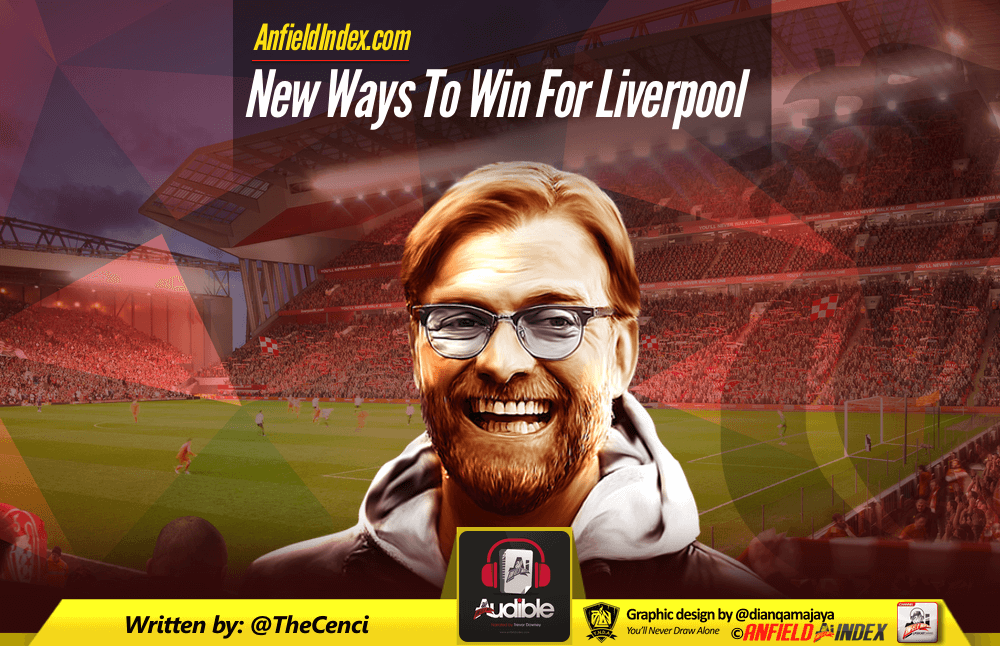 New Ways To Win For Liverpool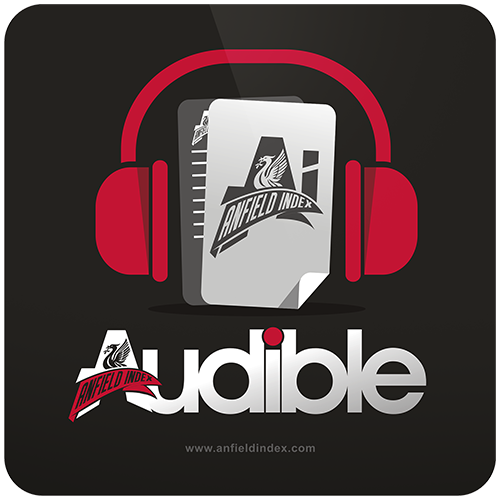 Listen to this article via @AIAudible !
There isn't much to be said for getting old.
As the years roll by certain truisms land and hit you in the solar plexus. For example, it is looking increasingly unlikely that I'll ever play centre mid for Liverpool. Oh, don't give me that 'if you just go to the gym a bit more and stop eating cheese' nicety, it's just not happening. Liverpool have yet to give a debut to a 48 year old. It's time to let the dream die.
Nor will I ever manage the Reds, or be drafted in to Jürgen's staff ('We need someone who knows about Britpop, Herr Coppack'). In fact, my only role at Liverpool is one of a paying customer and talking about them to anyone who'll listen.

But there is one thing us grey and bald types have. Something you young shavers cannot claim.
We've seen things.
I can remember Liverpool winning the league at Molineux in 1976. I was seven years old. I remember watching us in Rome in 77. I know exactly where I was sitting when the radio said we were buying Kenny Dalglish and I saw the 1979 side –our greatest- play the Liverpool way.
As I grew older I started to witness the important incidents first hand. I was 17 when we won the Double – the perfect age for unlikely romances. I was on the Kop for all but one game of the mercurial 1987-88 season when John Barnes invented perfection. He was yards from me when he celebrated that QPR goal. I was in the ground that day, breathing the same air. I lived it.
And, of course, I've sat through years of dross. Late Houllier, late Rafa and Roy Hodgson.
With age comes experience. I have to remind myself of that when I read online comments during our games. Not everyone has seen the things we have and it must rankle. Mind you, at least they can stand up or sit down without emitting a low, constipated moan. Jesus, my back's giving me gip today.
This brings me to Burnley and the reaction to it. The narrative lies around the words 'winning ugly' and how we need to do that more often, but for me it felt like nostalgia. Like a firing synapse. Remembrance of Shit Games Past.
Yes ladies and gentlemen, pray charge your glasses and join me in a toast to the Shit Win. My God, it's been a while.
You can claim that as 'a game where we dug in' or 'one where we showed character' if it makes you happy as any judgment is coloured by the safety of three points, but let's be honest here, it was dreadful and Liverpool were hopeless. Fearful tosh all round. If the Arsenal game was Definitely Maybe – full of energy and vigour, then that nonsense was Be Here Now – the bloated, phoning-it-in follow up which reminded the world that we're not as good as we thought.
See, Jürgen? Knowledge of 1990s albums. Just keep it in mind.
That was dross. Absolute arse gravy. The football equivalent of Two Pints of Lager.
From Klavan and Matip pretending they'd never seen a ball before to Emre's whatever-you-want-to-call-his-first-half-performance to the second worst midfield display at Anfield in living memory (Liverpool 0 Arsenal 2 – September, 2012), we simply stank the ground out.
We give a goal away – a pretty decent one, I thought – but still seem to think that a high defensive line is a good thing. We try to wrestle the ball in midfield, but Emre and Lallana's boots are the weight of neutron stars. We try to overrun them in wide areas but are just so inept that the Clarets are thinking about grabbing a second and resting people for their next game.
Then came Gini and we remembered who we are or, at least, who we can be.
That goal felt like a release and it was one against not only Burnley but the people who conceded the points earlier in the week. Those who said a defeat was inevitable. Those who expect shit losses rather than the loving hug of a shit win. God, they annoyed me.
Don't get me wrong, I'm no Pollyanna. I know how these things go. Eight years ago this week Liverpool scored eight times against Real Madrid and Man Utd in the space of four days. Our result before that? A defeat to Middlesbrough. Yep. We've got previous. I get that.
I too can look at the wins against Tottenham and Arsenal and wonder how the same set of lads can come up with the depravity of the Hull and Leicester performances, but come on. Let's give up when the game is over, not while we still have a half to play.
The only way to reverse that seemingly inevitable is to confound the narrative and drag the team with you, not sit and wait for the net bulge and celebrations far off.
Of course, once they scored it was a race to be the first to say 'I told you so.'
I appreciate that I'm a bit odd in this regard. When we're two down at Leicester I keep thinking how great 3-2 was going to be. Ever the optimist, I was looking forward to the second half when the Reds would come out angry and right the vicious wrongs of the first 45 minutes.
I felt no smugness at this win though, as it came from a man I just fail to understand. I can't make Emre Can out. He's either very good indeed or one man stuck in a pantomime horse costume trying to do star jumps. It was a lovely goal and he should be doing more of that, but he's a player to which the word 'logic' seldom applies. Still, he beat his own level of self-confidence and took a shot where the safer ball was on, so that deserves praise. Oh, and thanks for the points. Should say that.
The 'shit win' is a rare sight these days. I can't remember the last time we played so poorly and fell over the line, but there was a time when you'd see them regularly. It's a myth that the best Liverpool years were a never-ending display of dominance reminiscent of the early 70s Ajax team or the Brazilians at their best. Every now and then we'd come off the pitch with a dodgy win and rueful grins.
Example (and namedrop): During Rafa's final last season a few of us got to meet him after a win at Bolton – a game where their manager, Owen Coyle, inexplicably wore shorts in both the dugout and January. We watched Rafa conduct a live TV interview where he talked about a good win from a hard battle. When the cameras were off he asked if we enjoyed the game while contorting his face into that of a man who had swallowed a pint of vinegar and Tabasco sauce. It was an absolute stinker and he knew it for what it was. But, y'know, three points.
2003-04 was the season for the shit win. We were atrocious throughout the run-in but somehow managed to lose only two of the last eleven games – one of which was Thierry Henry, who battered us – but somehow crept into Champion's League qualification. We did pretty well in that competition the following year so that awful final game against Newcastle (anyone there should look into starting a support group) was the price you paid for Shevchenko's missed penalty a year later.
I just wish we, as fans, were not so polarised in our views at times. We're not the worst side in the world despite Hull, Wolves and Leicester, nor are we the all-conquering legion which the performances against the big boys suggest. More than anything though, I'd like us not to give up – both on and off the pitch – when precedent dictates that we'll struggle. Not everything is dictated by the Gods on Mount Olympus. Sometimes we can control our own fate.
Just a thought.