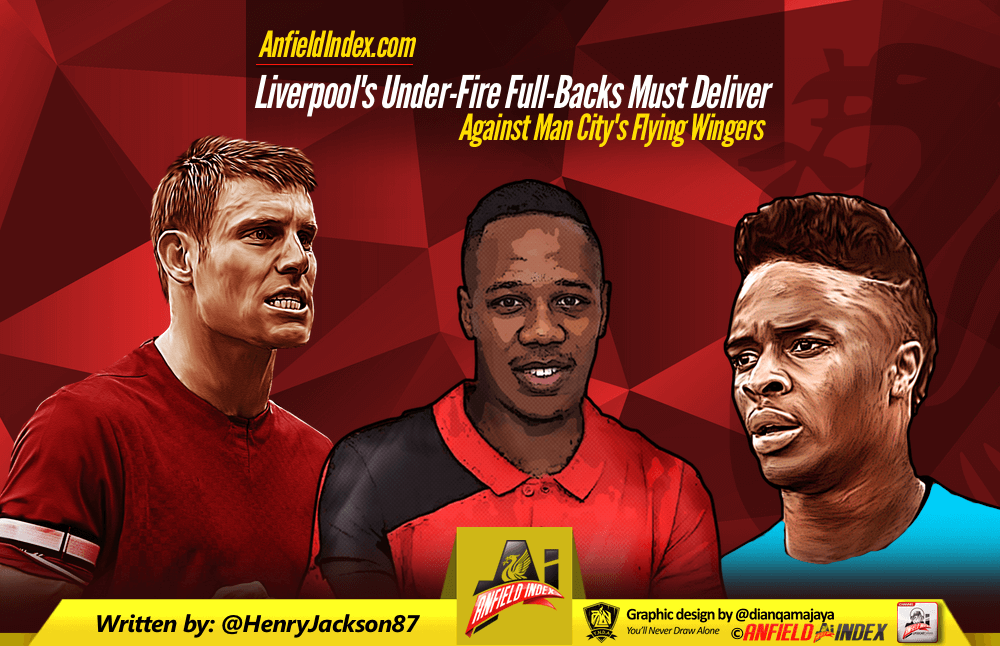 Liverpool's Under-Fire Full-Backs Must Deliver Against Man City's Flying Wingers
Few players are less fashionable in the modern game than Nathaniel Clyne and James Milner.
In an era when Football Manager, FIFA and statistics-based websites such as Squawka and WhoScored allow any football fans to proclaim themselves experts on any player across Europe, who really cares about two functional English full-backs?
The snobbery against British players can become a little tiresome at times – just imagine how much more praise Adam Lallana would receive if he was Spanish – but one thing than cannot be argued is that Clyne and Milner are not performing, and haven't been for some time.

Earlier in the season, when Liverpool were flying, the English duo were key, in-form cogs in the wheel. Clyne was at his unflustered best, defending impeccably and linking up effectively with Sadio Mane down the right flank, while Milner was thriving in a new left-back role.
There was plenty willing to ridicule Milner as a disaster area from minute one, which all seemed rather needless, but he shut them up and added plenty down the left, in tandem with Philippe Coutinho.
Since the turn of the year, however, both Clyne and Milner's form have fallen off a cliff. That applies to many players, in fairness, but they are not the type you necessarily expect to dip so dramatically.
We all know that Coutinho and Emre Can can blow frustratingly hot and cold, and that Roberto Firmino occasionally forgets how to control the ball despite his ridiculous talent, but the Reds' full-backs are meant to be a couple of Mr Reliables.
This has not been the case for some time, though, with their respective struggles hampering the team's progress and casting doubts over their place in the side.
Clyne has remained largely good in his defensive work, but in the attacking third, his end product has been woeful. He looks like someone who is having to think about his every decision, and far too many crosses are aimless and lacking trajectory. 
Milner, meanwhile, has gone from skating across the pitch in the pre-Christmas months to running through treacle, and at 31, he is really starting to show what 15 years at the top level can do to a player. Just ask Wayne Rooney.
Like Clyne, his crossing is too unreliable, and while he does offer intelligence and link-up play on the ball – see Mane's goal against Arsenal as a good recent example of his attacking input – he is starting to look close to the defensive liability that Alberto Moreno is. Teams are targeting the veteran, and any winger with pace scares the life out of him.
This brings us to Sunday's eagerly-anticipated Premier League showdown between Liverpool and Man City, which has 'Game Of The Season Contender' written all over it.
There are key match-ups all over the pitch, but it is impossible to look at what City's wingers could do to Clyne and Milner and not be deeply concerned.
Leroy Sane and former Reds hero-turned-villain Raheem Sterling have been in increasingly blistering form this season, with the City twosome making a strong case to be considered one of Europe's most devastating young wing pairings.
They possess pace, skill, movement and intelligence in abundance, and their ability to interchange with the likes of Sergio Aguero, Kevin De Bruyne and David Silva make them even more of a handful. 
Pep Guardiola will surely be licking his lips at the thought of his two speedsters going at Clyne and Milner, with their confidence high and Liverpool's full-backs very much the opposite.
Clyne is less of a worry than Milner, without question, but he does seem to be a confidence player, and he has been troubled by sheer pace and directness in the past. Anthony Martial stands out, in that respect, during last season's Europa League clash against Man United at Old Trafford. 
Sane is one of City's most important players at the moment, and if Clyne fails to thwart the young German's attacking thrust and fails to make him track back the other way, it will give Guardiola's side immediate impetus.
Milner vs. Sterling was one of the highlights of the New Year's Eve clash between the sides, but things have changed since then, when the Reds man comfortably came out on top. 
While Milner's form and legs have deserted him in worrying fashion, Sterling has gone up a gear and is now really looking the part in a City shirt. He is a fantastic player, and there should be no shame in admitting that, regardless of how he left Liverpool in the summer of 2015.
He also won't be playing at Anfield on Sunday, where he has gone hiding on both occasions since returning there as an ex-Red.
Aguero will, as always, be a nightmare for Liverpool's defence, and the stupidly-talented midfield of Yaya Toure, Silva and De Bruyne have the ability to dictate any match, but Sane and Sterling up against Clyne and Milner feel particularly key to the final outcome.
Clyne and Milner are not bad players, in fact, they are very good ones who have played many times for England between them, but they are a long way short of their best right now.
Calls for Clyne to be replaced by Trent Alexander-Arnold for this match are too knee-jerk, despite the teenager's superb performance for the U23s on Monday night, but the 25-year-old's all-round game needs to improve this weekend, especially when he has the ball in key attacking areas. 
Milner has to use all of his experience up against his former Liverpool and England teammate Sterling, but with little help likely to come from Coutinho, it could be a long afternoon. Moreno is an option to bring in instead, but Klopp is still showing faith in his ageing utility man.
Clyne and Milner may not be the solution moving forward – Clyne is a good right-back on top form but is far from perfect, while Milner needs to become a squad player – but for now, their top level is very much required, as Liverpool look to seal a top-four finish.
This improvement must start on Sunday up against City's young wingers – if it doesn't, things could potentially get a bit ugly at the Etihad.