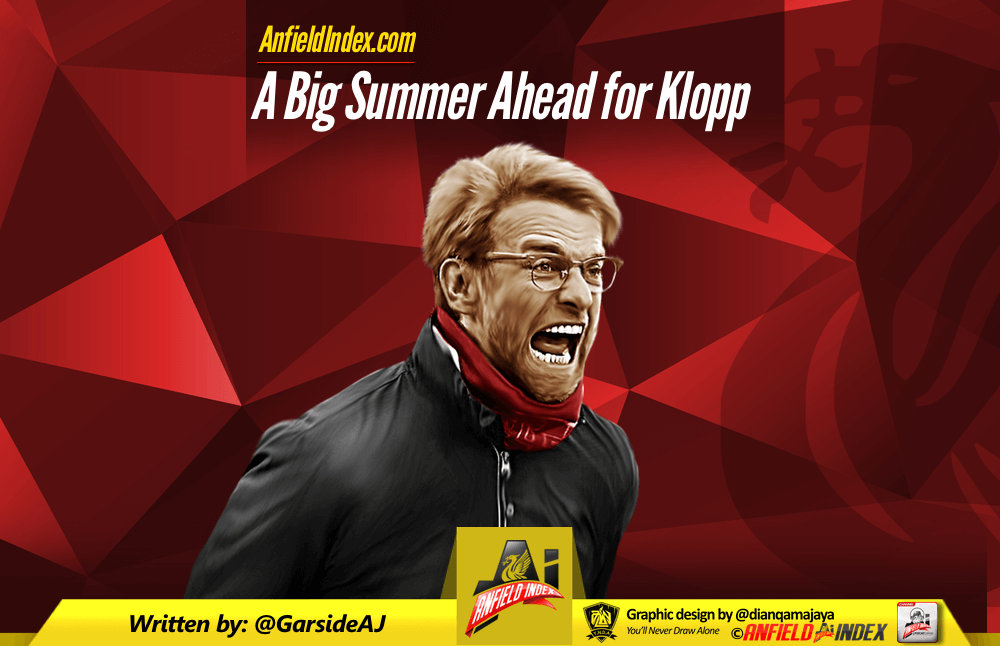 A Big Summer Ahead for Klopp
Since the turn of the year, Liverpool have been inconsistent at best; the Reds have played well in getting results against the big teams (beating Arsenal and Tottenham Hotspur, and taking points off Chelsea and Manchester United), but have struggled against the lower-ranked sides (losing to Swansea City and Hull, failing to beat Sunderland, and even last weekend's win over Burnley wasn't pretty).
This is Klopp's biggest problem, as it was Rodgers before him, and Dalglish's before that. It could be said that it's been our biggest problem since we last won the league title nearly thirty years ago; we find it hard to play against teams that sit back and invite the pressure.
Klopp expressed his delight after Sunday's win over Burnley, in his post-match interview with the BBC's Mark Chapman, Mark Lawrenson and Chris Sutton, the German said "In the end I liked it – this is the kind of game we haven't won and we did".

Briefly looking at our final ten games, Klopp will be optimistic of securing a Champions League spot for next season, and so should Reds fans. Our next two matches were the hardest of our run-in in terms of opposition; we earned a draw against Manchester City on Sunday and will now host Everton in the first game after the international break.
Our remaining eight games are home fixtures against AFC Bournemouth (14th), Crystal Palace (17th), Southampton (10th) and Middlesbrough (19th) and trips to Stoke City (9th), West Bromwich Albion (8th), Watford (13th) and West Ham United (11th). Personally, I don't think it is unreasonable to expect us to go unbeaten in those final ten games, to ensure that we secure Champions League football at Anfield again next season.
So long as that objective is attained, Klopp will have achieved his goal for the season; I have always said that this season's aim is to finish in the top four and be playing in Europe in September. We looked like having a shot at the title at Christmas, but a horrific January left us nowhere near close enough.
We have so often seen how big the burden of playing in Europe is. Our title challenge of a few years ago was only possible because we didn't have the European distraction. The Liverpool squad, as it is right now, is only just about strong enough to be fighting in domestic competitions. If we were to go into next season, complete with Champions League football, with the player roster we currently have, well, I don't think we would progress out of the group stages in Europe and our league form would suffer greatly – injuries would be more frequent, and therefore the squad would be hit harder.
As a life-long Liverpool fan – admittedly that's only 18 years, and I know that some of you reading this may have followed the Reds for two, three, four times that long – I know that domestic success is incredibly important to this club and its fan-base, but my earliest memories of watching Liverpool are those Champions League games in the 2004/05 season. I think if we are in Europe, we have to put our heart and soul in to it, and everyone knows, there's no better atmosphere in the world than Anfield on a European night.
I believe in Jurgen Klopp. I believe in his ideas, his philosophies, his plans. However, I believe that for the 2017/18 season to be a success, Klopp needs to invest heavily in the summer transfer market. FSG need to trust him and give him the funds to spend on the players than he wants in this club.
I'm not sure that there is one particular area in which we need to strengthen. There is quality, or at least potential for quality, in every single area of the squad. We have seen flashes of brilliance alongside the errors from both Loris Karius and Simon Mignolet; Joel Matip looks like one of the best ball-playing centre-backs in the division, but doesn't have a partner; Nathaniel Clyne is strong on one side of the defence, but playing a midfielder at left-back was never going to last even with James Milner's passion; Georginio Wijnaldum looks a clever buy, along with the robust Jordan Henderson and creative Adam Lallana; Philippe Coutinho has struggled to get back to top form since his injury, while Sadio Mane and Roberto Firmino don't play to their full potential every week.
In my opinion FSG have no option but to give Klopp a couple of hundred million pounds to spend in the summer if they want the team to be successful next season. There is no doubt that we need a quality left-back, but someone who can do the business now, not in a couple of years; my suggestion would be Tottenham's Kieran Trippier – I know he isn't a left-back, but when he plays for Spurs, he is consistently one of their better players and I'm sure him and Clyne would both be capable of playing at left-back to the same high standard that they play on the other side.
As for the midfield and forward line-ups, I think the quality is there, but just not the depth. As with every transfer window for the last half decade, we will be linked with Mario Gotze and Marco Reus in the summer; neither of which – in my opinion – would leave Dortmund to re-join their old boss. Bayer Leverkusen's Julian Brandt has showed what a fantastic footballer he is in this season's Champions League, while Lyon's Alexandre Lacazette will again be linked with a switch to Anfield in the summer. Meanwhile, rumours have recently surfaced stating that Klopp is interested in RB Leipzig trio Naby Kieta, Emil Forsberg and Timo Werner.
Whoever Klopp decides to spend money on this summer, let's be in no doubt that it is vital that he buys players in the summer, but those players must be the right ones for him and for the club. Next season will be Klopp's toughest at the club so far, expectations are getting greater all the time, especially with the form of the first half of this season.  But to have any hope of meeting those expectations the German needs to strengthen the squad in the summer.
It will undoubtedly be his most important transfer window in charge of the Reds, and quite possibly the most important of his career so far.