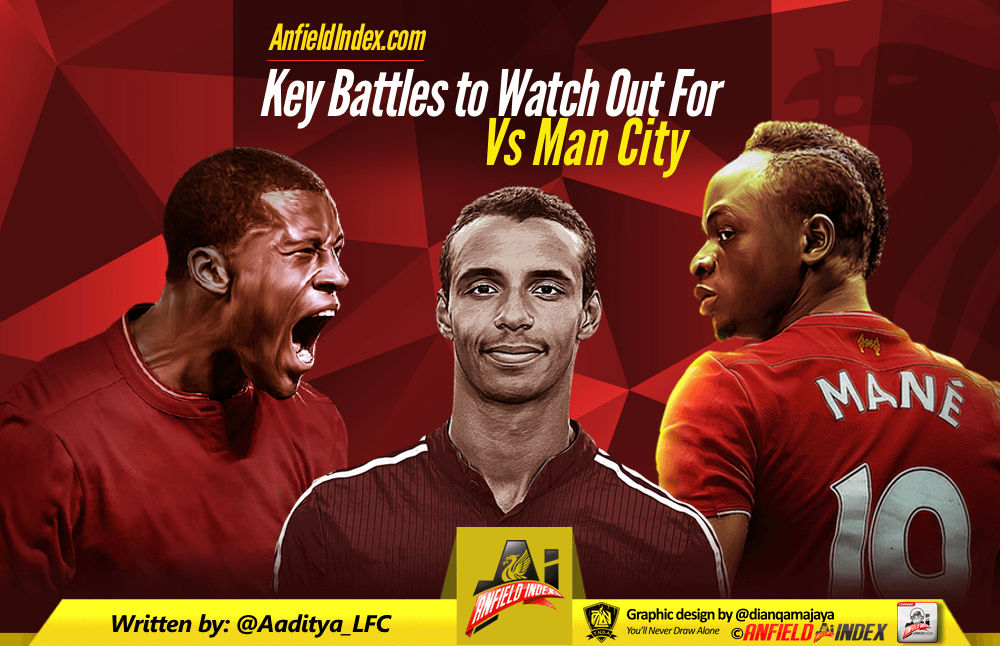 Manchester City v Liverpool Preview - Key Battles
Liverpool have back-to-back Premier League wins for the first time in 2017. If ever the Reds needed a boost in confidence ahead of a daunting trip to the Etihad Stadium, the games against Arsenal and Burnley have provided just that.
Pep Guardiola's side will be still nursing their wounds from Wednesday's humbling Champions League exit in Monaco. The Spaniard will no doubt be under pressure, as his first season in the English league increasingly threatens to go haywire. City are not guaranteed qualification for next year's Champions League add to that the four teams in the FA Cup, all from the Premier League top-six, and it could well end up being the Citizens' worst season since the big money Abu Dhabi takeover happened.
For Liverpool, the motto will be "more of the same". In the context of the mini-league between the top-six, Jurgen Klopp's side has the most points. The Reds are unbeaten against any of those teams, and Sunday's match will represent the last of our games against them.

Here are some key individual battles to look forward on Sunday.
Sergio Aguero v Joel Matip
Matip will, in all probability have Dejan Lovren, his regular centre-back partner, by his side on Sunday. (I cannot believe I am saying this.) Liverpool's defensive record when Lovren hasn't played has been abysmal. He has his fallacies and chooses to exhibit them at the most inopportune of moments, but Lovren has forged a partnership with Matip that has looked capable of getting the job done.
But, the German will have huge responsibilities on his shoulders. He was signed as the leader of the defence, and he has looked the part for the majority of his stay. On Sunday, the challenge for Matip will be as tough as they come in the Premier League.
In general, it hasn't mattered how Aguero played in the games leading up the ones against us, but always was a thorn in our flesh. In that way, his recent struggles should mean nothing. With players like Aguero, it just takes one moment, one touch of the football to get that mojo back.
Matip has a huge responsibility because City's attacks generally start from the wide areas, and with both full-backs looking suspect recently, he cannot afford to let Aguero get into positions where he can get on the end of crosses.
As with any partnership, the communication between Matip and the rest of the back four will be imperative to a good performance. The movement of Aguero, Leroy Sane and *He who must not be named* is unpredictable and rapid.
If there is even a momentary lapse, City will pounce.
David Silva v Gini Wijnaldum
Liverpool's smiling assassin has happy memories of Sunday's opposition. On New Year's Eve at Anfield, it was Wijnaldum's goal that separated the two sides.
Wijnaldum is in good goal-scoring form recently too. He popped up with goals in both of Liverpool's previous two games. They were typical Wijnaldum goals as he ran into the box late, and found himself on the end of crosses.
But, it is not all rosy. Wijnaldum is one of the weirdest Liverpool players I have seen. His output and general performances see a huge contrast between the games played at Anfield and the ones played away. That is something I will never get my head around.
For City, the midfield they played at Monaco was the subject of immense debate. They went in with one destroyer and two attacking midfielders in the centre of the park, in an attacking approach, and it spectacularly backfired.
But, one thing for sure is that whatever system Guardiola opts for, Silva will feature in it. The attacking side of his game doesn't need any more talking about. So that will be Wijnaldum's first concern. With the movement of City's attacking players, the back four will need as much support as they can get from the midfielders. Emre Can's form is uncertain too, and that means Liverpool would need the strength of numbers while defending.
Silva's vision means he doesn't need too much to create a chance, so Wijnaldum's big duty would be to not let Silva any freedom on the ball.
The best way to do that is to take Silva to the other end of the pitch, by bombing forward at every available opportunity. Attack must be the best form of defence for Wijnaldum.
Gael Clichy v Sadio Mane
Even when the Reds were dismal in the first half against Burnley, Mane was not entirely quiet. He seemed to be trying a little too hard to make things happen if anything.
It is rather plain that Liverpool's biggest weapon to utilise the pace of the Senegalese forward is to release him in behind at every available opportunity. And it is bloody darn potent!
Against Clichy, it will be a good battle for Mane. The Frenchman is experienced and isn't a slouch either. And that is where Nathaniel Clyne becomes important. Clyne's tragic brain-deadness in the attacking third is so annoying to watch, especially as, a lot of times, it kills the momentum built by Mane.
For Liverpool, it will be important to give Clichy something else to think about, just to distract him from the threat posed by Mane.
Even in terms of our defending from the front, Mane will be critical. Both Roberto Firmino and Adam Lallana will run their hearts out, it is important that Mane backs their press up, and doesn't leave them on their own.
He has been our player of the season so far. In what probably is our biggest game of the season, he will need to show everyone how good he is.