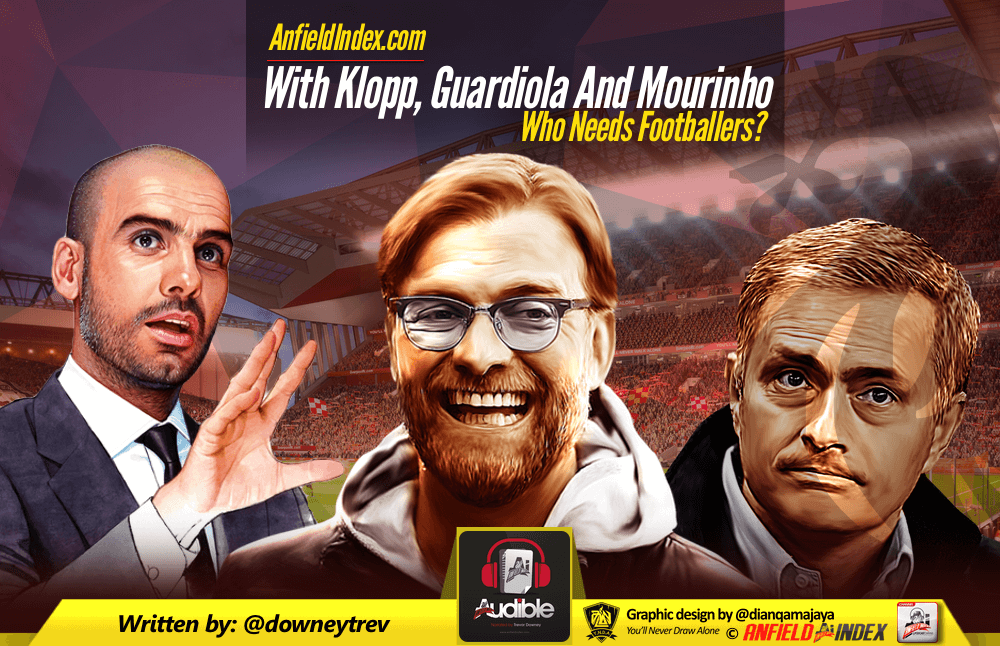 With Klopp, Guardiola And Mourinho, Who Needs Footballers?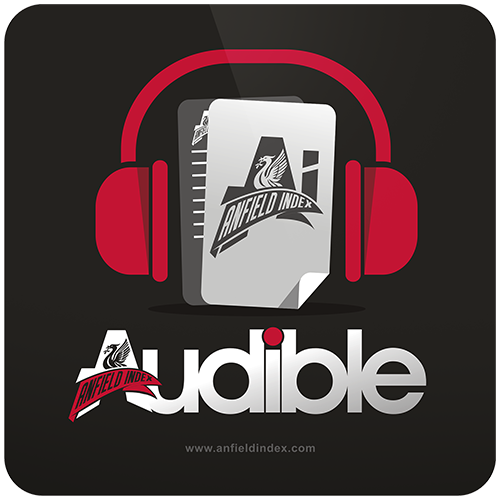 Listen to this article via @AIAudible !
Predictably, there's been quite the response to Liverpool's away point at the Etihad on Sunday evening. As ever, one needed to be circumspect in one's choice of outlet for news/opinion, as so much of what is uttered about the Redmen can be discounted as either one-eyed agenda-driven guff or bland anodyne piffle. Equally predictably, this column will eschew the divisive in-house stuff and try to mine some rare delight from the weekend's proceedings, even if it must be by way of the lampooning of rivals.
We begin our story at the Riverside Stadium, the scene of a momentous paradigm shift, as Manchester United surged forward in the table, shrugging off the shackles that had tethered them to 6th place and striding majestically forwards to the lofty perch of 5th spot. The impact of such dizzying forward motion seemed to discombobulate the Red Devils' surly Portugeezer, Jose Mourinho, who lost the capacity to recite the alphabet in the correct order.
Speaking of his squad's abilities, the noted eye-gouger employed a splendid metaphor in order to elucidate the complex workings of his mind for the common man. "We don't have a, b, c, d, e, f and g….but we have l, m, n…s, o, b," he revealed. And with that heads nodded in concurrence everywhere, but perhaps not for the reason Mou intended. There is certainly, we all thought, no shortage of s.o.b.s in Jose's band of brothers.

https://twitter.com/empireofthekop/status/843756560220372992
What, friends, would constitute the greatest day of your life, professionally speaking? Presumably, for the aforementioned United gaffer, that magical day of a full sequential recitation of 26 letters still lies ahead. But what would it be for you? The big bonus? The move to the corner office? The lunch with the renowned head-hunter promising a position with full dental cover AND petrol vouchers?
As a teacher, such yardsticks of achievement are outside of my experience and yet it was with some satisfaction and recognition that I listened to multi-millionaire fellow baldy, Pep Guardiola, speak about how the attainment of a point at home to Liverpool was amongst his "happiest days as a manager."
You see, often it will not be the class of high achievers whose exam scores will delight me, but rather the passing grade of the journeyman student for whom simply getting through the experience without failure is a triumph. Similarly, Guardiola, a serial winner of major trophies, with some 21 of them in his personal collection, was genuinely thrilled by the attitude of his team, who shrugged off their humbling Champions League exit to perform excellently against Jürgen Klopp's Reds and claim a creditable point.
The Catalan touchline schemer, who was also unnervingly emphatic in his extolling of John Stones,' erm, 'balls,' during his post-match press conference, betrayed his sheer joy at the fact that his team had not buckled, despite the consistent threat of Liverpool's formidable attacking prowess. It's a different kind of pride and one that will endear him to his club's fans in the way that Klopp's regular utterances have made a generation of Liverpool fans lionise him.
For this columnist, the most outstanding moment of the match was not Adam Lallana's physics-defying miss, nor was it Yaya Touré's thoroughly unpunished and comically awful assault on Emre Can, nor even the silencing of the Blue Moon boo boys by Liverpool's walking jawbone, James Milner. No, the true moment of magic in this encounter was the delightfully animated high-five hybrid shared between the two managers.
Lurching towards Klopp in protest at another dubious referee's decision, Guardiola affected the gait of a man channelling John Cleese in Monty Python's Ministry of Funny Walks. As he closed in, his outstretched hand was offered in an animated expression of cordial exasperation. Now, you know you've strayed into the realms of the extreme when your behaviour seems to vaguely intimidate even Liverpool's German mentalist, and Klopp's wary reaction speaks volumes. Of course, the absolutely absurd padded anorak worn by the City boss probably didn't help.
After the match, it was a treat to see these two icons of modern management warmly embrace and display their mutual respect. In an era more notable for sullen posturing and solipsistic whining amongst the managerial elite, it was pleasing to see these men engaging in a more dignified and relatable form of rivalry.
Everyone loved #Pep #Guardiola's high five with #Jurgen #Klopp pic.twitter.com/LsedEt5aAP

— Yariga.Net (@Yarigakurdish) March 19, 2017
Elsewhere, this type of continental frivolity was given the short shrift by that other giant of the modern game, David Moyes, whose Brexit-infused management style was in full effect when, in an attempt to claim a home point against a Burnley side with a thoroughly dismal away record, he decided to dispense with any Johnny foreigners in his engine room as he "thought the game might suit more Britishness in the middle of the pitch." The scoreless draw was duly secured and the bulldog spirit prevailed. Well played, sir. Well played.
Finally, with the news that Liverpool's playing staff not involved with international teams will be jetting off to Tenerife, you can expect the usual suspects to bombard you with detailed analysis of the bike rides to training and the tremendous japes that will no doubt occur. Here at Latest News, we hope you'll also visit these parts for a slightly askance look at events on Planet Liverpool. It's the news, Jim, but not as you know it.