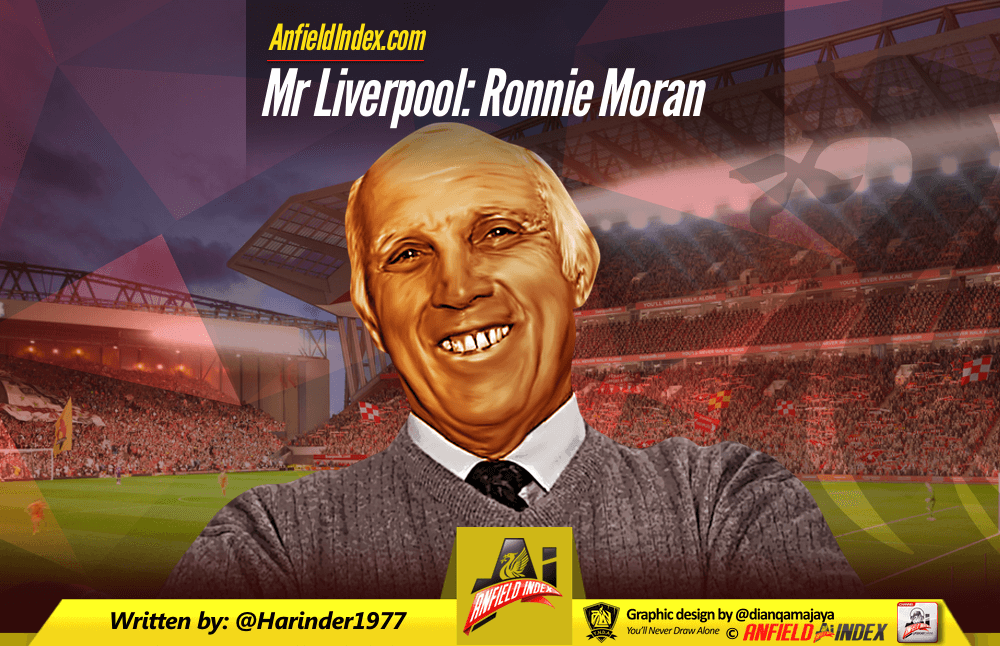 Mr Liverpool - Ronnie Moran
It's never easy writing a tribute when someone's no longer around. You think of all the things you want to say or should have said such that should the person you're writing about read it, they'd do so with a smile on their face until the very last word. Writing when the person's gone only leaves a hollow that forever will remain empty.
The smiling, shining demeanour of Ronnie Moran is one that will stay forever. 44 trophies over 50 years and I'd have an immovable grin too. I've only ever known Ronnie from afar like most folks. Everything we've either seen or read of him eulogises a person who lived and breathed Liverpool Football Club. You could say "we've seen things they've never seen" could encompass so much of this man given his esteemed time in association with Liverpool.
This is a man who had been there from player to coach, even manager twice. From Shankly into Paisley, Fagan into Dalglish then Souness and Evans/Houllier before retiring. A foundation of the infamous boot room, the stories of his moaning and maintaining discipline will echo long after we are gone and so they should… he is Mr Liverpool after all. The placing of medals in a cardboard box and Ronnie saying "Pick one if you think you deserve it" epitomises to me his real nature of keeping everyone grounded. In that lies some of the treasures of what made us so successful over the years and how fitting it is to know that Ronnie Moran endeavoured to make sure everyone coming into Liverpool knew it. Just ask Robbie Fowler about getting told off for not scoring 7 against Fulham! This is a man who Ian Rush was afraid of even before he met him. There are many stories so this shouldn't serve as a regurgitation of them. What I would say though is to make the effort to seek them out. This is a man who was everyone's reality check. This is a man whose unfaltering commitment to our club must never be forgotten – we may not see this again.

There are no doubts in my mind that Ronnie Moran gave me the happiness of seeing us win so much. The onset of dementia meant that he may have forgotten things that made the people happy. The numerous photographs being shared now at his passing show a glimpse of a character that will forever be synonymous with forging that will to win and to do and be better. That fabric is sewn into every nook and cranny of Melwood and Anfield because the likes of Ronnie Moran made it happen. Without him we wouldn't be half of what we became. With his legacy, I hope we go on to become that force again.
Paul Dalglish nails something really important in King Kenny's autobiography. It makes for prophetic reading:
"….being taught how to live the Liverpool way. Bill Shankly created it, Bob Paisley, Ronnie Moran, Joe Fagan, Roy Evans, Tom Saunders and my dad preached the sermon. I was very fortunate to be given the opportunity to learn these values from the great men themselves. I have always tried, and always will try, to live my life the Liverpool way."
There is no journey more poignant to show "The Liverpool Way" than that of Ronnie Moran. Many of us are parents and introducing our club to our children has many paths and passages to negotiate. When my daughter is old enough, I'd simply show her the life and times of Ronnie Moran. He was there at my beginning with my love for this club, his memory will be there throughout until my end.
My final words are what I would love to say to him repeatedly:
"We cannot think of a time where we haven't known you to be part of Liverpool Football Club. We've seen you take the sides of Kings whilst we humbled all those who challenged our throne. We've seen you guide new and upcoming lights into the path of becoming great Liverpool players. We've seen you smile with trophies, medals and always with a cuppa in the boot room. We will forever see you smiling upon our club.

 

With you we've never walked alone. Some people don't know what a legend is. If ever the word needed a definition, it would be you."
Rest in peace, Ronnie Moran.