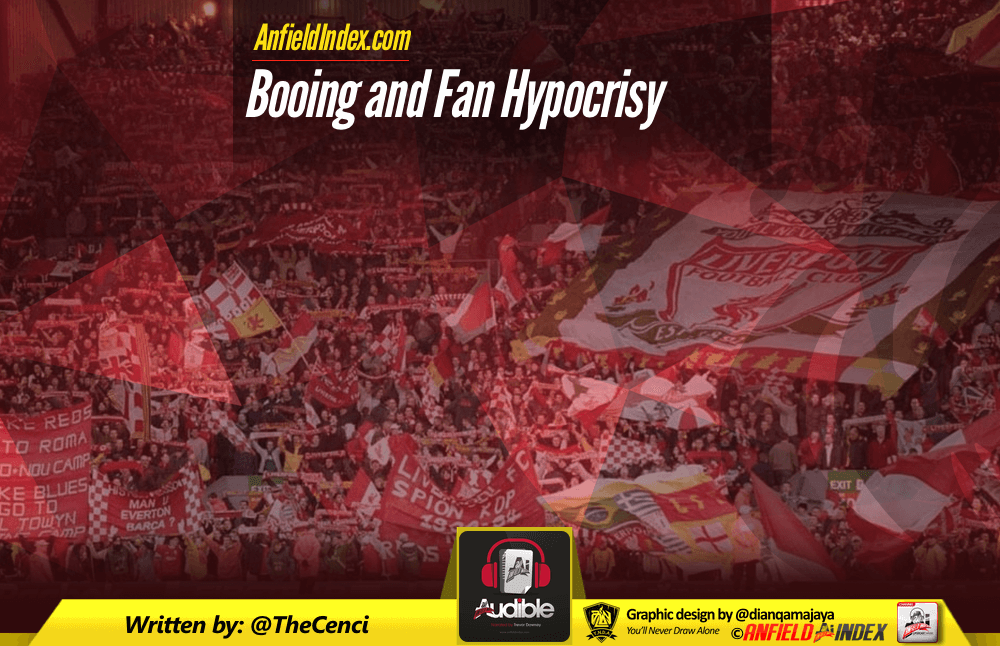 Booing and Fan Hypocrisy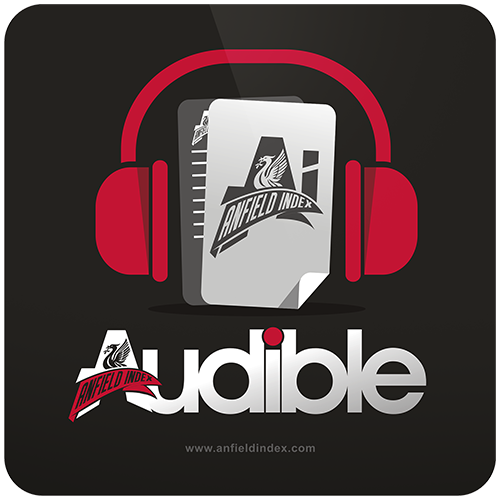 Listen to this article via @AIAudible !
Football fans are hypocrites. Downright hypocrites.
Yes, you! I'm talking about you. Specifically you. You more than most.
Not me though. I'm pure as the driven snow.

What has driven me to this tirade? It's this.
On Sunday afternoon, in the hammering rain of the Etihad, Liverpool's left-back was booed. People actually contorted their faces and made a sound they probably haven't used since the last time they watched a pantomime. His crime? Touching the ball. Booed.
Just think about that for a second. Booing. I'll never get it. How can you possibly do it and not look and sound like a dickhead? What a ridiculous action.
So, why is this your fault? How does this make you a hypocrite?
Well, if you were, like me, one of the perplexed Reds who looked confused at City's treatment of Milner and somehow thought yourself above it, I would like to gauge your reaction to the following names.
Michael Owen
Raheem Sterling
Fernando Torres
Well, okay you probably didn't boo, but you may have hissed. Well, okay, not hissed but you probably mumbled 'that gobshite' or something similar. It may not be booing but the principle is the same. One day they played for you and wore your shirt and the next they're little more than footballing toejam.
Incidentally, I'm alright with Raheem. Given the dross he had to play with in his last season he can hardly be blamed for fluttering his eyelashes across the M62. Michael Owen though. Michael 'the brand' Owen? Never forgiven, but never booed either. I'm not twelve and this isn't Snow White.
When I first heard the Milner booing I cast my mind back to April 2014 when Milner came on as a half time substitute for City at Anfield. We were two up by then and relatively comfortable (I say 'relatively' as my heart was leaping around my rib cage as I clung onto people in the Kemlyn Road stand) but the Yorkshireman's arrival invigorated City and both he and they battered us for the next twenty minutes. He was all-action for City, hardly a titty-lipped sulker, so why boo him?
Well, I suppose it was because he was good and they took umbrage when he wanted to move to us. I can understand that. Our outrage at Fernando Torres' departure was publicly due to his destination, but in reality it was because we knew we'd lost a genius with only David Ngog as a replacement before Suarez and Carroll came in. You give voice to your dissatisfaction if your former loved ones are now capable of hurting you. Torres only did so once – the breakaway run for Chelsea's 2-0 win which cost us the league and, even then, the game was all but over.
Look what happened when he left Chelsea. He came back for the charity game, we sang his name and all is forgiven. Hotsy totsy again (thank you P.G. Wodehouse). We let him off now that he was no longer a threat.
We booed Raheem but mostly because his agent is a tit.
Every fan cites themselves as barometers of fair play. We all like fairness and are quick to judge if, say, Fellani or Costa swings an elbow or Lee Cattermole goes through his man, but are strangely silent when our lads do it.
I'm all for needle. If anything the modern game is far too comfortable and nice. This won't sit well with many but I'm a big Anders Herrera fan, for the very reason that most hate him. He's an absolute gobshite. A sliver of ordure, a louse, a cheat, a fraud and a liar. He'll roll around on the floor feigning injury and do all he can to get his fellow professionals sent off. My sort of player.
How can this be, Karl? What about the Corinthian spirit and the Liverpool way?
Case: Emre Can's booking against Arsenal. Remember it? They'd broken on the left and pushed men into the middle leaving us hurtling backwards as we were overran. Their lad skips past Emre and can't be tackled so what does he do? He throws his hip in and takes him out in a beautiful act of casual violence. It's exactly what we needed and, though illegal, it was all I could do not to celebrate it like a goal. Is it okay to approve of that just because he represents me on the pitch? Yes. Well, no, but, as I say, we're all hypocrites.
Then there's Suarez. Ah, Luis. Let me count the ways.
He'd sell his own mother to move a free kick five yards up the pitch. Remember that incident at Carrow Road when he went down injured, noticed that we had a break on and then leapt to his feet? I loved that. He didn't care what people thought of him just then. He just wanted to gain an advantage for Liverpool and I'm all for that.
Don't get me wrong, I'm not suggesting we only buy snide bastards, but the game has always had dark arts. The inability to manage the referee has done Liverpool untold damage over the years. I want Jordan to be in his ear constantly. I want that edge. Any footballer of the time will tell you that Kenny Dalglish whinged at the ref from the second he stood on the pitch. Was anyone in L4 calling him a snide?
But, back to the booing. It's the greatest compliment you can pay a player as no one boos the inept when they move on. If anything we go the other way. We call players 'legends' merely because they once wore our shirt. Even Nick Tanner was called one a few weeks ago and some of you may have to look up his Wikipedia page just to see who he is. I shouldn't bother if I were you.
If James Milner decides to drop down the leagues and returns to the Etihad in a cup tie for, say, Leeds he won't be booed as it's unlikely that he would be able to ruin their day.
It's just all a bit stupid. All a bit wrestling with its staged fights and panto villains. Harmless, I suppose, but just strange. Dislike him all you want if you boo you might as well shout 'I have a mild dislike of you' as they're hardly going to be affected by such a polite barb.
No player deserves all-out hatred. After all, they're just men playing football in a variety of different shirt colours. They're human beings and are allowed to work wherever they want. Let's just remember that.
Apart from Michael Owen. I'll never forgive him. Boo yourself hoarse if you've a mind to though, I won't as I'm above that sort of thing.
As I say – hypocrites.