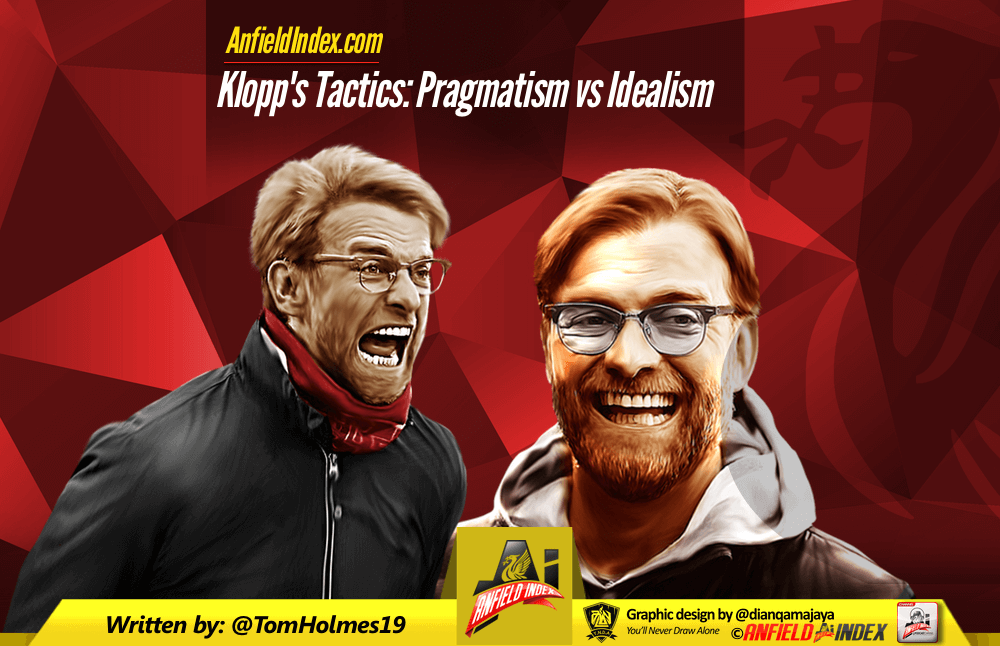 Klopp's Tactics: Pragmatism vs Idealism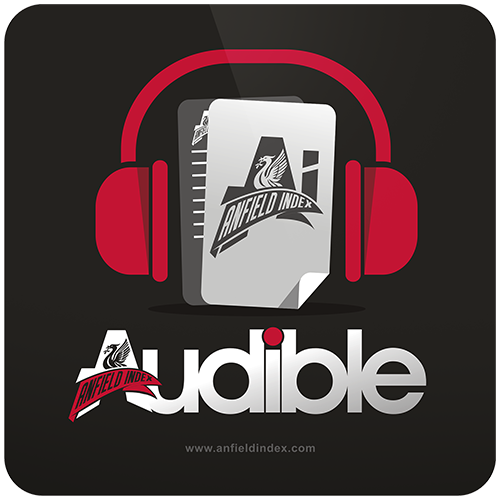 Listen to this article via @AIAudible !
Jürgen Klopp has a footballing style and philosophy that he sticks to very rigidly. His high-pressing, high defensive line, fluid forward line 4-3-3 has been the default for him this season. However, there have been times when the style, the formation, and most importantly the tactics, simply haven't worked for Klopp, and his tactical stubbornness, and dedication to his philosophy have been an issue for Liverpool this season.
Whilst Liverpool's poor form against smaller sides in 2017 has a number of reasons behind it; a lack of squad depth, too many players hitting poor runs of form at the same time, and injuries. Nevertheless, the biggest cause of their problems has been Klopp's tactical inflexibility. The old adage of "teams have worked them out" has certainly come into play, with the 3-1 defeat to Leicester being the prime example of this.
Off the ball, Liverpool rely on two basic principles: pressing hard and fast to close down the opposition, and playing a high defensive line. However, this is easily bypassed by long, direct passes, played quickly enough to avoid the press. By playing the ball back to the goalkeeper or centre-backs, who have enough time to launch it, Liverpool's attempts to close off the passing lines are neutralised by the ball bypassing their midfield entirely.

This neutralisation of the press prevents Liverpool from counter-attacking through quick turnovers in the opposition half, which is a key part of Klopp's attacking philosophy. By preventing Liverpool from winning the ball high up the pitch, you neutralise one of the key elements of their attacking play, which means it's harder for the team to score goals.
But the real issue with this is the compromising of the high defensive line, particularly into the left hand channel, which is where Hull, Leicester and Burnley have all exposed Liverpool. Holding a high defensive line requires pace to prevent the running in-behind but also excellent organisation and a goalkeeper quick off his line to sweep.
All of these have been a massive issue for Liverpool in recent weeks. Klopp has been unable to get two central defenders playing together consistently all season, which means that communication errors are rife, such as the poor defensive line that led to Burnley's goal. But the bigger issue is that it's far too easy for players to simply run in behind that left channel, filled by either Milner and Lucas, or Milner and Klavan. Against Hull, one simple kick into the opposition half was enough for Niasse to break past Lucas and score, whilst against both Burnley and Leicester, Emre Can was forced to essentially drop into a back three to neutralise that threat, so dominant were Vardy and Gray in those channels early on.
This is both a tactical and a personnel problem. Joël Matip has no issues covering runs in behind, but the net result is that teams largely bypass him too, picking out the left side of Liverpool's defence as the weak link and exposing it, because neither Klavan nor Lucas are strong at tracking runs in behind, and Liverpool's line is too high for Mignolet to effectively sweep from his starting position, which is itself far too deep. There is a gulf of space between defender and goalkeeper and nobody fast enough to stop reasonably quick attackers from exploiting it.
This brings me back to the issue at hand, Klopp's tactical inflexibility. This issue has been prevalent for months now, but Klopp has done nothing to correct it. He attempted a three at the back against Leicester but that brought its own problems. Moreover, he promptly returned to the same tactics against Burnley, a situation that Emre Can took it upon himself to remedy, which Klopp himself pointed out after the game had its own problems: when Can fell in to plug the gap there was a massive hole in defensive midfield, and this forced Liverpool to play it long as there was no way to link up the play through Wijnaldum and Lallana.
The reason that it's so easy to counter-attack against Liverpool is that Klopp only plays with one defensive midfielder, and with full-backs who bomb on and play like wingers at times. So in essence, Liverpool only have two or at most three players back defending. A simple ball can bypass Henderson or Can in the defensive midfield area and suddenly it's two on two and Liverpool don't have good enough defenders to cope.
So what should Klopp do? Well this is the issue at hand. Pragmatically speaking, Klopp needs to change something. However, on the other hand, Klopp has worked to build a fully functioning system. He cannot change or scrap that system just because it's not working. Klopp sees Liverpool as a project, and it's a project that is only in its first full season. Klopp spent the summer building up the system and attempting to patch the holes in it; buying energetic midfielder Gini Wijnaldum, picking up Matip who is the perfect defender to fit this system, and of course buying a flair player who can add some cutting edge in Sadio Mané. As such, we can say with reasonable certainty that in the summer Klopp will plug the holes in the system further.
But a good summer spend requires Champions League football. And currently, with nine games to go, Liverpool still need around six wins to secure that top four spot. We have reached a critical point in the season, where ideology, where the system being everything, might need to transition into an attitude of points first, philosophy later. It could certainly be argued that the damage done to Klopp's project by not making top four would be far greater than the damage done by abandoning the ideology for half a dozen games or so.
The counter-argument is that it simply isn't that simple. Whilst minor tactical tweaks, such as playing an extra defensive-midfielder or playing a more direct striker instead of Roberto Firmino are very much accommodated, fundamentals such as gegenpressing or the high line, even if they aren't necessarily working, are too bedded into the team, and Klopp's system, to be scrapped. Klopp has been accused of not having a Plan B, but coming up with a functional Plan B at this stage of the season when Plan A isn't working isn't as easy as clicking your heels and plucking one out of thin air.
One way to fix the system without making a major change is to make personnel changes. There are a core of Liverpool players who only operate well when the system does. Roberto Firmino and Adam Lallana are the best examples of players who are incredible when the gegenpressing is allowed to work, but their entire games are neutralised when the gegenpress doesn't work. Both have been awful in 2017 but the argument for keeping them in the team is how well they fit Klopp's system. So rather than changing the system itself, by removing players who can only operate well when the system does, replace them with more direct, powerful players, who have other strengths and can function even when the system hasn't. Both Emre Can and Georginio Wijnaldum have found ways to play well when the team isn't in recent weeks, and Divock Origi is a natural striker who can add more goal-threat.
Nevertheless, the issue remains. Should Liverpool be playing a high defensive line when Ragnar Klavan doesn't operate well in it? Should Liverpool continue to focus on pressing when teams can simply neutralise that tactic? Do Liverpool need to find a more direct way to play, and a better way to defend against this kind of opposition? Certainly playing Jordan Henderson and Emre Can together would help, as Can could drop into the channel to help Klavan and Milner without compromising the defensive midfield area.
So perhaps the answer is to find a balance between pragmatism and idealism. Whilst Klopp's ideal system is simply too imbedded in the players, and too valuable to his project to undermine them, even in the short term, that doesn't mean that Klopp cannot be more pragmatic. Dropping players that are integral to Klopp's style is pragmatic, but it doesn't necessarily undermine the style itself.
But again, even these minor pragmatisms are things that Klopp simply does not like to do, which brings us back to two key points that have been the same throughout Klopp's reign. Klopp is stubborn, and Klopp is often surprising. The logical thing that appears obvious to fans is often ignored by the manager, and the majority of the time, he produces the goods. Henderson as a DM? Inspired? Milner as a left back? Worked much better than expected. Firmino as a false nine? Produced inspiring football in the front half of the system.
And now that stubbornness is on the other foot and appears to be backfiring. But we can't have the best of both worlds with Klopp. Klopp is the coach that he is because he is a stubborn, dedicated manager, who believes in his own philosophy and wants it implemented by the right people. We can't keep that when it produces results and want or expect Klopp to be someone else when it doesn't. This big question, this reflection of pragmatism vs ideology is as much about Klopp the man as it is the system that he's implicating.
And whilst pragmatism may be the way forward, that isn't Klopp's style. And the reason Liverpool fans are currently excited for the future is because of Klopp, and his idealism. So if it's a bumpy ride until the end of the season, we have to trust Klopp to make the right calls. He's surprised us before after all.