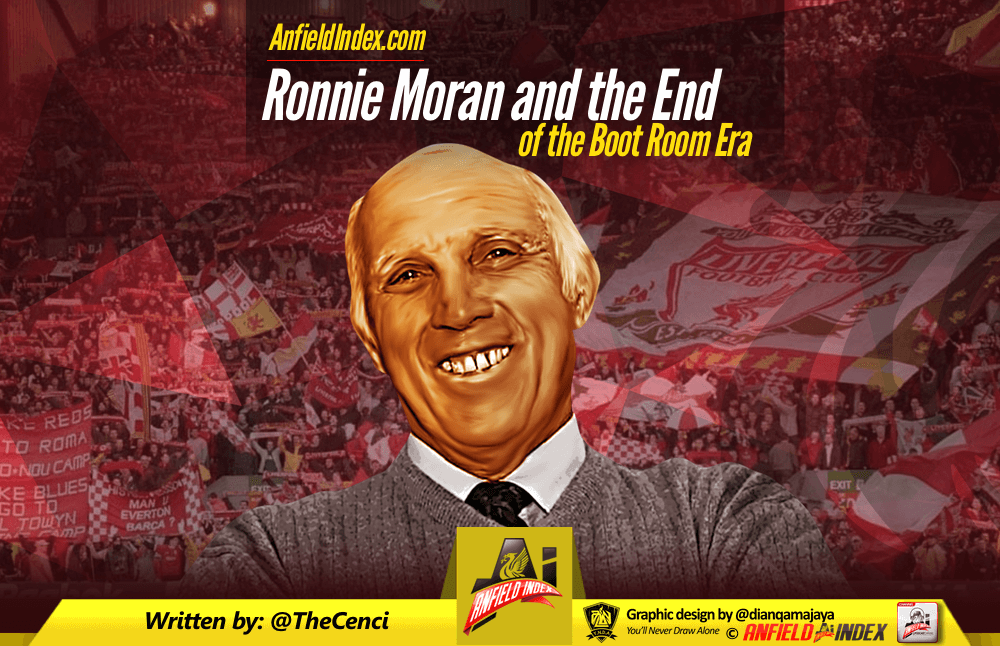 Ronnie Moran and the End of the Boot Room Era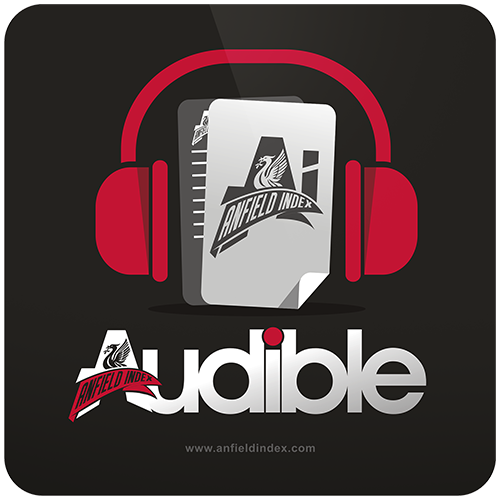 Listen to this article via @AIAudible !
With the passing of Ronnie Moran last week another guy rope was cut from the current Liverpool set up and the Boot Room age.
The death of 'Bugsy' was felt keenly by those fortunate enough to witness the glory days of LFC. For many of us he simply was LFC and the sight of him in the Anfield dugout, roaring at the players was a welcome and heart-warming one – a weekly reminder that the club was in good hands and that, no matter how successful they were, there was always a stern, sarcastic man on the sidelines keeping them grounded.
No good can come from death, of course, but it was a delight to read some of the stories from those whose ears he'd bashed over the decades. Many, such as admonishing five goal teenage hero Robbie Fowler for missing an easy chance to score a sixth in a League Cup tie with Fulham, have long entered Liverpool folklore as it is but new Moran stories are always welcome. I hadn't heard one of how, in 1983, new signing David Hodgson answered back during a typical session of Ronnie constructive criticism. Moran stared at him silently for a while before damning him with a simple reply of 'Well, you won't last long here, will you?' He didn't.

If his main task was to keep the greatest players of their generation honest his second was to somehow convince people that their signature on a contract did not necessarily mean that they had arrived at Anfield stardom. No one escaped his barbs regardless of status. Phil Thompson, who practically used Ronnie's hard and humorous approach to training as a handbook, said that he 'moaned day after day' and there were times when the players hated him, but the respect never waned.
In fact, a player knew he was in trouble when Moran left him alone. Jamie Redknapp tells a story of how he grew sick and tired of having Ronnie up in his face all the time so went to speak to John Barnes. Digger told him he was lucky. 'He's not picking on you — it's because he likes you and he wants to make you better, and the day he stops either means he's given up on you or he thinks you're now a player.'
This wasn't just simple Drill Sergeant work. Anyone can stand on the side of a pitch and shout but this was different. Ronnie Moran knew his stuff and there was a reason he was an adjutant to both Shankly and Paisley for so many years.
He played for the Reds at full-back on 379 occasions, retiring after the infamous Inter Milan game in 1965. Shankly saw his leadership qualities and wisdom and put him on the training staff for his knowledge more than his attitude, though that certainly helped.
His philosophy was one of simplicity. When Steve Nicol scored a hat-trick from right-back at Newcastle in the 1987-88 season, Moran told the press that he had not been told to play so high up the pitch nor was he told off for trying something new. Nicol had just worked out that there was space for him to play as the beleaguered Geordies were doing all they could to double up on Barnes and Beardsley. He was right and the Reds won 4-1. Of course, as 'Bumper' walked into the dressing room with the match ball his trainer told him that it would be the last one he'd ever get. As ever, feet had to be kept firmly on the ground, hat-trick or not.
It would be too easy to use a man from a bygone age to beat today's footballers – not just our own – but I do wonder how he'd feel about working in today's climate. I'm enjoying the image of him wandering over to talk to Mamadou Sakho or Mario Balotelli or others with an inflated opinion of themselves. This was the man who told the great Jan Molby that he would only get a pre-match massage when he'd earned one. Lord knows what his view would have been of Salif Diao and Bjorn Tore Kvarme being on the 'Legends' team last Saturday.
Hardly Salif or Bjorn's fault, of course. They were asked to play and were good enough to give their time to a noble cause, but this is an age where the terms 'former Liverpool player' and 'Liverpool legend' are synonymous. Is, say, Javier Manquillo a legend too? Just as likely given the worship former players receive nowadays.
The Boot Room era may be over but maybe younger readers may now realise just why some of us were elated with Jurgen binning Sakho. You don't take the piss at Liverpool, lad. You can have your own little cult and millions of followers on Instagram but the club always come first and you don't mess about with it. Klopp, like Moran had done before him, simply stopped the bollockings and let him be. You're not a Liverpool player if you're prepared to act like that, no matter how good you are or think you are.
Ronnie Moran epitomised Liverpool. Years of cold mornings and late nights, of wins and trophies along with heartaches (the corruption of the Inter Milan tie always stuck in Shankly's craw) and disappointments were etched into his being. He will always be Liverpool for me and a blueprint of what it is to support the Reds. Sometimes it's easy to be too cynical with the praise the players receive when we haven't won a thing for years, but his is the template for me and many like us. We have some good players, some great even, but in no way have they arrived. You need more than a first team shirt for that.
Rest in peace, Ronnie. Though you could not live forever, hopefully your standards will.