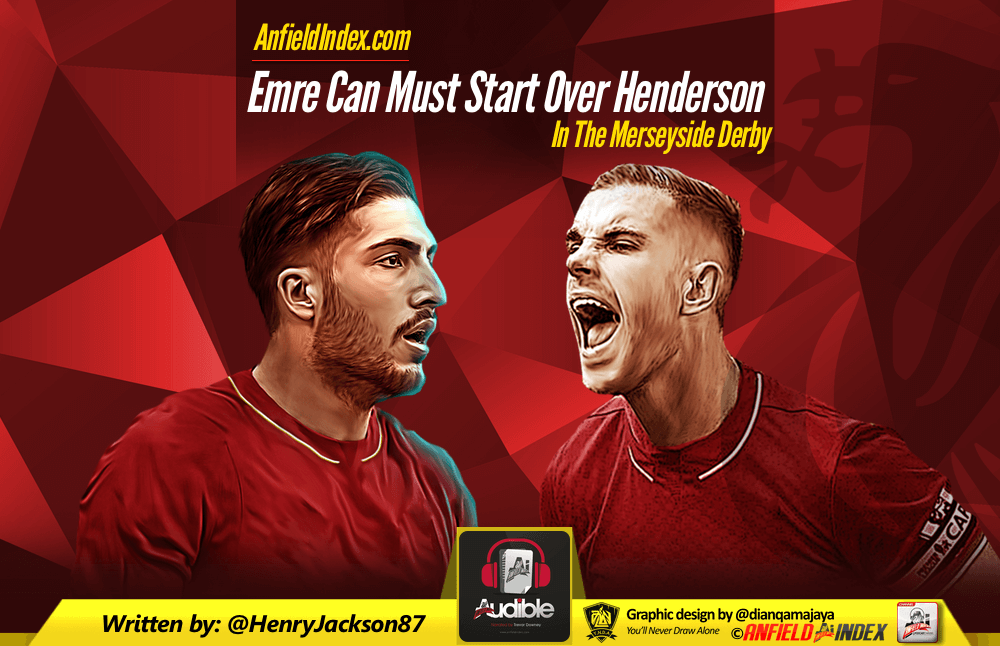 Emre Can Must Start Over Jordan Henderson In The Merseyside Derby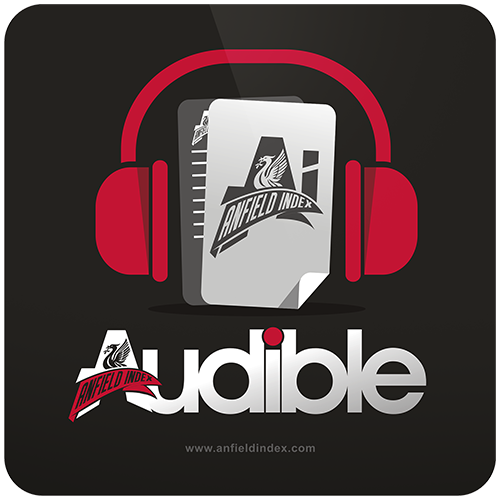 Listen to this article via @AIAudible !
Let me get this out of the way immediately: I think Jordan Henderson is a better player than Emre Can.
He is a more consistent, intelligent, mature footballer, and in most situations, if push came to shove, I would always pick Liverpool's captain over the talented young German.
The thing is, Saturday's Merseyside derby is not one of these situations, for various reasons. 

The Reds host Everton, in what should be an exhilarating Saturday lunchtime clash, with Jurgen Klopp's side knowing a win over their neighbours would be significant in their quest for Champions League football next season.
The pace of the game will be frenetic, tackles will be flying in and it is essential that every Liverpool player is right on the money.  
Henderson probably won't be, and Can more than likely will, and while the absence of Adam Lallana may potentially mean both starting, Klopp could easily use Philippe Coutinho or Marko Grujic in midfield as an alternative. 
Liverpool's skipper hasn't played since the 2-0 win over Tottenham on February 11th, with a foot injury keeping him out for longer than had initially been expected.
In that time, the skipper has often been missed a huge amount, but there have also been matches that prove he is not indispensable. He is not Steven Gerrard, at the end of the day, not that that should ever be used as a slight against him.
The 2-0 victory over Arsenal at Anfield and 1-1 draw at Man City both immediately spring to mind when discussing excellent Henderson-less displays, and Can was one of the best performers on both occasions.
Liverpool's marauding 23-year-old has deservedly received plenty of stick for many of his performances this season, but he is also worthy of a giant pat on the back for his recent form. We have suddenly seen more of the player who wowed us with his brilliance in the Europa League this time last year.
Sandwiched in between those Arsenal and City games was the win over Burnley, with Can's character shining through and helping him fire home the winner, in what was an ugly team performance.
With Can looking in confident mood for the first time this season, and in good physical condition, it would be an error on Klopp's part to relegate him back to the substitutes' bench this weekend.
It would likely damage his aforementioned growing self-esteem, and while replacing him may make sense in certain scenarios – if Henderson had been suspended instead of injured, I would definitely consider it – it would not be a shrewd move in the current situation.
What sense is there in bringing in an undercooked Henderson in a game when you simply have to be at the races, in place of someone enjoying their best spell of form for a year?
Can has finally got himself into a rhythm, shining at the base of Liverpool's midfield behind the thoroughbred-like Georginio Wijnaldum and silky Adam Lallana, and he deserves to keep his place with Henderson waiting in the wings.
Everton are expected to be missing both Morgan Schneiderlin and James McCarthy for the weekend showdown, taking a noticeable amount of bulk out of their midfield in the process.
This should provide Liverpool with an excellent chance of bossing things in the middle of the park, as long as it is Can and not Henderson who starts.
This is absolutely nothing against the Reds' likeable skipper. He is a player I have an enormous amount of time for, and have done ever since he moved to Anfield in the summer of 2011.
When fit and available, he is one of the first names on Liverpool's team-sheet, but a rusty Henderson is no good to anybody.
So much of his game is dependant on his energy and power, and as we witnessed last season, when that is taken away, he is half the player.
That could easily happen if he is thrown in against Liverpool's local rivals on Saturday, and because of Can's much-improved form, it simply isn't worth risking.
Once Henderson is back to his sharpest, Klopp will have a far trickier decision on his hands, but until then, Can should be persevered with. 
It may end up just being one game until that decision has to be made, with Henderson likely to be more ready for the trip to Stoke on April 8th – either way, Can deserves credit for giving his manager this selection headache.
Had this scenario occurred a month ago, there is every chance supporters would have been desperate for Henderson to be brought straight back in, but Can has knuckled down and stopped some of the endless negativity heading his way.
There is also the option of Henderson and Can both starting, with either Wijnaldum or Lallana dropping out, but this would likely affect the balance of Liverpool's midfield greatly, and would seem very harsh on whoever made way.  
Unless the returning captain displays some remarkable form in training this week, or Klopp gushes over his fitness levels, it is crucial he watches on from the dugout, with Can hopefully delivering once more in a big game.