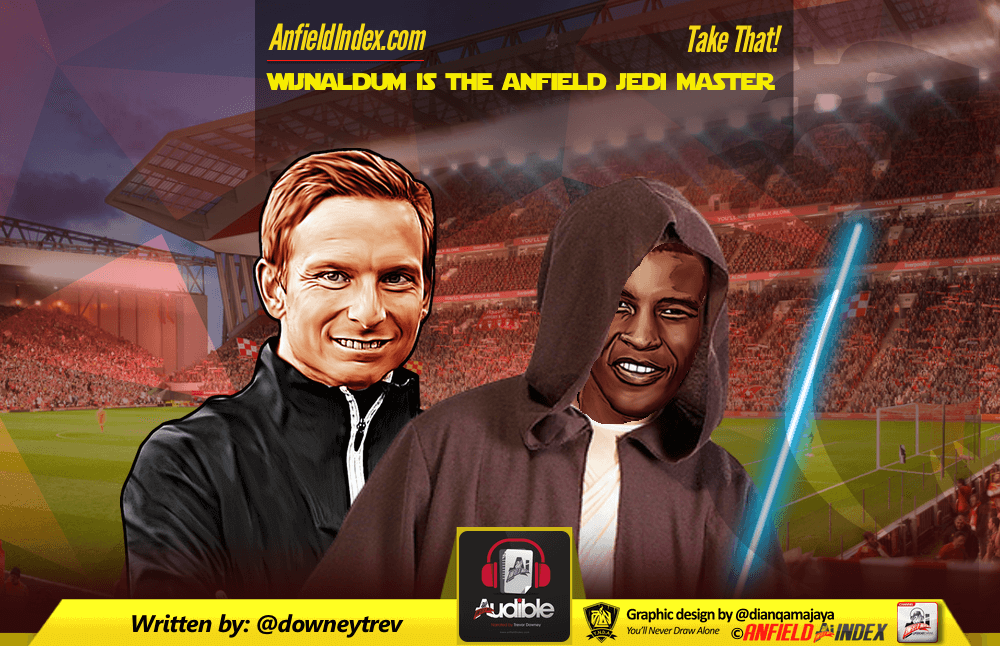 Take That - Wijnaldum Is The Anfield Jedi Master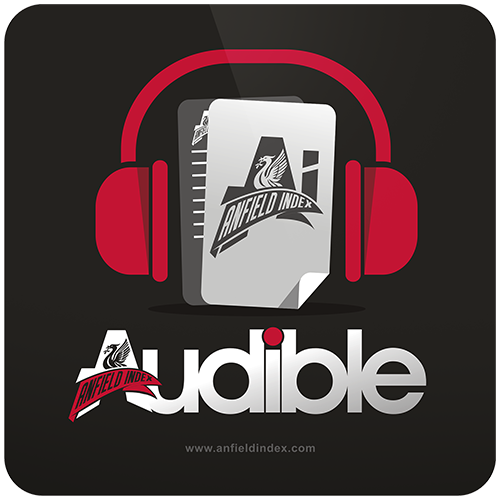 Listen to this article via @AIAudible !
Today, this columnist awoke to the revelation that tax avoidance guru and all-around blandness salesman, Gary Barlow, is set to feature in the next Star Wars movie, The Last Jedi. That's Gary Barlow, out of Take That. In Star Wars. As an actor. After repeated failed attempts at gouging out my own eyes with a spoon, in response to this 'news,' and with my pathetic efforts at self-immolation lacking a certain spark, I steeled myself against the day. This, however, was a highly inauspicious start and set me on edge.
Predictably, the unpleasantness was only beginning and coincidentally there was, again, a Mancunian flavour to it. Having tweeted something about watching the Oasis documentary 'Supersonic' and getting very caught up in the nostalgia, – I may have referred to the fact that Liam Gallagher is probably my spirit animal -, I was greeted by a barrage of sniffy comments and a mini-exodus of followers. I was pondering the fickle nature of my departed online chums when the woman in front of me in the queue for coffee informed the entire shop loudly that "the bastard machine is broken."
Thankfully, the soothing world of LFC-related trivia was a balm to my caffeine-deprived brain and it was with great enthusiasm that I read of Georginio Wijnaldum's interest in the welfare and advancement of Liverpool's developing talent. The Dutchman, it seems, is genuinely concerned with helping the club's youngsters to nurture their abilities and maximise their potential. Here is a man who would make an excellent Jedi master, passing on the ways of the Anfield Force to the next generation. Take note, Barlow.

"When I see a young player come into Melwood and speak to them about how old they are, how the early stages of their career are going so far and what they would like to achieve, I always think back to my own experience," Wijnaldum told Goal. "It reminds you of what point you were in your development then, what were the challenges and the lessons, so it helps when you give advice. What I like about them is that when you speak to them, they really listen. They are hungry for advice and it reminds me that now that I'm one of the older players having to speak to them and teach them."
It would be uncharitable to point out the particular glee that Wijnaldum seems to take in actually being listened to, but one is tempted to wonder if the poor guy suffers some kind of psychological bullying or exclusion in the big boy's dressing room. You're right, that's probably an overly jaundiced take on humanity. Bear with me, I haven't had my coffee, and, y'know, the Take That fella is going to be in Star Wars.
Far more likely is that the classy midfielder is simply a decent soul who likes to help people and his almost perma-beaming visage speaks to such a joyful engagement with life. Indeed, the man they call 'Gini' claims to be able to relate to the enthusiasm, brio and élan of his younger colleagues because they mirror's of the 26-year-old's own attitude to the game.
"I still enjoy football like I'm a kid, though," he averred. "I enjoy all the challenges and that we can all express ourselves individually, but in a way that makes the team better. That will never change for me and I hope the young players never lose that feeling too. When I met Pep [Lijnders] with Jürgen and spoke to him, he explained to me the club's vision for the youth and giving them the chance to train and learn from the first team. I was really happy about this because it is important for clubs to grow their own players"
The influence of Lijnders in helping to "grow" a new generation of Redmen is hard to overstate. Wijnaldum's compatriot has developed quite the reputation over his decade in coaching and recently admitted that he has understandable ambitions to have a top job in the near future. From PSV to Porto and now at Liverpool, Lijnders has emerged as a real talent in the coaching ranks but he claims that, despite the interest of certain clubs, his short term goal is to remain as part of Jürgen Klopp's team as the Redmen strive for success.
"This is not the time to think about the next step and personal project," Lijnders told Voetbal International. "I know about the interest of several clubs and appreciate this, but timing is important, as well as loyalty to Liverpool and Jürgen. My whole focus goes to assisting Jurgen. To compete in this intense Premier League, to fight for prizes and to give colour to the new generation of players. That (becoming head coach) is absolutely the ambition, but this season is probably too early. I am loyal and therefore it would be difficult to move away from Liverpool and this project with Jürgen after only one full year."
Staying on too long is always a mistake. The Gallaghers should have taken individual gold-plated jets to opposite corners of the globe after the Knebworth gigs. They'd have spared themselves the slow and painful destruction of their relationship and they'd have also spared us the bloated coke-addled monstrosity that was Be Here Now. Hopefully, however, there are some good years of collaboration ahead for Klopp and Lijnders – at least enough time to allow Wijnaldum to blossom into the Yodaesque figure he seems to be destined to become. Oh god, they'll probably get Barlow to play Klopp in the biopic, won't they?