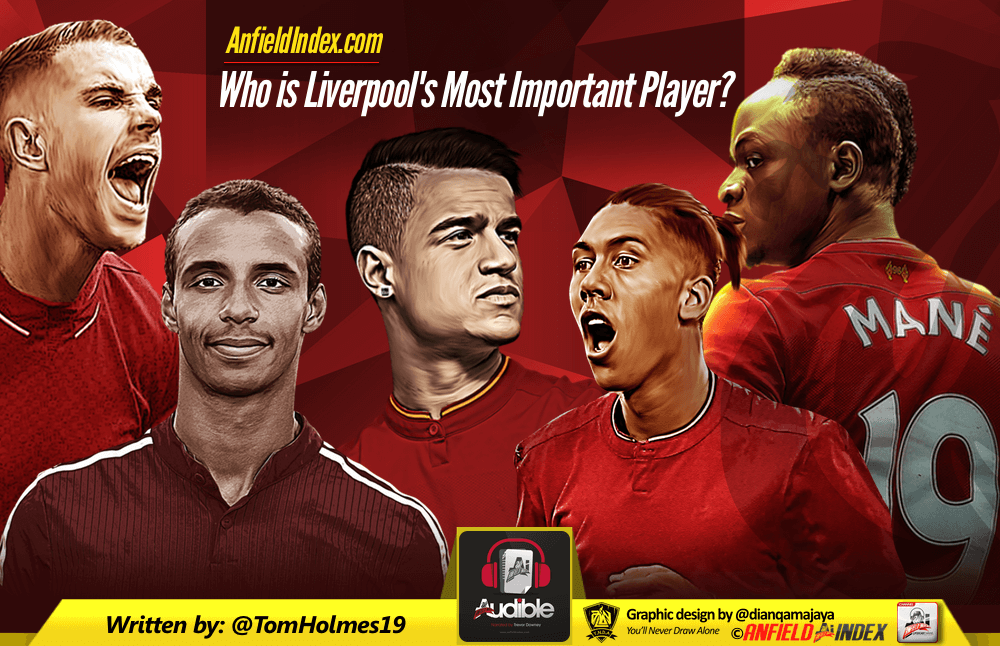 Who is Liverpool's Most Important Player?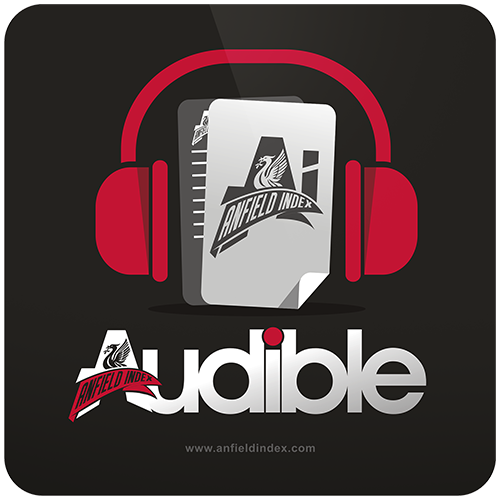 Listen to this article via @AIAudible !
One of Liverpool's problems this season has been squad depth, which puts an added importance to the team that features week in, week out. But which of Liverpool's players is the most integral to this team, both this season and looking forwards? This article will look at five core candidates from across the team to assess the question: who is Liverpool's most important player?
Philippe Coutinho
Liverpool's season can be split into two segments: before Coutinho's injury, and after Coutinho's injury. Coutinho was the catalyst for an incredible run of performances that saw Liverpool top the Premier League table in November, with debatably man of the match displays against Arsenal, Hull, Swansea, Man United, West Brom and Crystal Palace. Coutinho had five goals and five assists in his first eleven games of the season, and was on course to make Team of the Year, as well as suggestions that Barcelona would pay mega money to secure him.
However, since picking up a serious injury against Sunderland, Coutinho simply hasn't been the same, and his return to the side has seen his form fail to pick up, adding just two goals to his tally, despite having been starting league games regularly for the last two months.

If anything, Liverpool's patchy form in 2017, and since Coutinho's injury in general, merely underlines how important he is to this side. He has the most key passes per game in the side (2.1), the most shots per game (3.2), the second most dribbles (1.9) and wins the second most free-kicks (1.4). He is the most creative player in this Liverpool side and arguably has the most talent, and its clear what his impact is on the side.
On the other hand, Liverpool's collapse in form is not directly related to Coutinho's injury. Whilst Coutinho certainly enhances this Liverpool side, the team won four and lost just one of the seven league games that Coutinho didn't feature in, and scored seven goals in the three games that they didn't win (16 in the 7 total). Whilst Liverpool were undoubtedly worse without Coutinho in the side, their collapse didn't fully manifest itself until Coutinho's return, indicating that perhaps an out of form Coutinho is more detrimental to the side than not having him play at all. A in-form Coutinho is vital for Liverpool as evidenced by the Merseyside derby where the Brazilian scored and assisted as the Reds went on to do the double over Everton.
Sadio Mané
Mané doesn't bring as much to the table consistently in terms of performance levels and creativity compared to Coutinho, but his stats are nevertheless impressive. And more importantly, he is the most consistent goalscoring threat that this Liverpool side possess. With 13 goals and 5 assists this season, Mané has almost twice as many goals to his name as Coutinho and one less assist, albeit with 5 more starts and 600 extra minutes under his belt.
What Mané has offered is a consistency in terms of scoring and assisting. He has never gone more than two league games for Liverpool without scoring, and what's more he tends to score in all sorts of games. He has four goals against the top six, six goals in games where his goal(s) were in some way decisive for the final result and has scored or assisted Liverpool's first goal of the game on seven occasions.
Whilst Mané doesn't just bring goals to the table, as he has the most dribbles (2.5), third most key passes (1.7) and wins the most free-kicks (2.1), his overall importance to this Liverpool side is most underlined by how often he puts the ball in the back of the net for his team, and unlike Coutinho he is dangerous even when playing poorly.
However, the downside is that overall, Mané often doesn't add as much in terms of pressing or fluid passing as his team-mates. Whilst he is Liverpool's most dangerous player, he's not their most creative, or necessarily the most integral to the team playing well. His passing is the worst of Liverpool's outfield starting XI (78%), he is dispossessed the most (2.8) and he takes the second highest poor touches per game (2.2). So if Mané's direct style makes him dangerous, but it also can be detrimental to the overall team game at times, when players around him are lacking fluidity.
Mané will be hugely missed if his injury against Everton turns out to be a long term one.
Jordan Henderson
Liverpool's most consistent player this season, and the only man who can run a midfield engine room. Henderson has been fantastic this season, one of the best defensive midfielders in the Premier League, and unmatched in terms of a combination of passing and defensive work-rate. Only Idrissa Gueye is better in the Premier League at the defensive side of the game, as Hendo makes 3.7 tackles, 1.7 interceptions and 1.7 clearances per game, conceding just 1.2 free kicks.
But whilst both N'golo Kante and Gueye are in Hendo's league defensively, neither can match him in terms of control over games. Henderson's 85.7 passes per game are unmatched, with a very high 85.7% accuracy, which is impressive given that Henderson plays 6.9 long passes, 0.1 through balls and 0.7 crosses per game. Of Liverpool's central midfielders, only Wijnaldum has a higher passing accuracy at 87.4%, but in comparison Wijnaldum only plays 1.6 long passes and only completes 45.7 passes per game, nearly half as many as his captain. Moreover, Henderson's short passing accuracy is 90%, higher than Gini who is only at 88.2%.
Moreover, Hendo also plays more key passes (1.3) than Wijnaldum (1.0), Can (1.0) or Lallana (1.2) despite being the deepest lying of Liverpool's midfielders. In terms of tempo, controlling a game and dominating possession, there is nobody in Liverpool's team that can do what Henderson does. Whilst high tempo counter-attacks have worked without Henderson in the team, especially with Can doing the dirty work in the defensive midfield role extremely effectively in Liverpool's last three games or so, there's no doubt that they've not been able to control a game in the same way without Henderson.
The counter-argument of course to this is that Hendo has done a good job consistently, but does that really make him Liverpool's most important player? Given that Liverpool have won three games in a row with Emre Can playing defensive midfield, and that Can has been man of the match in the last two, indicates that whilst Henderson is certainly the best player in the team at his job, that doesn't mean that that job can't be worked around. Whilst Wijnaldum, Lallana and Can individually might not be able to exert the same calm control over proceedings as Henderson, doesn't mean that collectively they can't control the tempo of games.
Joël Matip
At times this season it has felt as though Joël Matip has been holding Liverpool's defence together with bits of string. Liverpool have been missing a commanding central defensive presence for the best part of a decade now, so when Klopp plucked the Cameroon international for free from the Bundesliga, Liverpool fans were immediately taken to Matip, who has been excellent this season. Clearly Liverpool's best defender, and playing alongside at times Lucas Leiva, James Milner and with Simon Mignolet behind him, Matip hasn't had a lot to work with.
Liverpool have conceded 21 goals in the 20 games Matip has started this season, compared to 16 in 10 games without him. Moreover, on the last two occasions where Liverpool have conceded more than one goal with Matip at centre-back, he's been partnered by Lucas Leiva, with the Matip/Lucas partnership accounting for 7 of those 20 goals conceded in just 5 games. Matip concedes less than a goal a game when playing with either Ragnar Klavan or Dejan Lovren.
However, is Matip Liverpool's most important player? Maybe not. Whilst Lucas has been a problem defensively, the Klavan/Lovren partnership has been reasonably sturdy, conceding 12 goals in 9 games, not significantly worse than the Matip/Lovren partnership, which has conceded 10 in 11 games. Whilst Liverpool clearly need a world class partner for their best central defender, he cannot be their most important player whilst his impact isn't significant enough to massively improve Liverpool's defence.
Roberto Firmino
Both Firmino and Adam Lallana were considered for this final spot, as both are extremely similar. They're both archetypal Klopp players; they both work extremely hard for the team, contribute in terms of goals and assists and generally play well when the team play well and the system is working. On the other hand, both are patchy in terms of form and impact and they are the two players who suffer the most when the system isn't quite working, or those around them aren't on form. Nevertheless, I picked Firmino for this one because Lallana has not had a significantly better than the player next to him, Gini Wijnaldum, by any metric, whereas Firmino plays arguably the most important role in any team: he is the centre-forward.
As such, Firmino is in many respects Liverpool's most important player almost by default. He is the man charged with scoring goals, and if he puts the ball in the back of the net, then that generally bodes well for Liverpool. In fact, Firmino's struggles in front of goal, with just nine goals all season and just three in 2017, are one of the primary reasons that Liverpool have struggled since the turn of the year.
Moreover, statistically, Firmino is performing in many respects as well as the other two in the front three. He has 2.1 key passes per 90, only fractionally less than Coutinho; he takes 3 shots per game, his dribbles are 1.9, the same as Couts, and at 9 goals and 4 assists, he's Liverpool's second highest goalscorer.
The problem then, is that Firmino is arguably doing too well in some areas, at the detriment of an end product. Firmino is exactly the sort of player Klopp would want playing in his team for his phenomenal work rate and link up play, but his lack of end product means he's not working as a striker. As such, whilst Firmino plays well when the team does, he simply cannot be trusted to do his job well enough to be Liverpool's most important player, since dropping him for a more clinical striker like Divock Origi or Daniel Sturridge could end up improving Liverpool in the area that he plays.
Conclusion
Whilst this article was more about assessing the main candidates and picking out Liverpool's most important players than it was giving a definitive answer – especially since Klopp himself would argue that the whole team should be the most important player – nevertheless it would be remiss not to give my own opinion on the answer. Whilst I feel that Phillipe Coutinho has the potential to be Liverpool's most important player going forwards, and whilst I feel that both Henderson and Matip do their jobs exceptionally well and consistently, Sadio Mané is the clutch player that Liverpool rely on the most to produce the goods. Mané's goals and direct play have offered Liverpool something different this season, and if I was to pick one player who it would be hardest for Liverpool to replace if they were taken out the team, my answer would immediately be Mané. Liverpool fans have an anxious wait ahead of finding out the severity of Mané's injury as the team has no like for like replacement.