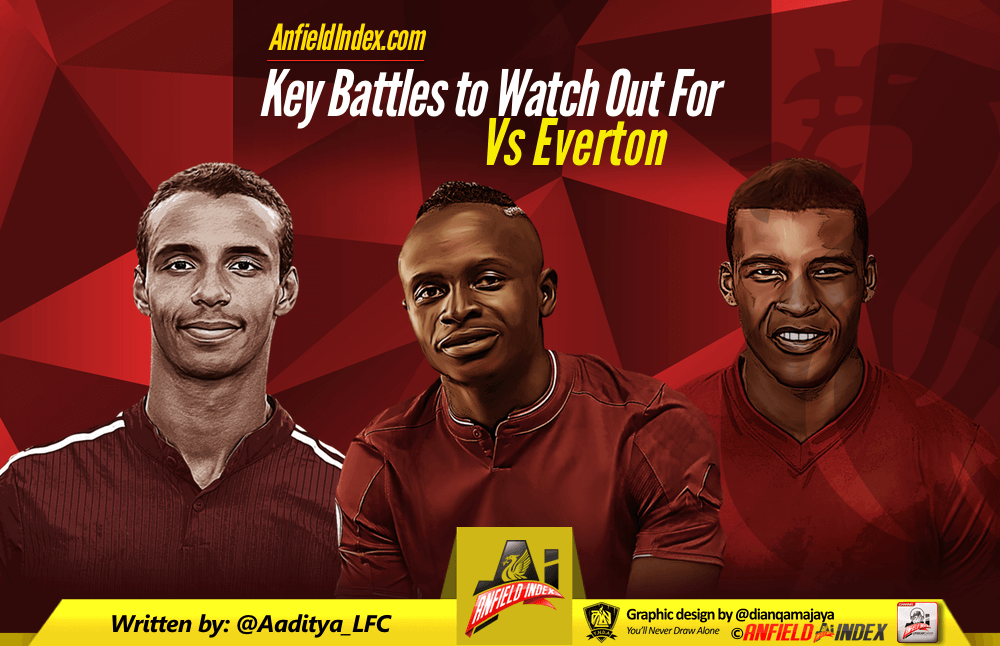 Liverpool v Everton Preview - Merseyside Derby's Key Battles
It is that time of the year again – the time of the Merseyside derby. It has been more than six years since Everton have beaten Liverpool in any competition, and as the run-in approaches with a top four place at stake, Liverpool will have to be on top of their game.
In December, the Reds gave the fans a sweet present as Sadio Mane's injury-time winner condemned the Blues to a loss at Goodison, in the last game before Christmas. The task will be considerably tougher this time. Liverpool have to contend with an Everton side who, on form over the last ten games, have been the best side in the Premier League. Romelu Lukaku has been inspirational for Everton as Ronald Koeman's side have been resurgent since the turn of the year.
Both sides have big-name injuries to contend with. Seamus Coleman suffered a horrific broken leg while playing for the Republic of Ireland against Wales. That is likely to rule him out for a very long time. For Liverpool, Adam Lallana has been ruled out for a month with a thigh problem picked up while on England duty. Skipper Jordan Henderson's participation is uncertain too.

Liverpool are unbeaten in the league against any team from the top half of the league currently, and it a run they would dearly like to keep going on Saturday at Anfield.
Here are some key individual battles ahead of the game.
Joel Matip v Romelu Lukaku
Matip missed the derby at Goodison, but Lukaku was expertly shepherded on that day by Dejan Lovren and Ragnar Klavan. Lovren is expected to return to the side after missing the last few games with injury and illness. The Croatian will partner Matip, and will face the sternest test in the Premier League right now.
The big Belgian has two goals and two assists in his last six Premier League games, and has taken Everton to being hot on the heels of the top six, and ready to capitalize on any slip-up by the big teams – the Blues are level on points with Arsenal, although they have played two games more.
At the Etihad Stadium against City, Matip looked a little uncertain at times when dealing with Sergio Aguero. That uncertainty was caused by the movement of the other front players surrounding Aguero. There were times when Matip was unsure about which run to track. The threat on Saturday will be more direct. Everton will look to be direct, get the ball to Lukaku's feet and let him use his pace and power.
It will be important for Matip not to get bogged down by the physicality of the Belgian. Either him or Lovren will have to take the responsibility of snuffing Lukaku out. Whoever it is, Matip's role is relevant because he is the communicator in the back four. James Milner at left-back is getting found out with more regularity in recent games, and the centre-backs will have to stand tall to cover for what is still a makeshift arrangement.
Gini Wijnaldum v Morgan Schneiderlin
The enigma that is Gini Wijnaldum will return to the comforts of home on Saturday. On the evidence of his time in England, that in itself is a factor to a good Wijnaldum performance. However, to be fair, he was immense against Manchester City, and along with Emre Can, drove the team forward at every possible opportunity.
With Lallana missing, it might be a different role for Wijnaldum to play. Assuming that Henderson is fit to start, it is unlikely that Klopp will move him away from that deepest-lying role in midfield. In that case, Wijnaldum will have to operate slightly further forward than he has been.
The concern is that Wijnaldum's strength is ghosting into the box late to get on the end of crosses – that might be taken away if he starts further forward.
Schneiderlin has made a big difference since joining Everton in January. He was rotting at Manchester United and has revived his career under Koeman. He has provided Everton some much needed thrust in midfield and has been the ideal foil for Idrissa Gueye.
In many ways, this battle will be about how well Schneiderlin does defensively and how effectively Wijnaldum gets forward.
Sadio Mane v Leighton Baines
The preview before the City game said the same thing and I will reiterate it, Mane is the most important player in this system for Klopp. Mane has good memories of Everton already, after his priceless winner at Goodison.
Against City, he had a golden opportunity to open the scoring in the first half, but fluffed his lines when faced only by Willy Caballero. In the last two games against top-half sides at Anfield – against Spurs and Arsenal, Mane has made the difference. He tortured both Ben Davies and Nacho Monreal, and he will be expected to do the same against Baines.
Like it has been for all left-backs, especially at Anfield this season, it will be a back-to-the-wall job for Baines. He will try and get forward as much as he can, because of the kind of player he is, but it will not be easy for him.
The more he gets forward, the more space Mane will have to run in behind him. And in terms of pace, it is a no-contest between the two. Whether it is Kevin Mirallas, Ross Barkley or Tom Davies who starts on the left flank for Everton, their primary role will be to pin Nathaniel Clyne back.
If Clyne gets forward, he is always an outlet for Mane to play it to. Even though Clyne is tragically brain-dead when he gets in to the final third, his moving forward will help Mane move into spaces where he can threaten the Everton goal.