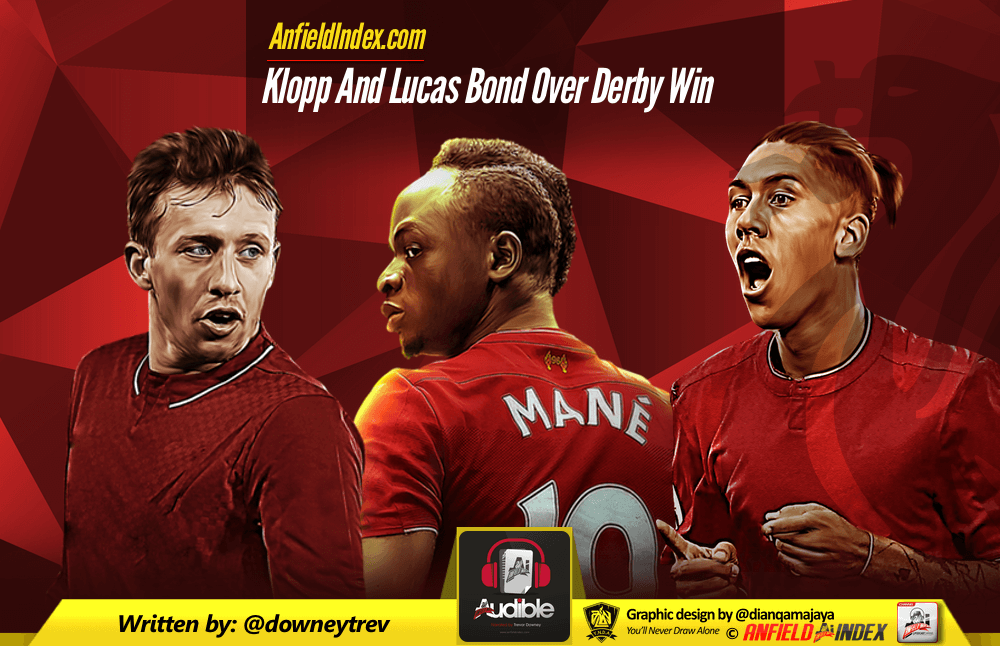 Klopp And Lucas Bond Over Derby Win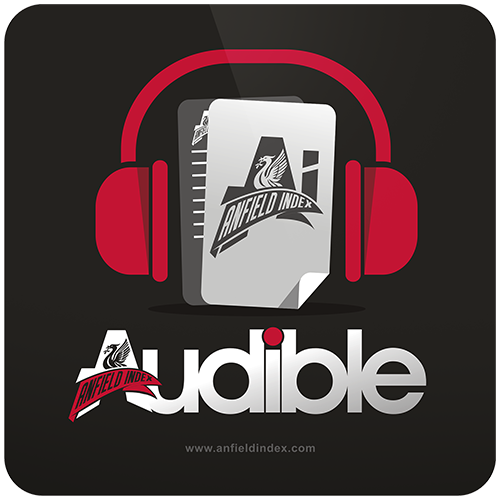 Listen to this article via @AIAudible !
It's been such an emotionally confusing weekend, friends, has it not? Clearly, the dominant feeling has been the sheer exultation in victory over Everton, in what was, for this columnist, the most crucial derby in years. The nature of that win, the mental toughness the Redmen showed and the imposition of their superior quality on a fierce local rival, was even more pleasing than relief that came with the attainment of crucial points in a round of the Barclay's Premier League which, for once, had largely favourable results elsewhere.
Yet even those two simple feelings were immediately diluted by contrasting ones, for, just as Divock Origi powered his finish past Joel Robles, and we were beginning to recline on the metaphorical beach of the mind, allowing the waves of satisfaction to break over us, we were jolted out of our quiet pleasure by the shark warning of angst as we recalled the latest injury to hit Jürgen Klopp's beleaguered squad.
The memory of Sadio Mané hitting the deck for a second time in minutes, with enough drama to suggest the very worst of outcomes, made it hard to properly revel in the derby delight. It had looked bad. Very bad. Your scribbler's happy place was invaded by dour thoughts. Hendo, Lallana and now Mané – seriously, was this really happening? What kind of luck does this club have? How do we get top four without three starters, ESPECIALLY Mané? Oh god, what if he's gone for the season? I mean, what was the point in winning the derby if we blew it against Eddie Howe's lot?

Thankfully, the immediate post-match barrage of blissed-out hugging and the news that the Senegalese attacker's injury might not be a season-ender, allowed a little more positivity to return and there was, after all, so much to enjoy. For many of us, who have always had a special fondness for the player, the performance of Lucas Leiva was a particular highlight of Saturday's match. From the first moment to the last, he was imperious, intercepting, winning aerial duels, prompting attacks and, most notably, managing to NOT give away any unnecessary free kicks in dangerous areas. It was a fantastic showing from the much maligned Brazilian and only the most entrenched of haters would deny it. (They did, but sod them).
Basking in the afterglow of both a Kloppian bear-hug and his best outing in a red shirt in many a year, the Reds' utility man was full of praise for his teammates and managed a nice bit of understated triumphalism at the Toffees' expense.
"It was a big game for us, a derby at home. It's always special – and even more when we win," he told Liverpoolfc.com. "We had a very good game in difficult circumstances, because we had a lot of players coming back late with a little bit of jet-lag. Fair play to Phil, Roberto [Firmino] and Sadio – they were outstanding. We only really had a day to prepare for the game, but we all knew the importance of winning the derby and climbing up the table to fight for the top four. We know how much it means for the fans – we kept Liverpool red."
The manager was particularly pleased for his trusted lieutenant but his displays of emotion seem to irk the opposition. Poor Ronald Koeman, in particular, seemed to be terribly miffed at what he perceived to be the indecorous antics on the Liverpool bench. He was particularly outraged that the home dugout might react badly to Ross Barkley's umpteenth assault of the afternoon, explaining to his histrionic opponents that such deliberately violent play is "part of football."
"I saw also some tackles from Lucas and that's all about football, but we don't make a show like the bench of Liverpool about faults, what happened on the pitch," whined the well-fed master tactician. "We're different, we're more into the game and not about what happened with referees, linesmen and tackles. It's football, it was a hard but fair game and that's football. I don't like coaches from the bench the whole time shouting to referees, to linesmen and to make a big show about tackles… because it was one tackle and they were crazy, and even [when] they did not need a physio on the pitch. It's not what I like, it's a man's sport and your behaviour has to be like that."
Ah yes, the "it's a man's sport" line. You know you're on a loser when that's your last recourse. Not for Koeman, all that expressing of affection and outrage. Better to keep your feelings in, like a real man and do your talking on the pitch. And as for physios – who needs them? Everton don't. No sir. Busted ligaments? Walk it off, lad. Torn Achilles tendon? Man up and see the half out.
What utter tripe, bless him. Almost as laughable as Talksport's Mike 'Cinnamon' Parry's impotent raging at Daniel Craig for "endorsing" his boyhood team because he "is currently James Bond" and Ian Fleming "never made [Bond] a Liverpool fan." Amazing stuff.
Klopp, meanwhile, seems all too aware of his capacity for winding up opposition benches like that of proper football man, Ronald Koeman. Strangely, for such a whinging prima donna, his words seem infinitely wiser than his Dutch counterpart's.
"I know a few people – especially from other clubs – think I am crazy because I look like I look, I'm sorry for this but I am really emotional," he averred, stating the delightfully obvious. "As I have said a few times, my teams are always top of the fair play table because I think aggressiveness is to hurt yourself. I thought we did really well, again with the importance of the game, not to show anybody that we would do everything for this derby – we had to play football and use the football to do it. We want to be hard, yes, but against ourselves and we want all the players to leave the pitch without injuries. You cannot avoid injuries in football, as we all know, but a few of them you can."
Finally, on this weekend of chaotic emotion, allow your columnist to offer a little advice to those of you still lucky enough to be able to receive it. Roberto Firmino has played his way into most of our hearts over the course of the season, with his industry and guile, so if you have not, as yet, borne witness to the horror that is his snapchat post of his dead-eyed replicant embrace with his wife, then for the love of all that's holy, do not click on the link provided here. You'll never be able to think of him or his tongue in the same way again.