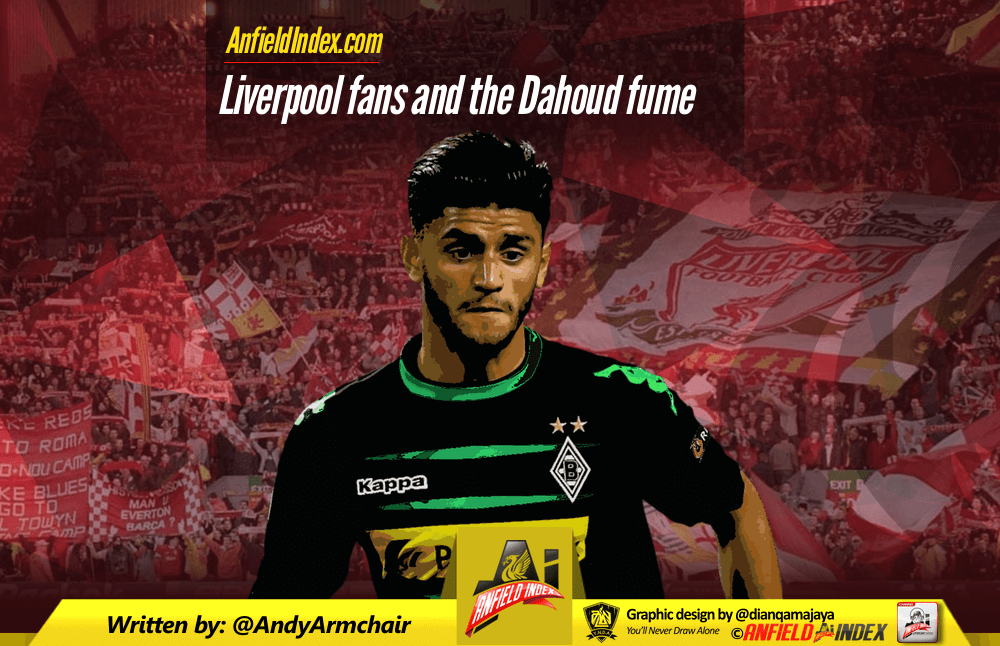 Liverpool fans and the Dahoud fume
So the emotional volcano that is the Liverpool twitter-sphere erupted again this past week when it was announced that Mahmoud Dahoud will be joining Borussia Dortmund this summer. Liverpool had been long linked to the young German midfielder of prolific talent, with the infamous 'monitoring' word used.
Predictably, the responses ranged from it all being FSG's fault to Dortmund being some kind of playground bully that steals players we have been scouting. Maybe, just maybe, Dortmund had been scouting him for just as long, if not longer, than us. Perhaps also, Dortmund were well aware of a very talented player emerging less than 100km down the road in Mönchengladbach and didn't need us to alert them of his presence. Some of the fury and fume on social media in response to the move borders on ignorance and even the arrogance of the Premier League mind set proliferated by the UK media.
A young German player deciding to remain in the Bundesliga to further develop his game, at a club renowned for developing players. Is it really that surprising? Imagine Sevilla had been interested in Dele Alli before he moved to Tottenham, would there have been surprise, let alone fume, that a young English player decided against a move abroad so early in his career and instead opted to move to club with a good record of progressing young players? Of course not.

The Premier League is a big draw and attractive to players all around the world, there is absolutely no denying that. However, it is not the be-all and end-all of every player, despite the expose and vast sums of money on offer. I'm sure the majority of players would like to try their hand at it at some point in their career, but that doesn't mean they have to answer the call at the first opportunity. For what it's worth, I think Dahoud has made the right choice at this stage in his career. He had a tremendous season when he first emerged for Borussia Mönchengladbach, but has been a bit in and out this campaign. Inconsistency is quite normal for youngsters trying to fully establish themselves, it's all part of the learning curve and the German Bundesliga is a more understanding and appreciative environment for that. The English Premier League tends to be more beset with impatience and a tendency for it all to be black and white, rather than shades of grey. You're either 'world class' or you're 'shite' in the land of hyperbole, with no middle ground or mitigation in the rush for judgement.
Just look at Emre Can, he had a good debut season, despite being asked to play out of position and had a very impressive season last year, as part of a central midfield two. However, this year issues with form and injury and suddenly he's gone from being a thoroughbred to a cart-horse. Does that sound like the best setting for a young player still trying to find his feet?
I've long said that Dahoud would be better served staying in the Bundesliga for another year or two before making a move to the Premier League, if he even wants to make that move. Despite the incredible talent he has, the physical nature of the league where fans and pundits react in disbelief that a foul is called for a boot at chest height and patience is a rarity is not exactly the nourishment he still needs.
For all the doom mongers proclaiming the summer transfer window to be an unmitigated disaster before it's opened, get a hold of yourselves. Is missing out on Dahoud disappointing? Yes. Is it the end of the world? No. Does the failure to sign him mean Klopp is not a draw? Absolutely not.
Did Liverpool drop their interest in him? Possibly, but if so, likely because they knew he'd already made his mind up.
Dahoud opting for Dortmund over Liverpool was not a huge surprise to me, but not because we're a joke at landing our targets or because we're too cheap or we're not a draw, but because of the circumstances. Calling for rationality in the world of social media might be a bit much to ask, but can it really be that hard to look at the bigger picture and consider all the factors involved?
It's the start of April, not September; this season hasn't even finished yet and there's people almost writing off the next one, let alone the transfer window. Dahoud might not be the only target we miss out on this summer, but let's try and keep it together; after all, Klopp wanted and got Sadio Mane, Gini Wijnaldum and Joel Matip last summer and they've not done too badly.