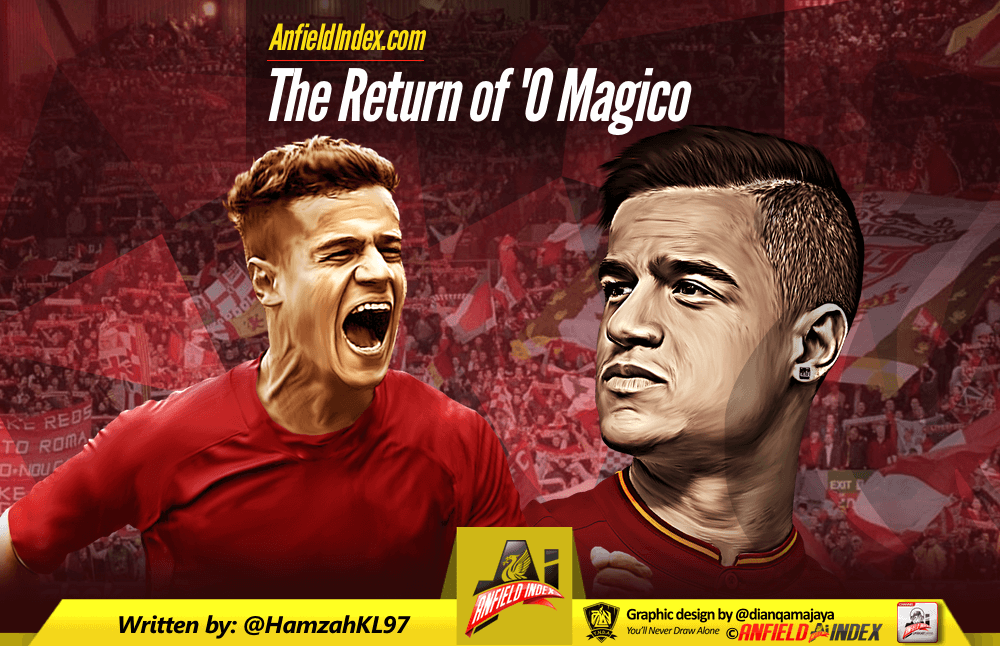 The Return of 'O Magico: Philippe Coutinho!
The magician, Philippe Coutinho, is back. His return to form could hardly have occurred at a more opportune time. With Mané, Henderson and Lallana injured, and the stakes as high as ever in the race for a Champions League position, Coutinho's renewed confidence feels as influential and important as a new signing.
Like all top players, he delivered when the pressure was on – the Merseyside Derby – a match which he seized and made his own. He dominated from the start and quite literally ran the show. Another goal against Bournemouth illustrated his importance to the team, but the manner of Liverpool's introversion following his substitution told a story in itself.
However, despite a lacklustre run of form following his injury in December, the warning signs for the Premier League's teams were already evident before he started darting around the Anfield pitch against Everton.

Indeed, Liverpool manager Jürgen Klopp thanked Tite and the Brazilian national team for bringing about Coutinho's return to form, during the international break: over which, a clip from a Brazil match emerged online, of Coutinho skipping gracefully round three players, before another video, of a wonderful goal went viral. But even after a good performance for Brazil, most people hardly expected the dominant display Coutinho put in against Everton.
Involved in all three goals, Coutinho was a force across the pitch. From providing a key role in Mané's opener, with an intelligent run, to assisting Origi, humiliating Ross Barkley, or simply waltzing through the heart of Everton's defence with unbelievable ease, before dispatching a sumptuous strike into the side-netting for Liverpool's second, this was one of the great Merseyside Derby performances. Rather frighteningly, as Liverpool fans are aware, he can get even better.
The manner in which Coutinho ghosted into the box twice before he even scored, showed a player with renewed confidence and a steadfast drive within him. The precise, elite attitude Liverpool FC require if they are to meet their ambitions of securing a Champions League position was displayed by Coutinho. Whilst the goal against Bournemouth showed Liverpool's scrappy side, a side which they will no doubt need to call upon and develop not just for the remainder of this season, but well beyond it too.
Now though, Coutinho stands as the joint-highest scoring Brazilian in the Premier League; he is making his own history, but Liverpool FC need him to raise his game even higher. After dropping points against Bournemouth, Liverpool cannot afford any more errors at all. The margins have become tighter than ever before, and Liverpool will need absolutely everything Coutinho has to offer. His creativity will have to mask the deficiencies of the midfield, and provide a solution to the low-block issue that has plagued Liverpool's season, and will certainly be employed against Liverpool in the coming games.
A bout of sickness was what cost Liverpool two points against Bournemouth; Coutinho's withdrawal was the one difference between a side that looked comfortably on its way to scoring a third, and one that lacked steel and direction when it needed it most. Such is the importance of Coutinho, that he almost managed to orchestrate Liverpool's first league win without Sadio Mané. His ability to raise the level of players around him when at his best is a quality Liverpool have lacked since the days of Suarez and Gerrard, and it seems Coutinho could be on his way to being as important to the side as they once were. Indeed, Liverpool's top four hopes, and ambitions for the wider future rest on him. It seems, after such a brilliant start to the season, Coutinho is here to finish the job off and rescue the team from a situation of its own making.
Coutinho is now a far cry from the slight young man who left Inter Milan. He has developed himself, and his game to a level most fans could not have envisaged. Once a diamond in the rough, Coutinho is now the leading light of the team and provides a spark that no other player could replicate. His deft footwork, vision and finishing set him apart from most players in the league, but this is the real test now. A task that only players of the highest order could see out. Can he, with the pressure on, and with Arsenal and Manchester City bearing down on Liverpool, guide the team, with all its frailties and issues into the top four? The remaining fixtures will tell, but Premier League opponents, beware, 'O Magico is back, and he's on a mission.