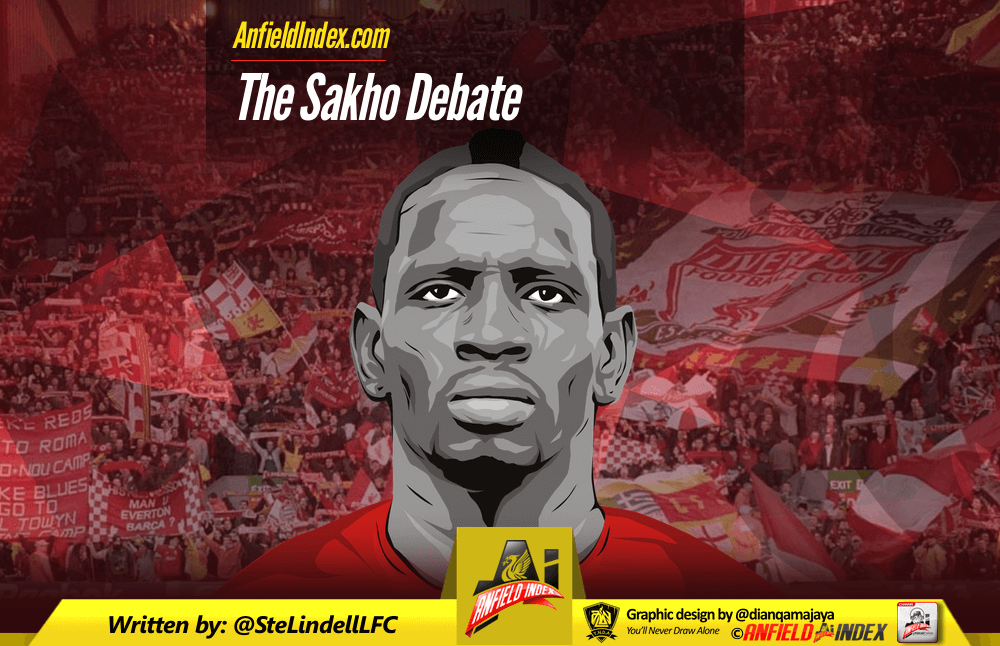 The Sakho Debate
Is there another player that divides opinion more than Mamadou Sakho? I know he isn't in a red shirt at the moment, but this debate is starting to brew – therefore I thought I'd finally put it to bed.
To be honest, it's starting to get a wee bit irrelevant. Whenever our defence struggles to keep or clean sheet or after we win/lose a game, the first thing I hear from Liverpool fans is 'Sakho'. There have been subsets of supporters moaning at Jurgen Klopp's decision to loan him out to Crystal Palace, where he has notably impressed:
https://twitter.com/Squawka/status/848291653744025600

It's understandable to feel frustrated that he's turned into the Rock Of Gibraltar graced with a very reliable centre-back partner (what we'd do for one!) in James Tomkins or Scott Dann. But, it's starting to get far too repetitive hearing people tweet '#FreeSakho' or demanding Klopp to return him to the first team. It is frankly a blasphemy to be bringing up something as irrelevant as that after winning a derby.
We may be shite at defending set-pieces an' all, but why? Just… why?
Now, like I've already said, it's very understandable to be frustrated that he is surrounded by a centre-back partner who can get the best out of the Frenchman but we lack one to complement Matip. I just think this whole 'debate' needs a bit of context.
So, let's take a trip down memory lane to the summer of 2014. Liverpool had finished 2nd into the Premier League. You may not think this is relevant yet. But after selling Luis Suarez and left with Daniel Sturridge, Fabio Borini and Rickie Lambert as our striking options, we needed a world-class striker like Suarez who could supplant Sturridge if the Englishman suffered from injury.
After a failed attempt to sign Loic Remy due to a failed medical, manager Brendan Rodgers turned to Mario Balotelli as the man who could potentially thrive in his second spell in England as well as possibly steering us to a second successive title challenge. All was set for a successful first season in Merseyside. Surely?
But it was never going to go down as a categorical success story. Some of you may think I'm an idiot for comparing Balotelli with Sakho – I'm not; what I am trying to get at is that they can be similar in some veins. Both can be the best in the league when they're in the mood – but there are occasions where they just fail to conduct themselves in the manner expected from a professional footballer.
I feel Jurgen Klopp has learnt from the mistake his predecessor made – Brendan Rodgers. He was willing to sign players to had an awful attitude but a talent which needed to be shown more consistently. His counterpart has opted for attitude instead; which has paid dividends.
Attitude is the norm in any footballer. You look around at world-class players, they are not just there because of their talent. They work as professionals. On and off the pitch they always conduct themselves in a manner expected. Mamadou Sakho was regarded as a cult hero by some following his formidable performances in the Europa League. After being cleared from a failed drugs test last season, he had the chance to learn from this judgement.
But instead, his behaviour off the pitch has manifestly gone backwards and his misdemeanours increased rapidly.
He arrived late for the flight to the United States in July, immaturely interrupted a Klopp interview on LFCTV as well as missing a team meal. Predominantly, he generally failed to conduct himself in the manner expected of an international footballer. Sakho made the mistake of getting on the wrong side of Klopp – who seems like a very laid-back, friendly and eccentric manager on the outside. But he got on the ruthless side of him; subsequently paying the consequence.
I just feel this is Sakho's own making. Klopp's detractors who resort to saying that he held a grudge against the Frenchman from minute one are wearing rose-tinted glasses in my opinion.
This is all Sakho. All of it. I could even harp on about that Snapchat outburst in September; but I don't want this to become an article where I just bash Mamadou. Because he has many traits: strong, powerful, good on the ball, an aptitude to read the game as well as being a natural leader.
However, that means nothing in the modern day unfortunately. And there is no exception under Jurgen Klopp – renowned for craving team camaraderie. I feel that managers are influenced by what they see off the pitch and in training – maybe that's why Jurgen isn't giving any second chances to Mamadou.
I just don't envisage Sakho being handed another opportunity to prove himself. He can go and hug the German all day – but it'll make no difference at the end of the day.
If there is a player that is damaging a club of Liverpool's stature time and time again with public misdemeanours, – I'm afraid Mamadou Sakho should never be wearing a Red shirt again. Even sites like William Hill won't have odds on Sakho playing at Liverpool again and a move to pastures new will only benefit his career to avoid turning off any more potential suitors.
Barring his very unlikely return – in that case, please ignore all of the above. Cheerio.