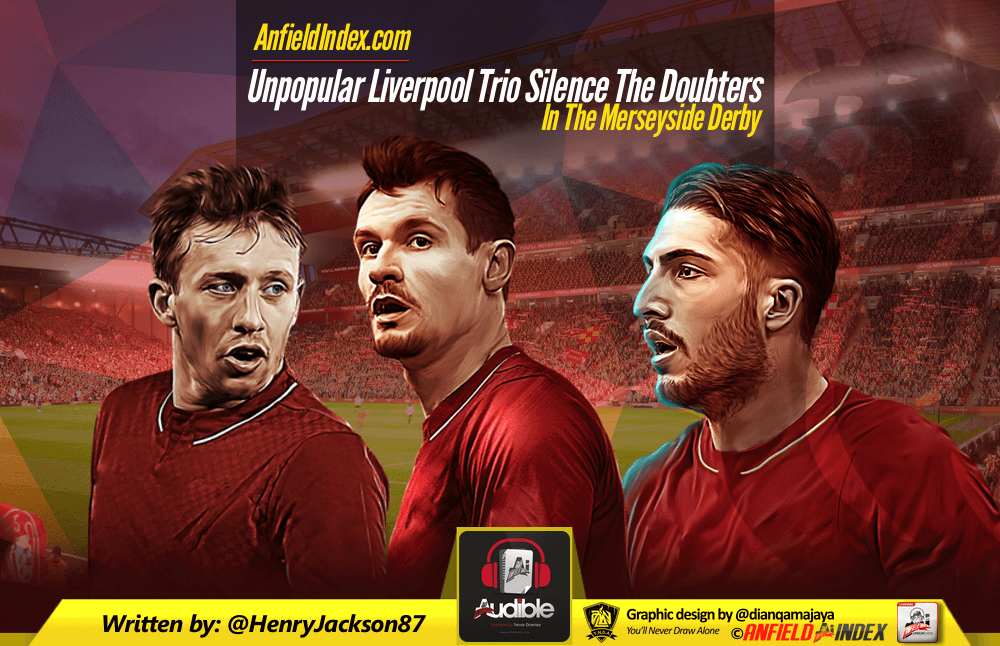 Unpopular Liverpool Trio Silence The Doubters In The Derby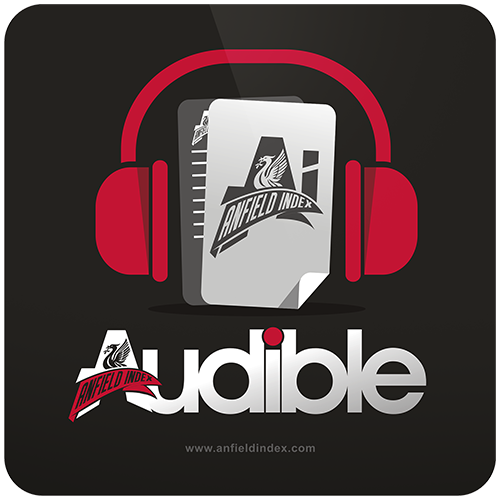 Listen to this article via @AIAudible !

At every club, there are players who are divisive figures – ones who will never receive a single ounce of praise from a section of the support.
Liverpool has had too many to mention down the years, but three who currently stand-out are undoubtedly Dejan Lovren, Lucas Leiva and Emre Can.
The Reds trio receive more stick than anyone – Simon Mignolet and Alberto Moreno may have something to say about that – and their performances are so often ridiculed by 'fans' who cannot wait to see them walk through the Anfield exit door.
Scroll through social media, comments sections, even some articles, and you will see them described as every negative term under the sun, with most of the animosity both classless and unfair.
Not rating someone is absolutely fine, but as tribalism in football has increased, the more vicious the criticism and mockery has become. 
We all have our favourite players, and there's nothing wrong with that. There is, however, nothing worse than someone being so stubborn that they can't even bring themselves to praise a player they loathe. 
This brings us to Saturday's Merseyside derby – an occasion that always leaves us riddled with fear, even though Liverpool so often get the better of their spineless, apparently goalkeeper-less local rivals.
Lovren, Lucas and Can were all included in Jurgen Klopp's starting lineup, and predictably, there was negativity everywhere you looked.
"Why is Lovren back in for Ragnar Klavan?" "How is Lucas the man to replace Adam Lallana?" "Can is even worse when he's not the deepest midfielder". The list of negative comments was endless.
The under-fire threesome then decided to shut their critics up and put in three fantastic performances, as Liverpool cruised to a 3-1 win and enhanced their top-four chances greatly.
They weren't just on a par with the rest of their teammates, either. They were arguably the Reds' three best players on the day, with Philippe Coutinho also very much in the running.
Lovren was a towering colossus all afternoon, keeping the dangerous Romelu Lukaku's role limited to almost that of a spectator.
There was an authority to everything he did, and rather than getting involved in a physical battle, as he has been known to in the past, he was a more calm, experienced presence. If Joel Matip had played like that – the Cameroonian also shone on Saturday – the praise would be endless.
This was one of Lovren's best displays in a Liverpool shirt, and it once again showed that he is far more capable than many like to claim. He isn't perfect, and shouldn't be a regular next season, but he has very good performances in him, and he has also shown this in the past. 
Then there's Lucas, who despite being the Reds' longest-serving player and someone who gives his all in every single game he takes part in, doesn't half have his detractors.
We all know his best days are behind him, and that he makes rash tackles in dangerous areas, but he was a huge reason for Liverpool dominating Saturday's game. He simply 'gets' everything to do with the club and the derby for that matter.
The 30-year-old rolled back the years at the weekend and looked far happier back in midfield, rather than his auxiliary centre-back role. 
Fifteen tackles. 15 headed duels. Three interceptions. Three clearances. Four blocks. Those are phenomenal statistics.
Once again, had this been a more fashionable player delivering such numbers, endless articles would have been written after the game. Lucas, the football snob's nightmare, will never receive such plaudits, though. 
Finally, we move on to Can, who has undoubtedly had a poor season by his standards, but who has also been superb in the last month. The way in which he has stood tall in the absence of Jordan Henderson is worthy of great praise. 
He was everywhere against Everton, and while some may blame him for switching off for Matthew Pennington's equaliser, the amount he did aside from that moment more than made up for it.
The German flew into tackles, ran endlessly, used the ball intelligently, and like Lucas, seemed to understand the magnitude of the occasion more than most.
This was the box-to-box midfielder who earned such rave reviews 12 months ago, and it proved why any talk of selling him this summer is both knee-jerk and uncalled for.
To see Lovren, Lucas, and Can performing with such brilliance in a big game was heartwarming, following some desperately unfair criticism.
There is every chance that none of them will be key players over the next two or three years – Lucas has no chance, in that respect – but that does not make them bad footballers. These are players who have represented their country.
It is important to stress that all three have deserved flack at times. I have laid into them when they have been poor, and am never exactly overjoyed to see any of them starting when Klopp has a fully fit squad to choose from.
It is this inability to give credit when it is due that doesn't sit easily, however, when you consider these individuals have just brilliantly represented the club you love.
Forget whether you want them sold or whether you think they're "frauds" – just acknowledge a great performance.
If anyone came away from Saturday's victory and found themselves unimpressed by Lovren, Lucas or Can's contributions, your levels of delusion are commendable. 
They were superb on an afternoon that could have proved tricky, and they dominated the Everton players who stood before them.
Hats off to all three of you, lads.