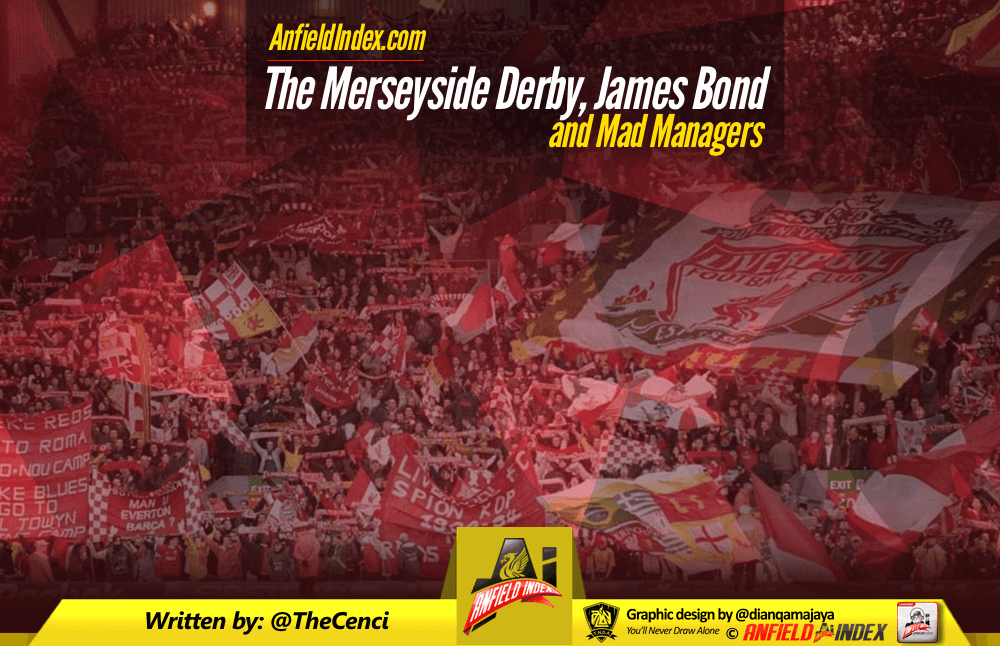 The Merseyside Derby, James Bond and Mad Managers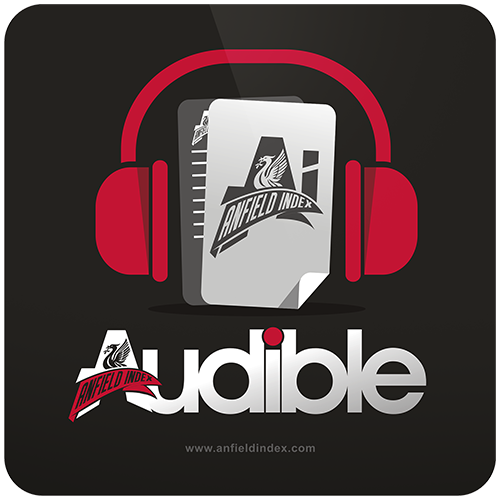 Listen to this article via @AIAudible !
If the days leading up to a derby match are tense and emotionally draining, the hours following a win are honeyed and sweet. With Liverpool defending a 17 year unbeaten Anfield record even the most ardent Kopite was a tad concerned with the eventual inevitability of an Everton victory. After all, the Blues would have to bloody our noses one day. We can all understand that and even accept that fact, but, Jesus, not today, lads. Just not today.
Kevin Campbell was the last Everton player to score a winning goal at Anfield and he is now 47 years old, having played his last top flight game eleven years ago. His son, Tyrese, currently plays for Stoke City and is the subject of a transfer tribunal request from Manchester City. Tyrese Campbell was not even born when his old man made blue hearts soar in the Anfield derby of September 1999. They haven't won in the time it takes a child to be born, potty train, go to school, leave school and embark on a football career.
But they have to win at Anfield one day. Just not this day.

Come Phillipe Coutinho's goal – the best of his Liverpool career, I'd say – that run was extended for a further twelve months. Everton managed to get back into the game after Sadio Mane's dance across the box, but the Reds were always capable of stretching themselves a little further to see it out.
However, it's not the win I wish to talk about today. It's the aftermath and blind obsession/stupidity.
Firstly, I like Ronald Koeman. I really do. Maybe it's because he looks like a continental Sammy Lee. Anyone with Ajax and Barcelona on their CV is worthy of respect when it comes to tactical savvy, but following Saturday's game he went a bit odd.
Firstly, he was keen to state just how proud he was of his team –   the same set of lads who lost three goals without their keeper moving and whose talisman failed to register a single shot at the Liverpool goal. Proud? Okay, Ron. If you like. Proud.
Then he started on about how he'd pressed the Reds back after half-time and made us 'defend, always defend.' Erm, it finished 3-1, mate.
And, as if that's not quite enough, he then took the Liverpool bench to task for calling for red cards. Ooh, how sinister of us. Asking for the ref to stop them kicking us all around the ground when Ross Barkley was trying to remake the wonderfully violent hockey film 'Slap Shot' in the Anfield centre circle.
'I don't like that,' he told the media.
I don't know if you've noticed this, Ron, but there are more pressing things to worry about than Jurgen's staff shouting at the referee. Firstly, your team mistook hard and combative football for downright thuggery (which I'm fine with) and were still shit at it (which I'm not). Obviously, I'm all for Liverpool wins over Everton but it does concern me when managers try to sell the fans a pup. The reason? This.
"The second half was as good as I have seen a Liverpool team under my management play, that is for sure. I think it was a very good second-half performance. Therefore I find it hard to accept there was no confidence in the team. We were camped out in their half of the field, camped out in their final third.

"But while the result was quite clearly very, very bad for us, I am refusing to accept it was a bad team performance. I thought the shape of our team was good, I thought the quality of our passing was good. We did not score goals and Everton did, but I refuse to sit here and accept we were in any way outplayed or in any way inferior."
If you don't recall that quote then the next line will have you saying 'Ah' and nodding, take it, Roy.
"To get a result here would have been Utopia."
October 2010. Everton 2 Liverpool 0. The last time Everton won the Merseyside derby. Utopia.
I accept that Roy is an easy target but he is still protected in some quarters by those who say the Rafaites wouldn't give him a chance. Well, that day Liverpool sank to 19th in the League. Yes, 19th. Utopia.
I do have some sympathies with managers at times like this. After all, what else could he say? 'These lads shat it at 2-1 and we couldn't even foul properly. I'm off to get arseholed and throw out my Christmas tree decorations, the Red bastards'? Well, I'd like to see it.
I'm reminded of Alex Ferguson's rant following a disappointing United result at Aston Villa. The waiting press wondered just how he could justify such a poor performance but what he did was, and I hate to admit it, fantastic.
The dour Scot marched in, roared that the ref should have added on more time, told the journos that they were a disgrace and stormed off. Perfect. They had their story; he kept them at arm's length and no one lost face. The last thing he wanted was to have to stand up and speak his true mind about his players' performance that day. Classic misdirection.
Of course, nowadays managers have to play the PR game and everything is sanitised (with the exception of David Moyes at the weekend), but, were I a Blue, the last thing I would have wanted to hear was empty words about a nasty man shouting for a decision. I'd want blood.
There were distractions elsewhere too. Mike Parry, the bluenose presenter on Talk Sport, took to Twitter to criticise the James Bond actor Daniel Craig for being at the game. Can you believe the gall of Craig? Actually turning up and supporting his own team? The bastard.
'Absolutely disgraceful that James Bond has come out as a Koppite (note: just the one 'p' in Kopite, Mike, but we're above that level of pedantry here)… 007 belongs to this nation… not one football club… any football club.'
And
'People who are telling me that James Bond is a fictional character don't get it…an icon of the world can't have favourites.'
He's right, of course, and as a fan of the late Leonard Rossiter it was with a heavy heart that I threw all my Reggie Perrin and Rising Damp DVDs into a skip on Saturday night as the great man was a Blue from Wavertree. I then had to sit through the entire Rocky series hoping that that bluenose Balboa got stuffed by Apollo Creed, Clubber Lang and Ivan Drago.
Parry continued with this idiocy as he knew full well what he was doing. A fatuous and ludicrous argument drew attention from his side losing to the Reds once more. No harm done.
The point is that misdirection is fine from Parry as he's a one-eyed fan who would do anything but accept the evidence of his own eyes and would come up with anything that would help him avoid the score, but managers have a greater responsibility. Don't tell us that black is white or that shite is gold.
As for the Reds, the results from the Emirates, Old Trafford and even Stamford Bridge were most welcome but they are only three points. The squad is looking light again and an Anfield without Mane, as well as Lallana and Henderson, may be an unhappy one. It looks like we'll fall over the line this May given the paucity of the squad. Again.
Oh, one more thing. Apparently, Mary Berry is an Everton fan.
I'm never eating a cake again.