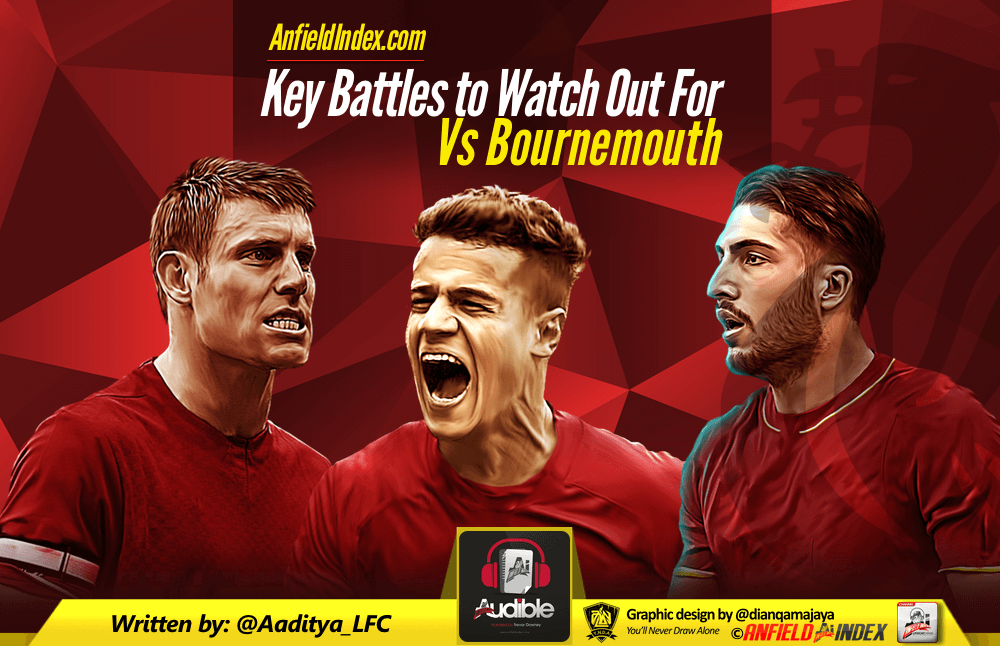 Liverpool v Bournemouth Preview - Key Battles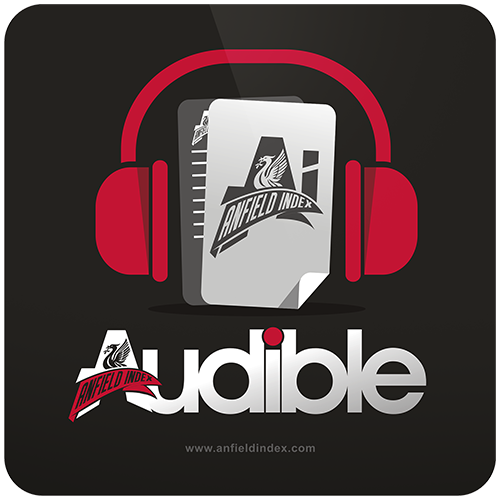 Listen to this article via @AIAudible !
The derby has been won. The top seven have been played against and Liverpool are unbeaten. But the real challenge, in many ways, begins now.
Liverpool face what many would call "inferior" opposition in their last nine Premier League games, and a top four place is by no means sealed. The challenge starts with the visit of Bournemouth to Anfield on Wednesday night.
Liverpool will be without Adam Lallana and Jordan Henderson again, but the only negative from the derby that will have a bearing on this game, is Sadio Mane's injury, ruling him out of at least this fixture. I have stressed often in previous pieces on how Mane is our most important player and his absence will be a huge dent to Jurgen Klopp's plans.

The Reds lost to Eddie Howe's side in the reverse fixture, as a late second-half capitulation at the Vitality Stadium condemned the Reds to a 4-3 defeat. Revenge and keeping the momentum going will top the agenda at Anfield on Wednesday.
The Cherries should have won their own derby on Saturday night. But a mixture of rotten luck and poor finishing meant that they could only gain a point from a 0-0 draw against their south coast rivals, Southampton.
Here are some pivotal individual battles that will decide the outcome of the game.
Philippe Coutinho v Adam Smith
The little magician is back. It was a lovely rewind to the pre-Christmas days of the season, as Coutinho tormented the young Everton defenders, Mason Holgate and Matthew Pennington.
Against Everton, the close control was immaculate, the passing was incisive and the shooting radar was back on track for Coutinho. When Coutinho plays well, that automatically means that the Reds play a little better.
In the absence of Mane, Coutinho's importance will only be amplified. Whether it is Divock Origi or Roberto Firmino playing in the central striker's role, they will be hugely dependent on the service that they receive from Coutinho.
The biggest difference in Coutinho's play on Saturday was his first touch and his close control. Far too often in games before that, one loose touch would kill the Reds' attacking play, but there was none of that against Everton. It was an important international break for Coutinho, in many ways. He put in two fabulous displays for Brazil in their World Cup qualifiers, that must have done a huge amount of good to his confidence.
Smith was one of Bournemouth's better performers against Southampton. He kept Dusan Tadic quiet for a large part of that game and got forward with tenacity. He even hit the post once, as Fraser Forster was beaten.
But his role at Anfield will be more confined to protecting his goal against a revitalised Coutinho.
Emre Can v Harry Arter
Can has been fantastic in Liverpool's last few games. Be it in the deepest-lying midfield role against Arsenal and Manchester City or the slightly advanced role that he played against Everton, Can has driven the Reds in midfield.
He has developed a good understanding with Gini Wijnaldum, and it is likely that he will once again partner the Dutchman as one of two midfielders in front of Lucas Leiva.
For Can, the important part of his play in this game will be to keep his discipline and his patience. Bournemouth will not sit back as much some other teams in the league do, but they are generally well organised and difficult to break from their shape.
In that scenario, it is important that Can holds possession, and finds the right moment to release the front players. It will be very easy for him to get frustrated and try something audacious and unnecessary at that particular instant.
Arter's confidence though will be slightly dented by his late missed penalty during their derby at the weekend. His standing leg slipped and made contact with the ball before his shooting foot could meet it. That meant he had spurned the Cherries' best opportunity on the night.
Arter will try to be at his energetic best, and pressurise Can into making mistakes. If Can is allowed to keep the ball and drive forward with it, he is well capable of causing damage to Bournemouth.
James Milner v Ryan Fraser
As much as there is a case for Alberto Moreno to come back in at the left-back position, it is unlikely that Klopp will move Milner away from that position until the end of the season.
But Milner has looked more and more suspect with every passing game recently. Raheem Sterling gave him a hard time at the Etihad Stadium and Mason Holgate got forward to annoy Milner constantly in the derby.
Fraser has been Bournemouth's bright spark this season, and he was the one who sparked the Cherries' revival in the reverse fixture. His pace, his trickery, and his dribbling ability make him a huge asset for Eddie Howe.
It were those attributes that won Bournemouth the penalty against Southampton, which was eventually missed by Arter. What Milner is good at, as a full-back is that he stops crosses from coming into the box.
But that is not what Fraser usually does. He tries to dribble into the box and set up easier opportunities for his team-mates. It is against these kinds of players that Milner has generally found difficulty against.
But it is absolutely essential for the Reds that Milner keeps his focus and sticks to his task. The Reds have no excuse for not beating Bournemouth at Anfield. If the Cherries can pull off any kind of result, Fraser will be hugely important to their prospects.