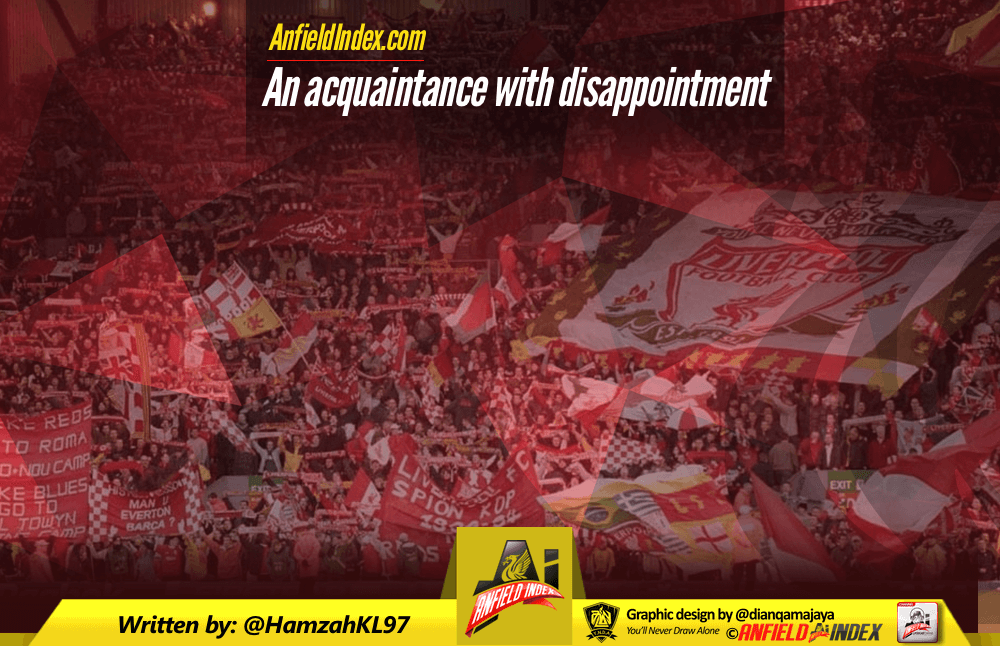 Liverpool Fans - An acquaintance with disappointment
In a season littered with frustrating, inexcusable results, Liverpool FC managed to outdo themselves one more time: and in doing so, gifted away control over their own fate, at perhaps the expense of a Champions League spot.
The manner in which Liverpool went 1-0 down was all too familiar, with a dreadful defensive error this time, courtesy of Wijnaldum. For the following twenty minutes, Liverpool looked bereft of ideas, shaken and Anfield watched on, in that routine nervousness the fans have become far too accustomed to. Somehow though, via a long ball and some tenacity by Coutinho, Liverpool managed to snatch an equaliser, and from there, most people would have expected Liverpool to kick on, and secure the vital three points.
Origi's goal in the second half seemed  perfectly timed, Liverpool were in the ascendancy, and the table, at that time, showed Liverpool tied on points with Spurs – top four felt a certainty. Yet, all it took was a simple substitution to turn the game on its head. Coutinho was removed, after reportedly feeling unwell at half-time, and Matip was brought on. Regardless of whether you believe Klopp should have left Coutinho on for longer, or brought on Sturridge instead, what the team did was certainly not what the manager envisaged. Rather than defending firmly with three centre-backs poised well to cope with Bournemouth's limited offensive options, or keeping possession comfortably, the team did neither. They did not dominate the game like a team at home should, but instead shrunk back, like a snail into its shell.

There was a striking familiarity to it all. With the game not televised, I sat next to the television, listening to the radio commentary with my eyes closed, nervous beyond belief. Seeing out this match felt critical. And even by the 83rd minute, I still could not feel safe without the cushion of a third for Liverpool. But the glimmer of hope was there, that Liverpool would edge through, by the skin of their teeth, in a manner unbefitting of the shirt, but one that I would accept wholeheartedly nonetheless.
The Bournemouth goal was hardly surprising. But it felt crushing.
Spurs had just scored three goals in five minutes to pull away from Liverpool, whilst Arsenal had cruised to a 3-0 victory. After a weekend of favourable results for Liverpool, the advantage they had been gifted in an immensely tough and important race for the top four, Liverpool threw it away frivolously. Liverpool were on top, in the game, after scoring, but failed to seize the initiative, and for the goal itself, were given chances aplenty to clear, but still did not do so.
With the blowing of the whistle at full-time, a bitter anger returned to Liverpool fans across the world. How much of the same inexcusable tripe can the fans stomach?
This is a team that never fails to disappoint, is win-less without Sadio Mané, and lacks real character. Liverpool lack the mental resilience to take what is in front of them, believing instead that they will be given what they deserve. But the team deserves nothing more than what it already has. The team alone is to blame for its current predicament; dropping points against sides such as Bournemouth at Anfield is utterly inexcusable. Liverpool should be putting teams to the sword at home, but consistent poor performances do not belie an inescapable fact – that the team itself is composed of unintelligent, sub-standard players that fail to learn from their mistakes.
The tactics should be considered irrelevant. Klopp should be able to substitute Coutinho with Liverpool leading at home in most games. He should be able to bring on three forwards, and expect Liverpool to coast home. He should be able to fiddle with the team in any possible manner, safe in the knowledge that the team would comfortably see the game out. Yet, even with three centre-backs, the backing of the home crowd, and with the knowledge that a victory would help all of the players achieve both their, and the club's, wider ambitions, the team managed to bottle it. Again.
N0w, Liverpool sit precisely six points clear of Arsenal, who have two games in hand, and with a goal difference inferior by a mere two goals. Simply put, should Arsenal win their two games, as they are widely expected to, Liverpool will be outside of the driving seat for the top four, and hoping for another team to bail them out of a position they are solely responsible for. Manchester City, also sit right behind Liverpool, trailing by two points and with a game in hand. The only saving grace for Liverpool is that Arsenal still have outstanding fixtures against Spurs and Manchester United to contend with. But with Liverpool's disastrous record against low-block teams away from home, top four appears as tall an order as any.
There are no more excuses for Liverpool. Key players may be injured, but the team has enough preparation time and enough experience to successfully get through the final seven games of the season. The stakes for Liverpool are extremely high, and the players would do well to recognise that. Missing out on the top four would seriously debt any ambitions Liverpool have in the transfer market, and would likely set Liverpool even further back behind its rivals. For Klopp and the team, the pressure is well and truly on, and the margins are slimmer than ever.