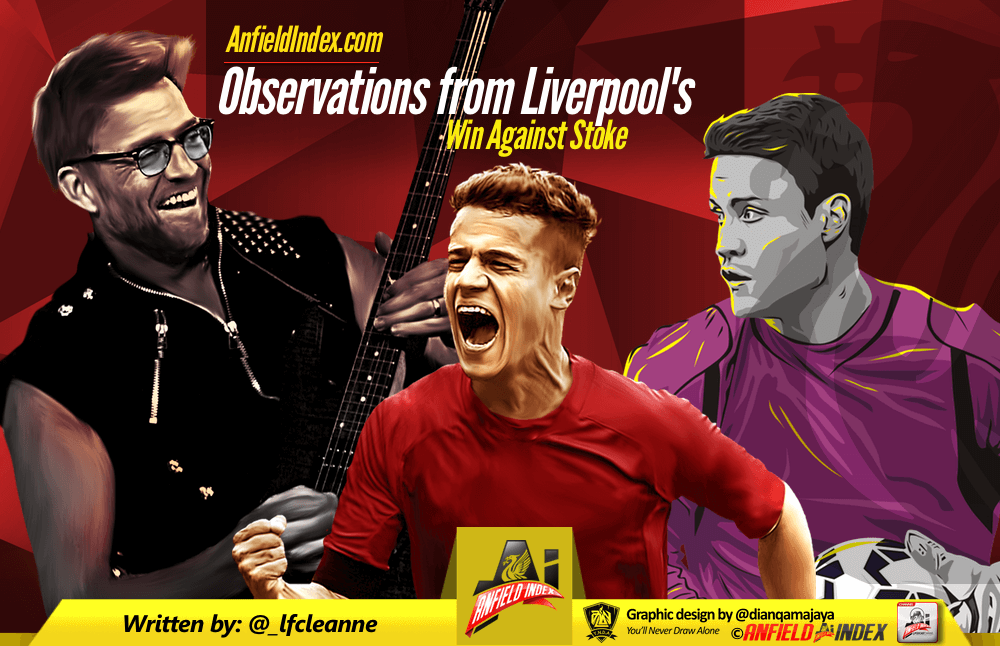 Observations from Liverpool's fight back to beat Stoke
Liverpool's starting eleven was indicative of a side battling several injuries to key players, with Ben Woodburn and Trent Alexander-Arnold replacing Roberto Firmino and Philippe Coutinho in the side. The Brazilian pair have both been struggling of late with fitness and illness issues respectively. It was always going to be a tough game for the Reds but the lineup hardly filled fans with optimism going into a must-win game in the battle for a top four spot.
That fear was compounded when Stoke took the lead in the first half through Jonathan Walters. Ragnar Klavan was again found wanting in defence after Xherdan Shaqiri easily bypassed him down the right hand side before crossing to the head of Walters. 1-0 down and struggling, Liverpool couldn't seem to get going. There was no fluidity and no aggression in their play and but for a mazey run by Woodburn on the half an hour mark, there was very little in the way of creativity.
However, two half time changes saw the game turned well and truly on it's head. Roberto Firmino and Philippe Coutinho replaced the youngsters, who in fairness put in a decent shift, to give Liverpool the star quality they were so desperately missing in the first forty-five. And it was that exact quality that shone through in the second-half, with Coutinho once again coming up with a big goal at a crucial time for Jurgen Klopp's side. The ball fell kindly to him inside the area and he was able to guide the ball into the left hand corner beyond Grant's reach.

With the scores level and Liverpool firmly in the ascendency, it was only a matter of time before the second goal came, but what a strike it was. A delightful long range pass from Georginio Wijnaldum set the ball up nicely for Firmino to hit his volley into the top corner. It was an absolute stunner for Liverpool, giving them a crucial three points in their bid for Champions League football. The result gives the side fresh hopes of piping their rivals come the end of the season and puts the pressure back on Arsenal and Manchester United to deliver in their coming games. Here are the observations from the match.
Brazilian boys win it for Liverpool
Coutinho and Firmino completely changed the game for Liverpool, who until their arrival, looked a shadow of their usual selves. There was no energy, no decisiveness and no threat from Klopp's side, who were bullied and bashed by Stoke in the first half. However, the duo came on and instantly made an impact, receiving the ball from deep and linking the play well.
It was as if their introduction injected a sense of fear into Stoke and there was an increasing sense that their lead would not last for long. Firmino tested Lee Grant straight away before Coutinho's curling shot had to be turned round the post for a corner. Liverpool's cavalry showed intent from the off.
Coutinho's goal makes it 3 in 3 for the Brazilian, who seems to have re-found his form from the beginning of the campaign. It also takes him to 30 Premier League goals – a record for any Brazilian in the division. 126 seconds later and his international compatriot completed the turn around.
A stunning volley was a clear indication of the quality Firmino has at his fingertips, with the forward now on 10 goals for the season after latching on to Wijnaldum's through ball. The Brazilian boys did the trick for Liverpool and ensured that momentum was retained at a key stage in the season.
Simon Mignolet, or Jerzy Dudek?
Mignolet has received his fair share of criticism since joining Liverpool, often looking a very nervous figure in between the sticks. However, the Belgian was the hero for Jurgen Klopp at the Bet 365 stadium, pulling off two sublime saves – the first of which kept Liverpool in the game and the second to secure the three points.
Liverpool seemed destined to go 2-0 down, failing to clear their lines just as they had on Wednesday night to allow Joshua King to steal a late equaliser. A backward header from Wijnaldum set up a golden opportunity chance for Stoke, but Mignolet got down well and made himself big to deny him at the death. It would have been a very long way back for Liverpool at 2-0 down and his save provided a catalyst for The Reds to find their feet and turn the game around in the second-half.
So often a figure that Liverpool can't rely on, Mignolet was the main man on Saturday afternoon, coming up with another key stop to deny Stoke a late leveller. A point would have seen the side suffer yet another setback in their top four hopes but unlike in midweek, they managed to see it out and get over the line in what could prove to be a huge result. Coutinho and Firmino may have scored two belters, but Mignolet produced a man of the match display, confounded by Klopp's warm embrace at the full time whistle.
Klopp got it right this time
When Klopp brought on Joel Matip in place of the ill Philippe Coutinho on Wednesday night, many eyebrows were raised, even more so when Liverpool squandered a 2-1 lead in the final stages of the game. Reverting back into a defensive shape, The Reds lost all impetus going forward and invited pressure on to their leaky defence – a highly counter-productive strategy.
However, Klopp seemed to have learnt from his lessons at the weekend. Bringing on Coutinho and Firmino may have seemed an obvious change to make, but to do so at the half-time interval gave Liverpool time to turn the game on it's head and grab the three points. Daniel Sturridge's later introduction saw Klopp continue to push forward rather than go on the defensive and it proved to be a much better strategy for Liverpool. For all the stick he got in midweek, he deserves equally as much praise for how he handled the game today.
The result was a defiant message from Jurgen Klopp's side that they are not prepared to go down lightly in the top-four race. With those around them still to face one another, it was crucial Liverpool got three points against Stoke and their ability to turn the game on its head will give fresh hope of a return to Europe.