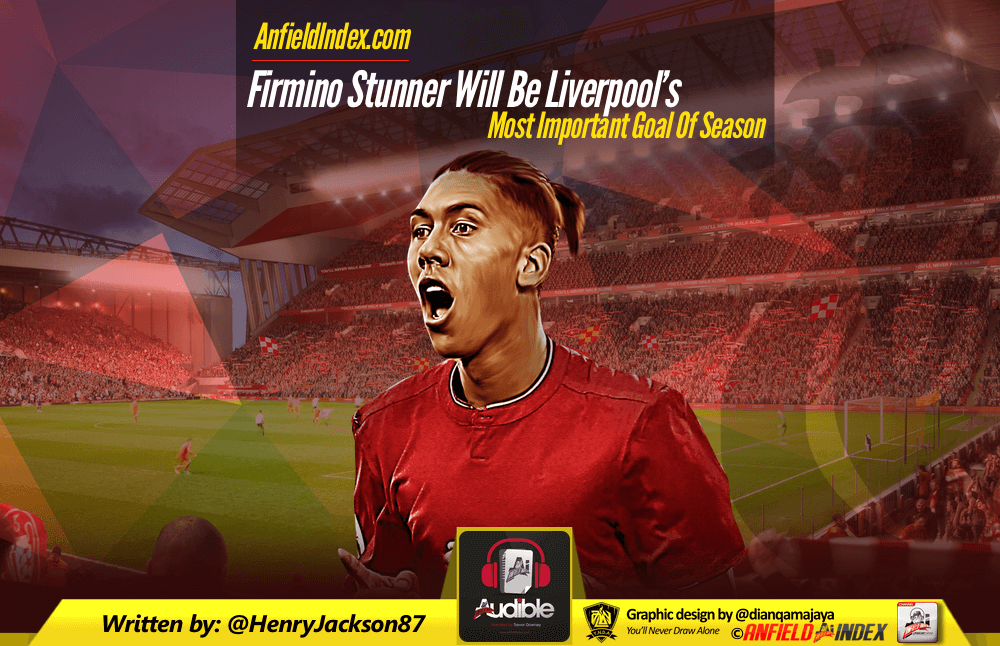 Firmino Stunner Will Be Liverpool's Most Important Goal Of 2016/17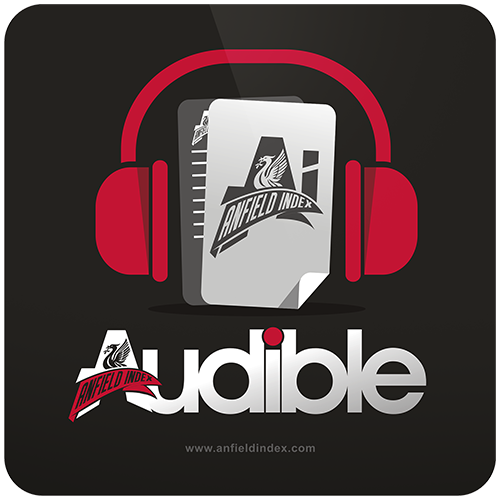 Listen to this article via @AIAudible !
Sometimes a goal comes along that feels absolutely pivotal. It fills you with so much warmth that you feel as though you'll be on a footballing high forever.
Gary McAllister's last-gasp free-kick at Everton in 2001 is certainly one that springs to mind, while numerous others have been vital in securing Liverpool trophies and top-four finishes.
Come the end of May I may end up looking incredibly foolish, but Roberto Firmino's wonderful half-volley at Stoke felt as season-defining as McAllister's, as Liverpool's Champions League quest was given a much-needed injection of belief.

The importance of the 25-year-old's strike should not be played down in the slightest for so many reasons.
Firstly, the Reds' inability to win ugly has been an Achilles heel for so long now, so grinding out a victory in that manner felt as satisfying a three points as any of the thumpings that were dished out in the autumn months.
Jurgen Klopp's side were abysmal in the opening 45 minutes, and victory felt as unlikely as it had done all season.
The thought of even getting a draw seemed unthinkable, let alone winning, with two teenagers on the pitch and a new-look 3-5-2 formation not working in the slightest. 
With several key men missing, Liverpool were always likely to have to dig deep, and they couldn't have dug much further if they had tried.
Those brilliant Brazilians, Firmino and Philippe Coutinho, as well as Daniel Sturridge, deserve a giant pat on the back for their impact in the second-half.
The Reds triumphing in that manner will also have been a real kick in the teeth for their rivals, who will have been gleefully watching on as the half-time scores rolled in around 3:45pm. Who else is sick of the sight of Jon Walters?
Arsenal will have been irked by that Firmino goal more than any of the other top six sides, and you could argue that their capitulation at Crystal Palace two days later was partly down to the pressure of Liverpool winning.
They had every reason not to expect a Reds fightback, in fairness, given their toothless nature over the years, but Klopp is starting to instill more and more of a winning mentality. It's not quite fully on display yet, but it's getting there.
Brendan Rodgers gets a lot of bad press, despite his numerous deficiencies, but there is no way his Reds side would have won 2-1. In fact, the 6-1 defeat that Stoke handed out in May 2015 would have been more likely. 
The final key reason for Firmino's stunner being such a memorable moment in the campaign is the confidence it should give the entire side, as well as momentum.
The Reds' season was in horrible danger of falling to pieces as Klopp's men trudged off at the interval, and the negativity after the game would have been deafening.
Having started their much-discussed "easy" run-in with a disappointing draw at home to Bournemouth, just imagine what more dropped points at the Britannia Stadium would have done to morale.
As soon as the final whistle blew, however, the mood was completely at the other end of the spectrum. Anything felt possible.
Of course, we don't want to get too far ahead of ourselves and assume that Liverpool will now cruise their way to a top-four finish – we've been here before – but the remaining fixtures are appealing and Saturday's game is an almighty hurdle cleared.
This weekend's clash with West Brom could prove to be an equally ugly watch, but the Stoke match has given Liverpool that little bit of leeway to afford one slip-up.
Over the next six matches, we shouldn't be expecting to see the free-flowing team that was ripping opponents to shreds earlier in the season, which shouldn't come as a shock.
With Sadio Mane, Adam Lallana and Jordan Henderson all missing, and Firmino and Coutinho not at their sharpest, would do you expect?
Klopp is likely to adopt a more pragmatic approach, as was the case at Stoke, with results easily taking precedence over performances now.
Firmino's winner and the subsequent victory will stand them in such good stead, and while some may call it going overboard, without that goal, Liverpool's season could be in ruins.
In the summer, and even potentially in years to come, we will look back on that moment as the defining one of 2016/17. That will be even more pertinent if the Reds went and did something special in next season's Champions League.
If a goal comes along in the next few weeks that tops it, I won't be complaining, but it will take something huge to eclipse that individual piece of Brazilian magic.
The celebrations on the pitch, in the dugout and in the stands summed up what it meant.