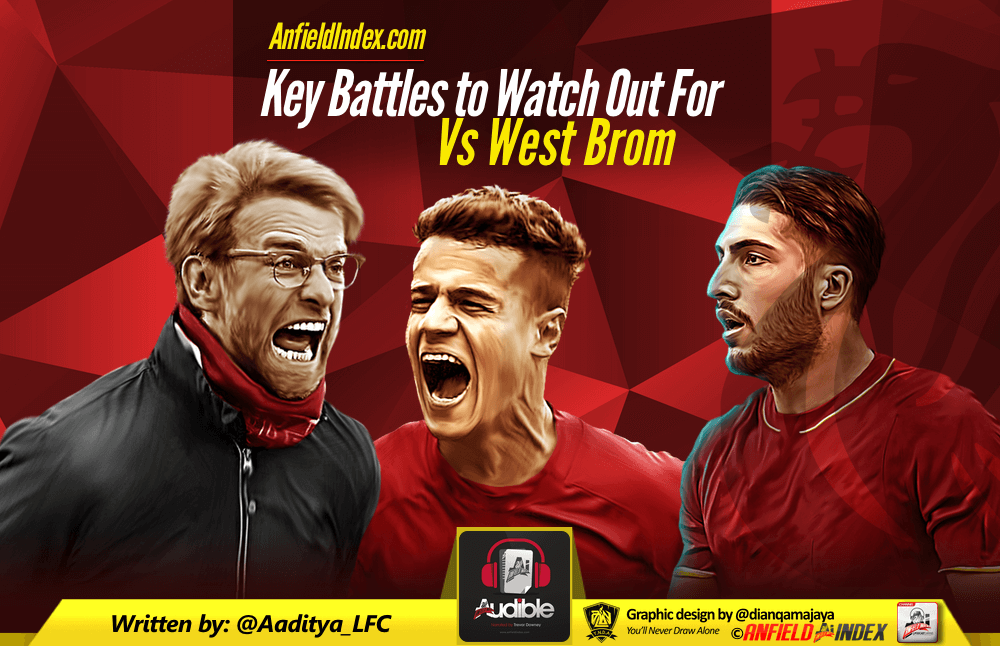 West Bromwich Albion v Liverpool Preview - Key Battles
It was a hard-fought, sometimes even ugly, win that Liverpool earned at Stoke last weekend. It was a priceless win in the context of the race to finish in the Premier League's top 4. It meant that the Reds still have their fate in their own hands.
However, Jurgen Klopp will know fully well that the win will mean nothing if his team fail to turn up at The Hawthorns on Sunday, against a West Brom side who have been well-drilled by Tony Pulis, and already have scalped Arsenal at home this season.
West Brom, like any Pulis team, are unapologetically direct in their style, and a huge threat from set-pieces. In a line, they are everything that this Liverpool team do not like in an opposition.

Once again, Jordan Henderson and Adam Lallana are out. Sadio Mane is out for the rest of the season. Daniel Sturridge made a big difference after coming on last week, and he will be a critical asset for Klopp as he seeks to dismantle West Brom, at a venue where the Reds' recent record is nothing to boast about.
Here are some important individual battles to look forward to.
Craig Dawson v Philippe Coutinho
The little magician has scored in all of Liverpool's last three games, and he finally looks to be the player that he was before his injury in November. The close control, the passing and the shooting boots have all been in sync for Coutinho since the international break, and there is no secret how West Brom will approach him.
Dawson, at right-back, will be aggressive. He will look to snuff out the Coutinho threat before it begins to take shape. Dawson is experienced enough to know what Coutinho is going to look to do. In the game at Anfield earlier this season, he was turned inside out by the Brazilian before a swift finish gave Liverpool a 2-0 lead from which West Brom had no coming back.
Also, it will be interesting to see if Jurgen Klopp starts with the same 3-5-2 that he went with against Stoke or his usual 4-3-3. Either way, Coutinho will drift in and out from the left side. If it is a 3-5-2, it gives Coutinho more freedom to roam around that could make him a bigger threat, given that his movement is so intelligent and will make him only a little more difficult to mark.
But either way, Dawson knows that he will face one of his toughest duels in the Premier League. But for Dawson, the work will not be confined to his defensive side. With Liverpool's well-documented weaknesses in defending set-pieces, he will be confident of possibly nicking a goal for his side from those situations.
Jake Livermore v Emre Can 
Livermore has been terrific since joining West Brom in January; his performances have even earned him his first England call-up. On Sunday, he will be confronted in the center of the park by Gini Wijnaldum and Emre Can.
Against Stoke, Can was pretty poor in the first half, but picked his game up and drove the side at every given opportunity in the second half. It is that kind of inconsistency that is Can's biggest nemesis. Liverpool, who will slot alongside Darren Fletcher is disciplined, tireless and a very good passer of the football.
With Can and Wijnaldum, what they will do is pretty straightforward. They are going to try and get Coutinho and Firmino on the ball as early as possible, so that West Brom's defense does not time to get in their shape, which is almost always difficult to break down.
Against a packed defense, late runners from midfield will also be important. Can and Wijnaldum generally alternate on doing that, and there is no reason why Sunday should be any different. Another aspect of Can's role as the deepest lying midfielder is how much support he can provide to the full-backs, particularly James Milner. The Englishman has got found out more often recently than he was in the first half of the season, so he can use all the support he can get.
Also, as one of the vocal members of the squad, Can will be crucial while defending set-pieces as Liverpool will try to dodge what has been a nemesis for far too long now.
Tony Pulis v Jurgen Klopp
Pulis's style is very simple. West Brom will defend in numbers, and when they win the ball, look to hit their front players as early as possible. That is easier said than done. The doggedness with which West Brom defend is typical of any Pulis side. The work-rate of their midfielders is also typical of any Pulis side. In short, if you have seen Pulis teams in the league over the years, this West Brom side is an embodiment of those teams and what their manager wants to do.
That style is easily explained, but boy, is it difficult to play against? Pulis has said repeatedly that he doesn't care about his detractors and that he sets his teams out in the way he thinks is best to win a football match. Why should it be any different? He is paid to win football matches for his side.
For the first time this season, Klopp moved away from his favourite 4-3-3 formation against Stoke last week. It was a disaster in the first half as Nathaniel Clyne struggled at left wing back and Trent Alexander-Arnold similarly on the opposite side. But in the second half, it did look much better. Klopp might stick to that formation since it suits more of the available players than a 4-3-3 does.
For example, in a 4-3-3 either of Roberto Firmino or Divock Origi would have to move out wide. In a 3-5-2, both of them can start centrally, and Firmino can drift where he wants to, which is what makes him so dangerous. Also, Coutinho plays more centrally in a 3-5-2, which allows him to dictate the attacking play. In the absence of Lallana, Liverpool have certainly missed someone who could do that.
So, Klopp does have thinking to do. He knows the merits of both systems; the 3-5-2 that could suit more of his players, or the 4-3-3 that has served him so well whenever he has managed.
But, in the end, it will be rather straightforward. Can Liverpool play their way through West Brom? Or can the hosts bully the Reds out of the contest?