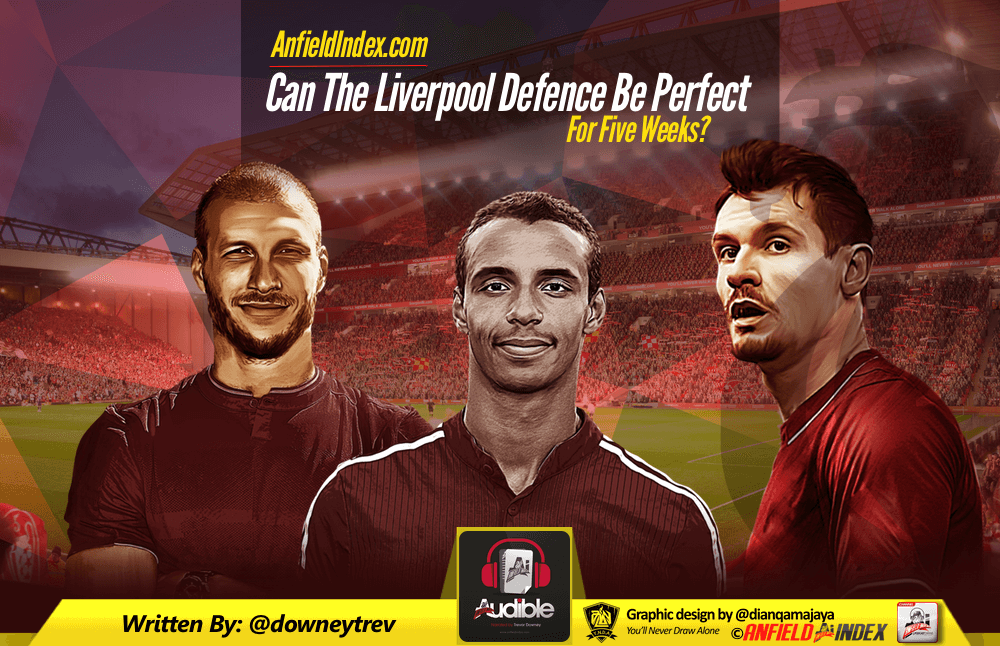 Can The Liverpool Defence Be Perfect For Five Weeks?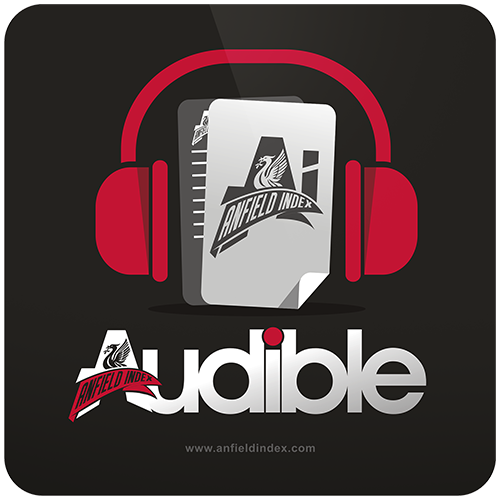 Listen to this article via @AIAudible !
Most of this week was spent waiting on some very significant news. It's a peculiar form of existence, waiting. Obviously, one has to press on with the mundanity of daily existence but always with an awareness that if that news is unfavourable, then the time doing those routine things would have been infinitely better spent running up a spectacular bar tab in Tijuana and going out in style. When it eventually came, the news was bad, but not book the tickets to Mexico bad. Just, let's see what happens I suppose bad. The result? More waiting. Stasis.
It struck me often, over recent days, in my less solipsistic moments, that that all of you lovely readers and listeners are being put through a very similar trial by our beloved Liverpool Football Club. We are all like Vladimir and Estragon in that Samuel Beckett play. Every match, every season we come back. Always hoping that things will be different, that the Godot of league success will finally arrive, but knowing, really, that more waiting is the probable outcome.
Like Didi and Gogo, at any stage we could just walk away, take up a constructive hobby, like carpet bowls perhaps, and make ourselves feel valid, worthwhile and not dependent on something which we can't control. But we don't. We endure. We come back. We hope. We wait. We've been waiting since 1990. Talk about the Theatre of the Absurd. He was more of a cricketer, but Beckett would definitely be a Red. He'd just get it.

Have you noticed how this season Liverpool are helping other club's to end their long periods of waiting? I've genuinely lost track of the amount of times a commentator has informed us pre-match that Team A has not scored or won at Anfield or against the Redmen since Year B, only for our considerate lot to generously help them end that run. Sunday's match against West Bromwich Albion has another delightful stat attached to it. Did you know that The Reds have not won away from home against a Tony Pulis-managed side in the Premier League?
Ball-Cap Tone, it seems, is LFC kryptonite. The Welshman is famed for the organised and unfussy nature of his teams and, having once engaged in a naked punch-up with James Beattie, Pulis is also considered a bit of a managerial hard-nut. This persona has been singularly unimpressive to Jürgen Klopp, however, and the antipathy between the two has seemed quite pronounced at times. When asked about this apparent tension, the West Brom gaffer attempted, somewhat half-heartedly, to defuse the scenario.
"There will be no problems with myself and Klopp," he averred, ignoring the very real possibility that the excitable German may have something to say about that. "He's a competitive man and wants his team to win, no problem this end. It's fine with me – whether he says nice things or bad things, whatever."
Poor Tony, however, seems to have been watching another side when he thought he was watching Klopp's Reds. In a bit of staggeringly inept analysis, he dismissed the threat of Sunday's opposition as primarily from set-pieces. The long-ball fancier has clearly never witnessed the perpetually horrendous vista of a Liverpool corner.
"We've watched tapes back again in the last couple of days and they're very good on set-plays themselves," Pulis said, without even giggling. "If they go with the three centre-halves, they're a big team and they can be really dangerous. They get good quality in. I think both boxes will have to be defended well off set plays this week."
There you have it, then. A Sunday lunchtime of aerial battles and set-piece tension as two teams of big grunts play good honest hoof-ball. What's not to like, eh? Even Pulis doesn't believe that guff, however, and his insistence in another interview on his side's focus on the "first pass" and winning second balls is far more indicative of the type of contest we are likely to see. Make no mistake, this will be a battle for Klopp's charges. West Brom will rattle into every challenge and look to unsettle our nervy defence from the start.
Thankfully, Dejan Lovren reckons the much-discussed three at the back defence is "perfect," so we'll have no issues at all. Right? With an almost Pulisian lack of insight and self-awareness, the Croatian posits the theory that Joel Matip, Ragnar Klavan and himself are quite the unit. Although, it was quite amusing to see him dismiss the heralded Mark Hughes revolution at Stoke by lumping them in with West Brom as long-ball merchants. Also, to be fair to Lovren, Liverpool are unbeaten when both he and Matip play, so that may be informing his confidence.
"Stoke is a similar team [to West Brom] with long balls, and we played the system quite well in the second half," he opined. "I think it's a perfect mix for us – [Joel] Matip in the middle, me on the right because I'm right-footed, and Raggy [Klavan] on the left because he's left-footed. It's quite a good mix. But also, if we change [formation], we know what we need to do. Again, the vital thing for us is to play football and hopefully we won't be 1-0 down like against Stoke. We need to just believe in ourselves. This, I think, is the main thing – self-confidence for every one of us. We know that we can score always."
And there, right at the end, is the real source of Lovren's confidence – his faith in his teammates to get the goals required even if he, Joel and 'Raggy' have a little boo-boo at the back. In the wake of the wonder-strikes from Philippe Coutinho and Roberto Firmino in the Stoke game, which did exactly that, it his hard to take too much issue with the defender's assessment. Now we all just have to wait and see. Waiting and hoping again. The usual.