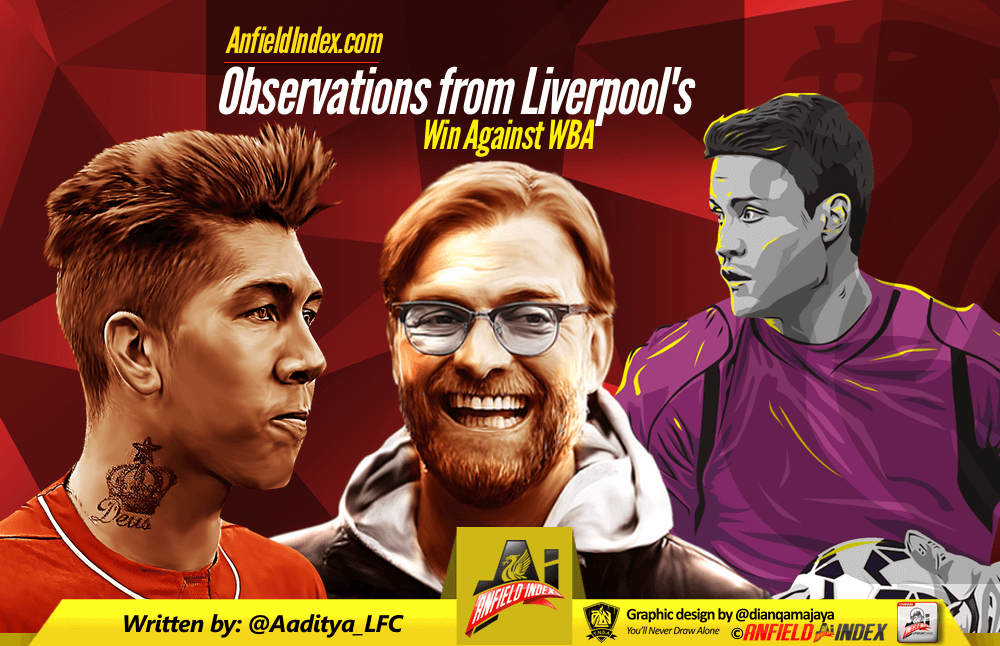 Observations from Liverpool's 1-0 win over West Brom
The end is near, isn't it? Liverpool were barely troubled by any West Bromwich Albion set-piece. Liverpool scored off a set-piece against West Brom. But, the bigger picture is crucial. It was another massive win for the Reds in the race for the top four, as they eked out a 1-0 victory. This was the first time that Liverpool had won at The Hawthorns in ages. Here are the main talking points from the game, as Liverpool went back up to third place in the Premier League.
We can eke out ugly wins
Liverpool were nowhere near their best but still managed to get the win. It feels satisfying to say that, given that it was being talked about as the biggest Achilles heel for this side. Today, Liverpool were able to deal with most things West Brom threw at them. But it is important to not get carried away by this win. Yes, it was talked about as our toughest remaining game this season, but West Brom offered barely anything until the last 10 minutes.

Simon Mignolet deserves credit
He has got a lot of flak over the last few years, and rightly so, but in recent games, Mignolet has proved why Jurgen Klopp regards him as the no. 1 goalkeeper. After pulling off a couple of miraculous saves at Stoke last week, he again comes up with a big save to deny Matt Phillips when he was one-on-one. But his shot-stopping has always been pretty good. What has been encouraging recently is the way he has dealt with crosses into the box. He has shown a lot more conviction, be it with catching them or punching them away. Whether he is our no. 1 at the start of next season is a different argument but for now, Mignolet is helping this top 4 push immensely.
Bobby Firmino
In an analogy to the 2008-09 side, Firmino is closest to Dirk Kuyt. But his positional sense is better than Kuyt's and he brings his Samba skills as well. Today, he was head and shoulders above anyone on the pitch. He held the ball up in West Brom's half, but it was barely ever by way of his strength. He got into congested areas of the pitch to receive the ball and came away from those positions with the ball still at his feet. He kept evading tackles from West Brom defenders and kept getting Divock Origi and Philippe Coutinho into play. He took his goal brilliantly, as he popped up in a goalscoring position, as he does so often. He should have had an assist too, but James Milner missed what was an easy volley from a few yards out.
Divock Origi's hold-up play
It is an aspect of his game that he often gets criticised for, but today, Origi's strength and pace came to the fore against Gareth McAuley and Jonny Evans. He was strong aerially as well, which helped him hugely on the day, against the massive structures that the West Brom defenders are. But what Origi showed was not the hold-up play of a traditional no. 9. He was brilliant with the ball at his feet in the West Brom half, which helped buy some time for the defenders. His pace and trickery were often too much from McAuley and Evans, who ended up fouling him on several occasions. Given his chance in Sadio Mane's absence, Origi is making full use of it. It was his trickery that helped his turn past Evans and win the free-kick which led to our goal.
The game should have been killed off before it actually ended
Liverpool had two gilt-edged opportunities with James Milner and Alberto Moreno both missing easy chances to put the Reds 2-0 ahead. Some terrific play between Gini Wijnaldum and Firmino set the Brazilian free on the right flank. He provided an inch-perfect cross for Milner to smash a volley home from a few yards out but it was skied. Milner must be credited for making the run into the area late, but that finish left a lot to be desired. It would have been his first non-penalty goal of the season. Moreno's chance was arguably even easier. Ben Foster had come up for a WBA set-piece and the ball fell to Moreno, who ran for a few yards, before taking a shot from around 40 yards out. All he had to do was shoot the ball straight into an empty net, but the shot curled out wide. Eventually, there was no damage done, but it would have done a world of good for Moreno's confidence if he had scored that.