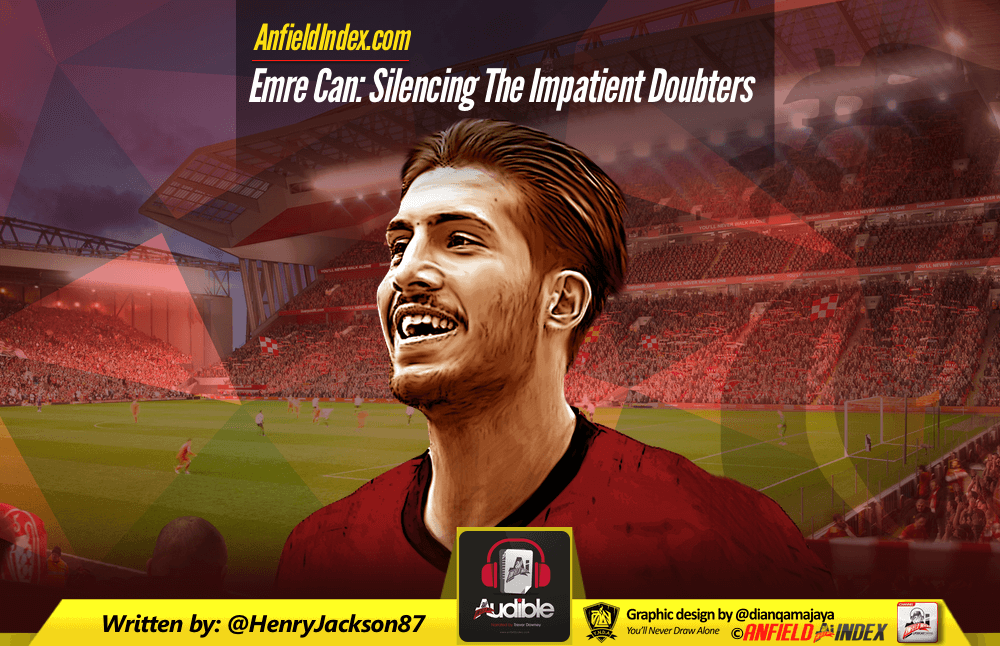 Emre Can: Silencing The Impatient Doubters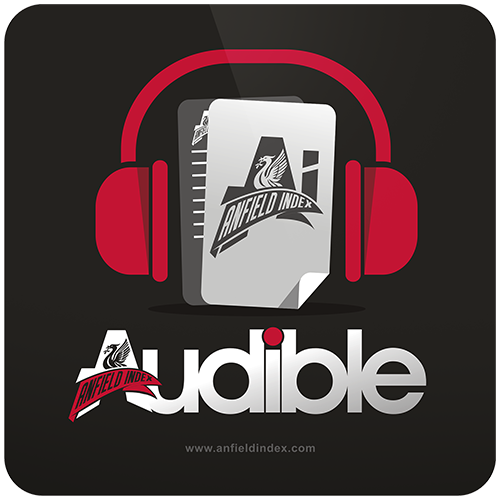 Listen to this article via @AIAudible !
"Sell Emre Can in the summer", "he's such an average player", "I'd rather Kev Stewart started ahead of him now".
Bet you're feeling a little foolish if you uttered words of that ilk with regards to Emre Can earlier in the season. Keep it quiet, but I may even have had a few digs too, which I regret. 
Modern football absolutely loves a scapegoat, and few sets of supporters do it better than Liverpool fans.

It doesn't matter how well the team is doing, there will always be at least one player getting it in the neck, and the nastiness of the criticism often feels completely uncalled for. Before you use Alberto Moreno as an example of this, I'll stop you. He is utterly braindead and deserving of much of the negativity that comes his way. 
As Liverpool's title challenge evaporated at the turn of the year, one man was being crucified more than anyone: Emre Can.
Having been such a stellar performer this time last year, during a run of form that included a magnificent display at home Villarreal, his form dipped alarmingly for the opening four or five months of 2016/17. His touch was all over the place, his decision-making was erratic and he felt like the weak link whenever he came into the midfield. He was at times, in truth.
Rather than blame the entire team for their wretched form in January, though, it was Can bearing the brunt of the anger. While some of it was deserved, the reaction was ridiculously hyperbolic and harsh. All of a sudden, this hugely promising footballer who had been labelled the "next Steven Gerrard" not long before, was one of those who should be sold in the summer.
Perhaps his ongoing contract dispute didn't help him gain admirers, but the knee-jerk nature of the supporters' attitude towards the German sums up the impatience of the modern fan. Trust me, Gerrard had an unbelievable dip in form when he was around Can's age, in 2002/03, and things didn't work out too badly for him.
With Jordan Henderson picking up a potentially season-ending injury back in February, it was understandable for there to be real concern about Can replacing him for a sustained period, due to his rusty form.
With many doubting him, however, the 23-year-old has responded magnificently and has been one of Liverpool's best players over the last couple of months. His confidence has returned – how dare a footballer not always play with brimming self-esteem – and the influence that was missing earlier in the season is now back in 2015/16 mode.
Can has shone against the likes of Arsenal, Man City and Everton, and his superb form continued against West Brom on Sunday.
Liverpool's 1-0 victory was as important as it was ugly, and nobody typified the Reds' fighting spirit more than Can. His physical presence was more than a match for the Baggies' behemoth-like players, and he broke play up, used the ball intelligently and displayed a leadership that bodes well for the future.
One of the things aimed at Can has been a lack of maturity – he is still young, which so many tend to forget because he looks 32 – but there has been an abundance of it on display of late.
All this goes to show is that supporters should not be so knee-jerk.
As mentioned, Can deserved plenty of flack for a number of uninspiring performances, but some iffy form does not mean you should be sold. Divock Origi has suffered in a similar fashion.
It should also be remembered that Can was playing through the pain barrier during his bad period, which no doubt hampered him. The same applied to Henderson last season when his form was suffering. Surprise, surprise, fans were ready to get rid of the skipper then, too. When will people learn?
Can isn't perfect, and when the entire squad is fully fit, he should still probably start on the substitutes bench.
Given the subjective nature of football, some will wholly disagree with that, but a midfield three of Henderson, Wijnaldum and Lallana brings the best balance and was vital to Liverpool's table-topping run earlier in the season.
This is not a major slight against Can, though. He is a player with huge potential and the ability to boss a midfield battle on his own, and his current form is fantastic.
He was made far too big a scapegoat for Liverpool's mid-season collapse and is now making the doubters look foolish.
On a bad day, he can be as infuriating as any Reds player, but there are far too many positives to his game to be ready to ship him off anytime soon.
There is a dearth of character in Klopp's squad, but Can has bags of it. Let's also not forget that he is wonderfully snide, which is a great weapon to have. No Liverpool squad member masters the dark arts like him. 
Regardless of whether you see Can as a key man or a squad player moving forward, Liverpool's enviably-handsome No.23 has to remain at Anfield.
The last couple of months have shown how good he can be, and he has been a big reason for the Reds' post-Leicester success. 
Get the new deal sorted, accept that there will be some bad performances along the way and watch him grow in a Liverpool shirt.