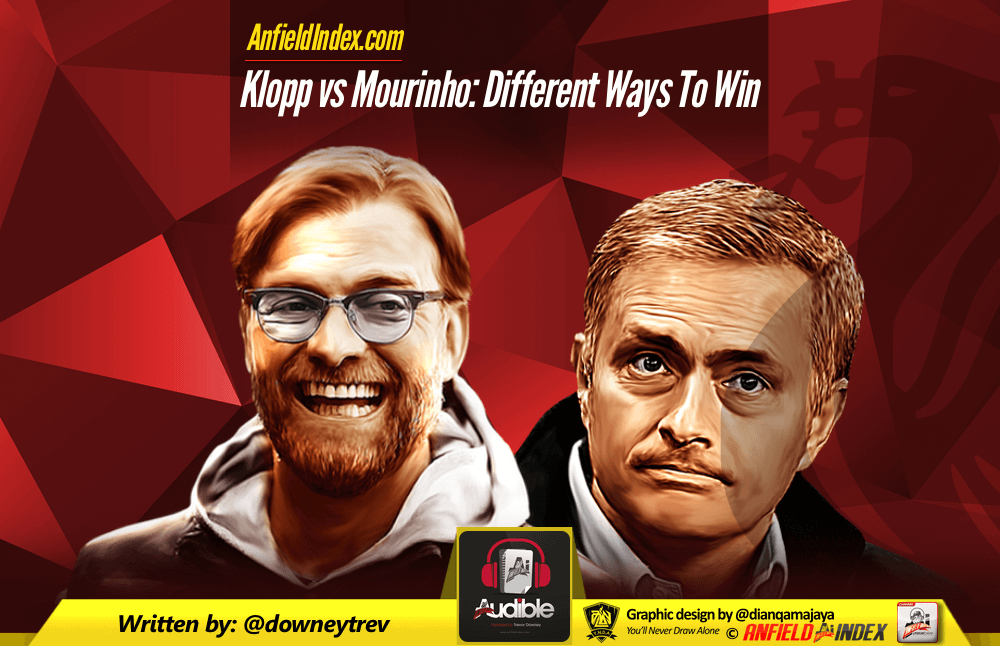 Klopp vs Mourinho: Different Ways To Win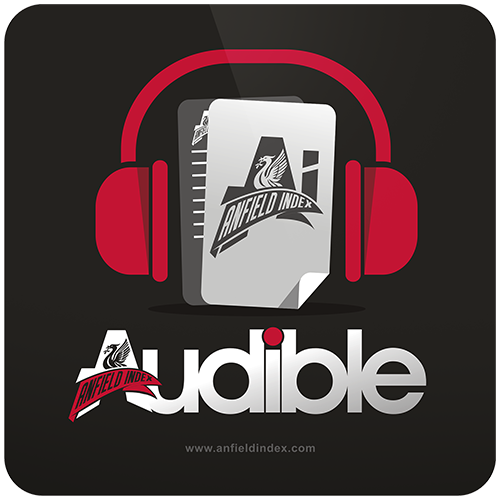 Listen to this article via @AIAudible !
Where do you stand on crest-pointing and badge-kissing? I only ask because of the mixture of amusement and irritation I felt watching Jose Mourinho leave the Old Trafford pitch yesterday. The professionally sullen gilet-fancier was pulling one of those teenage girl Instagram-selfie faces, whilst pointing, very exactly, with his right index finger, to the AON logo beneath the Manchester United badge. It was, at best, an unintentionally hilarious comment on the rampant commercialisation of the modern game and at worst a tacit admission of the Mancs' having sold their soul to the devil at some dusty crossroads marked only by the incongruous presence of a looming insurance company building.
Probably, the only real way to assess the acceptability of this type of behaviour is to ask one simple question: how earnest is it? The true answer will probably be in direct proportion to the amount of time and the amount of genuine affection the pointer/kisser has for the crest they are worrying. When Gary Neville clawed at the Manc badge on his shirt after a late win at Anfield, it was galling for LFC fans but acceptable under the above criterion. To see the sour Portuguese currying favour in that way is harder to stomach.
On a day when Jürgen Klopp was forced to answer questions about the appropriateness of his players' overt expression of joy at going back to third in the table, the media, led by sycophantic cheerleaders like Martin 'Machedaaaaaa' Tyler and the comically obsequious Duncan Castles, seemed to think Mourinho's display of self-serving 'tribute' was just fine. This, despite the fact that in his brief few months at the club the tantrum specialist has criticised his own players, his own fans and anyone else that has dared to question the perfection of his approach to management.

At any rate, having finally dispensed with the much-vaunted stat about how Liverpool had never managed to defeat a Tony Pulis side away from Anfield, Jürgen Klopp was understandably gleeful. The aforementioned Neville was apparently giggling to himself at the frankness of the German's post-match interview on Sky. With his disarming emotional openness, Klopp, despite a shared fondness for padded gilets, is pretty much the antithesis of his United counterpart, and yet he is quite capable of sneaking in a hidden barb. He was definitely enjoying this win a little more due to the fact that it was Pulis who'd been vanquished.
The Welshman had said that the game would probably be a set-piece battle between two tall teams and Klopp revelled in pointing out that his players had tried to keep the ball on the deck and still won with a set-piece. It was, he said, a "perfect" result. As to the charge of over-celebrating, the manager was quick to defend his charges.
"I don't think we did crazy things, but yes we are very happy," he beamed. "They were only three points today; we had 63 before we came here, now 66 and that's a wonderful number for the next six or seven days and then we want to have 69. I really thought that the boys were in a really difficult game in not the easiest situation, but they did really well."
He wasn't finished extending the protective arm there, however. After a universal pasting from Liverpool fans for his comparatively headless and utterly true-to-form cameo on Sunday, Alberto Moreno will have been justifiably red-eared as he travelled back to Liverpool. Following a nifty bit of pressing and a driving run, the Spaniard  elected to ignore better-placed teammates who were onside on his right and shoot into a net Ben Foster had abandoned. He missed. It was possibly the most Moreno moment ever. Klopp was having none of the criticism.
"I told him after the game 'I know everyone thinks you can play in Daniel Sturridge, but actually he would have been offside'. Maybe there was another option that I didn't see, I'd have to watch it again, but it's completely normal in a situation like this, you think you have to do this [shoot]. He had a difficult few weeks but last week was really good and he deserved a few minutes, it was only a few minutes but that's good. He's a good boy, really. I would have been happy for him, actually, if he'd scored this goal, but [there was] excitement until the end, which is pretty much always the way it is when we are involved."
It is now a feature of most interviews with the Reds' gaffer to hear him speak about how everything at Liverpool is done the hard way with the maximum theatricality. I think I can safely say I speak for most Liverpool fans when I say that I'd be perfectly content to eschew the excitement for a couple of seasons in favour of a few years of cripplingly boring league victories and perfunctory cup wins but Klopp seems to be partially traumatised by the absurd amount of drama that has seemed to reside permanently around Anfield and environs during his brief tenure. It's like a kind of Stockholm Syndrome has gripped the poor chap.
For his sake, as much as anyone's, we can only hope that the resilience of the last two results is indicative of a comparatively calm few weeks to end the season. With Jordan Henderson and Adam Lallana close to returns and the likes of Emre Can getting better as the season progresses, there are grounds for hope. However, as Klopp will inevitably tell you, there can be nothing taken for granted where Liverpool are concerned. For now, he and his players are, as he would have it, "on a good way." Fans of the Redmen everywhere hope that way leads to the Champions League, a raft of new superstars and an absurd amount of gratuitous crest pointing.