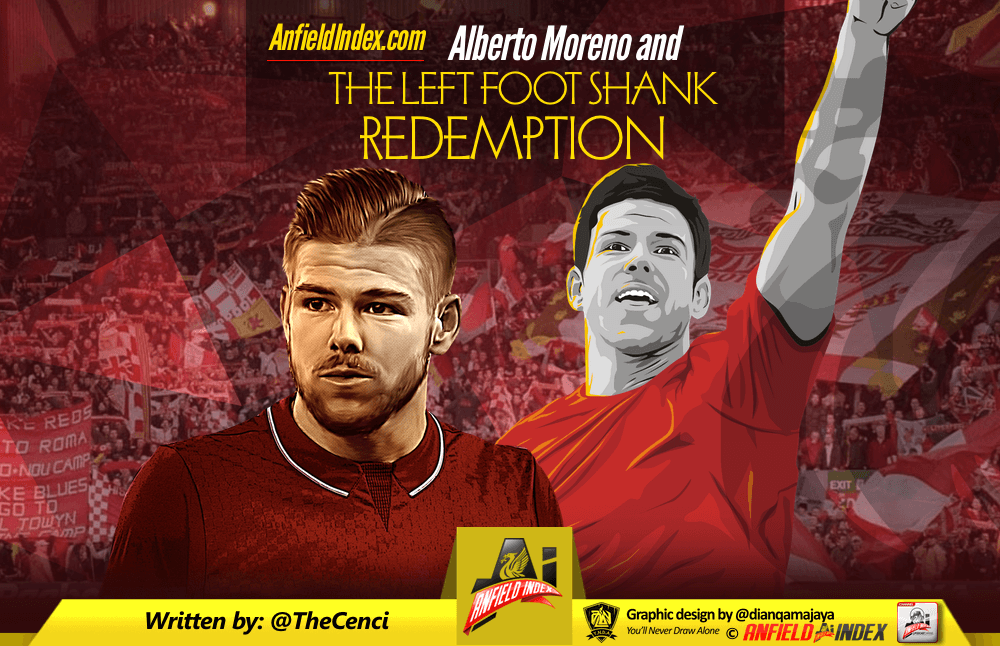 Alberto Moreno and the Left Foot Shank Redemption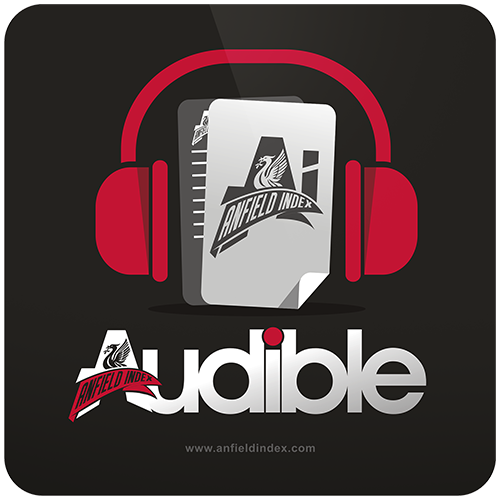 Listen to this article via @AIAudible !

The last five minutes of Liverpool's encounter with West Brom may well have been the strangest of our season.
I've never been a fan of sending goalkeepers up in the dying seconds of the game – not because I'm against fun or anything like that, but because it hardly ever works. People may remember Jimmy Glass and his incredible goal to keep Carlisle United in the Football League back in 1999, but it's not easy to think of a second case.
What was unusual about Ben Foster marauding up the pitch was the fact that he did it twice. Normally common sense gains control if a team have got away with it once, but there was Ben, looking like he was playing a game to which he hadn't been invited, waiting to cause a bit of late mayhem when the next high ball came in.
I learnt afterwards that it this sudden desire for the Albion keeper to become an emergency no. 9 was also news to his manager. Tony Pulis told the press that he too doesn't like to see keepers move up the pitch but, as he'd never shared that view with Foster, he could hardly chastise him for it. He added 'He knows now' with a disconcertingly passive-aggressive smile reminiscent of despotic emperors.
Of course, from a Red perspective, Ben Foster is of little relevance. This is all about Alberto Moreno.
I was at the game yesterday, low down in the stand behind the goal, and so was at eye level with the Spaniard as he ate up the yards between us. You know what happened next. He ignored Sturridge and Can and went for glory, screwing it across the face of the goal and out for a goal kick.
My first emotion was one of dismay, but that only lasted a few seconds before an all-encompassing fury took over. Why didn't he pass it to Sturridge? Why not put Emre in? We win 2-0 and the points are ours.
Of course, it wasn't until I returned home and watched the replay that I saw that Sturridge was offside. I mean, okay, he was onside while in his own half and Moreno could have stuck him in but I can't blame the lad for having a go.
What I can blame him for is having the freshest legs on the pitch and missing an open goal. True, he had an Albion lad to contend with but surely he can kick a ball into an area measuring eight yards from end to end. The chances of missing the goal increase if you aim for a corner but he didn't have to do that. He could have aimed down the middle and let fate decide. Maybe he did? Jesus, that would make it worse.
This fury – and I have to shout this point – was not because it was specifically Alberto Moreno though I'm usually happier when he's not on the pitch, but because of what his team had gone through in normal time to get us there. Emre Can has given his knees and shins for Liverpool over the last few weeks. Lucas was magnificent in both boxes and Gini Wijnaldum is easily a Player of the Season candidate. Those lads gave their all. When we travelled home from a deserted Birmingham City Centre where we'd sought post game refreshment only to find it looking like the first ten minutes of 28 Days Later, we discussed a Man of the Match. I cheated and gave it to all three midfielders. They gave their everything and went through hell to hold that lead.
Then Moreno came on and did that.
Had West Brom managed an equaliser he would have been sat at the front of the coach going home, his gazed fixed only on the road in front of him as making eye contact with anyone would only cause further rancour.
I had no idea that Klopp defended his player afterwards and pointed to his plus points and a good week at Melwood. Fair enough. What else could he say after all?
A quick glance at my Twitter feed later told me that the majority of people were alright over Albie and his shot. We won after all and it's not as if he's going to play much so…
I was a little stunned by this. I was happy to concede that Sturridge was offside (that's big of you, Karl) as I couldn't really tell from my spot in the stand but could live with it. I wasn't happy with him missing an open goal but we could all get on. As Christopher Moltisanti says in The Sopranos, 'I take a licking, we keep on ticking.' Debate is healthy and I had some interesting discussions about the situation. We all win.
Then I saw this.
This collection of words which make me furious. Incandescent. Sinew-stretching anger.
They weren't addressed to me so I'm not picking a fight without offering a right of reply to the half a dozen people I engaged with about this. No, it was sent to another mate and it was this.
'I hope that shuts up these so-called experts and bloggers who think they know more than Klopp.'
I swore loudly at an empty room.
As a Liverpool fan I'm aware that my frustration or joy matters little in the grand scheme of things and I can't change a thing about anything in L4.
I also accept that if you put your thoughts on a screen you're asking for trouble. You have to have a thick skin to do this sort of thing. That's fine.
But that term – 'so-called experts'. Jesus, I want to fight a continent every time I read it.
No-one is calling themselves an expert each time they express a view. They're just saying what's on their minds. But it's more than that. It's the inference that their view or repudiation of others is somehow more valid because they're sniffy about Liverpool fans writing about Liverpool. It's usually followed up by this gem:
'So-called fans'
Lord, take me now.
That usually occurs when someone has had the temerity to criticise the club or point out, for instance, that Alberto Moreno fucked up yesterday. Again, the implication that these people are not real fans like them and their mates or that the scale of their love for the club far exceeds your own.
Can we just get something straight? Maybe engrave it on a wall somewhere or something?
People who write articles aren't always saying 'I'm right and you're a dickhead if you disagree.' They're just stating a view and putting it out there – same as they are. We're all equal in this regard.
Also, if you think that the manager has got something wrong – AND JURGEN KLOPP DOES GET THE ODD THING WRONG (I've just checked outside for thunderbolts and biblical hands appearing from behind the clouds to point at my throat) – you're not denigrating the man or suggesting that you'd be a better Liverpool boss or know more about football management. You're just stating a view.
So when people – and I was one – vilify Moreno while his manager played it down and protected him, it's nothing more than an emotional fan expressing an opinion regardless of how insignificant it is in the grand scheme of things. I just wish we'd stop the fucking level of zealotry that exists in our fan base. You're not better than anyone else and neither are us poor sots who try to cajole you into seeing our point. We're just different pairs of eyes watching the same thing and coming up with different conclusions.
Ah, well. We won and that makes us all very happy. There's plenty to be happy about at the moment. The Reds are digging in and digging in and, for me, the last six points are just as much of an achievement as the wins against the bigger teams. More so in some regards as it's a skill we've lacked in previous campaigns.
But pointing out that a trained elite footballer should put a ball between two unguarded sticks is not heresy. I'll just say that.
Palace next. The third in a series of Liverpool v Yard Dog Manager. Dig further, Reds. Dig further.