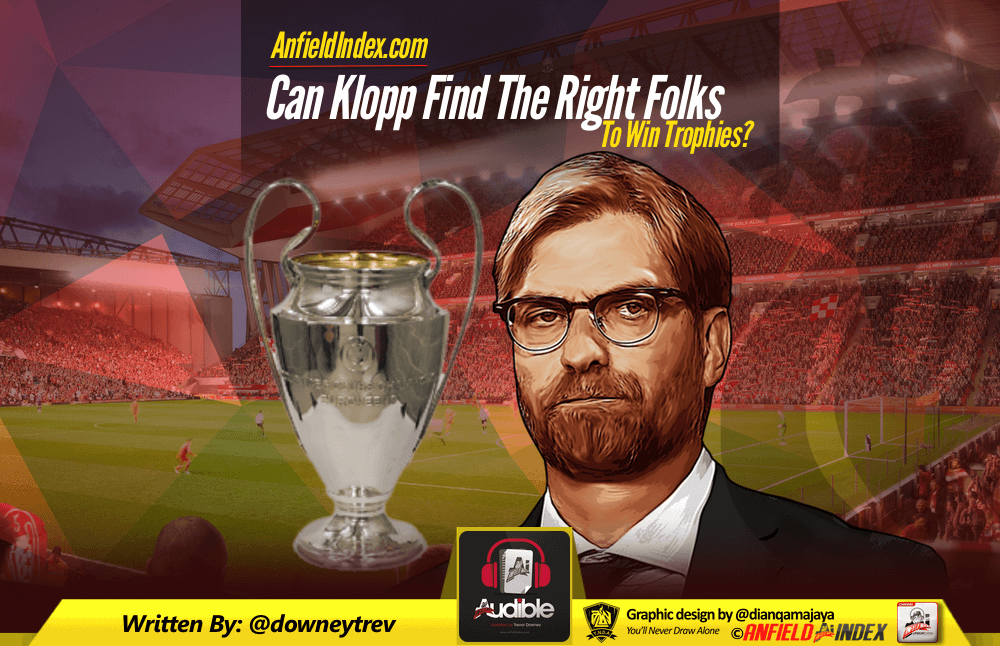 Can Klopp Find The Right Folks To Win Trophies?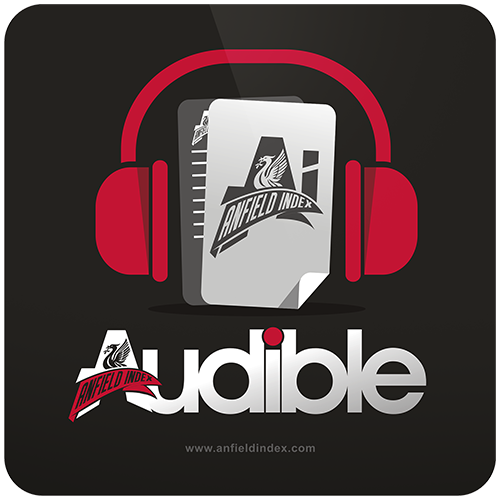 Listen to this article via @AIAudible !
Bitter experience brings us all, inevitably, to the same conclusion – for the most part, people are awful. Now, optimistic philanthropist that you are, lovely reader, you may be bristling at such apparent negativity, but that is only because you are one of the good ones. You simply cannot conceive of the ugliness that resides in the souls of so many. Or perhaps you have been blessed by the veritable lottery win that is a life of generally positive interactions with others. That makes you the rarest of unicorns and you should probably consider becoming a recluse now before it all, perforce, goes pear-shaped.
I remember when I believed in the inherent decency of my fellow human. Halcyon days. Days before the relentless shittiness with which our species behaves towards each other became fully apparent to me. For most of us, there is a daily quotient of wincing, stifling and looking the other way which allows us to get through from alarm call to sleep without going full Michael Douglas in Falling Down. We have steeled ourselves to it. We expect it. How else could the average person have endured the last few months of Trump, May, Erdogan et al on top of the countless daily indignities we suffer in our personal lives?
For many of us, football is the refuge from the awfulness. Lately, ghouls tweeting abusively at players and the wives of club owners tested our patience. Little Englander fans taunting Spaniards in a pathetic drunken display of nationalism wore us down further. To add insult to injury, the mighty Reds began the year in a way that saw our hopes of silverware evaporate. But then something happened. Something positive. Jürgen Klopp rallied his charges. The results began to turn. The injuries and enforced absences were overcome and the Redmen were back on track. Now, with just five games remaining, Liverpool sit in third place and have put themselves in a position where Champions League qualification is very much a possibility.

What is particularly appealing to this columnist about being in the Champions League is the distinct possibility that we might win the bloody thing. I'm serious. This manager, with the right players, wins things. Should qualification be achieved, the squad will be bolstered by a man who has shown a very keen eye in the transfer market. Any potential participation in Europe's premier competition next season will have certainly owed a debt to the performances of Sadio Mané, Joël Matip and Georginio Wijnaldum. Imagine another three with that impact.
The key here is Klopp. There will be no shortage of offers coming his way regardless of Liverpool's finishing position but the gaffer seems to have found a place where the world makes sense to him and a project which has fully engaged his keen mind. Much has been made of the slightly cringey neediness of some fans. At Liverpool we crave strong and charismatic leaders. Klopp may very well have his face alongside those of Shankly, Paisley, Dalglish and Benitez on some impressive Kop banner, but he's not the messiah. In recent months, in fact, some have just considered him to be a "very naughty boy."
It is, nonetheless, very reassuring for fans to hear the charismatic German speak of his long-term intentions. He is, it seems, determined to bring silverware to the club and the only "uncomfortable situation" will arise should he fail to do that. Otherwise, he has suggested, if things go as well as he hopes, Anfield might well be his last port of call as a manager.
"I will not have been in charge of 10 different clubs once my managerial career is over," he insisted in an interview with Sport1. "There is a not insignificant chance I will have coached three clubs. It is always quite easy for me to fully commit to what I am doing because they are often long-term projects. If I fulfil my contract with Liverpool, then there is a good chance I will have won something here. We can't have any doubts, but rather work on making it one day. If you are convinced that the right folks work on it, then you can also believe in it. I believe that this joint effort makes it significantly more likely. I could be in an uncomfortable situation if we do not win anything. People expect Liverpool to win trophies."
With every passing month, the current regime – love them or loathe them – are endeavouring to add "the right folks." Only today, the new CEO, Peter Moore lamented his leaving of games giants EA Sports with a vaguely evangelical statement about how his move to Liverpool was " a calling" and one "that's roots are embedded in [his] heart." If Moore sounds a little like a benevolent missionary, Klopp will hope that the new man can keep the club's finances in a position to allow him to recruit some more workers for the cause. This 'mission' will likely be a very complicated one but we all need something to believe in these days and in Klopp, Liverpool and its hopeful and fragile fans may at last have found someone to make us see the light.