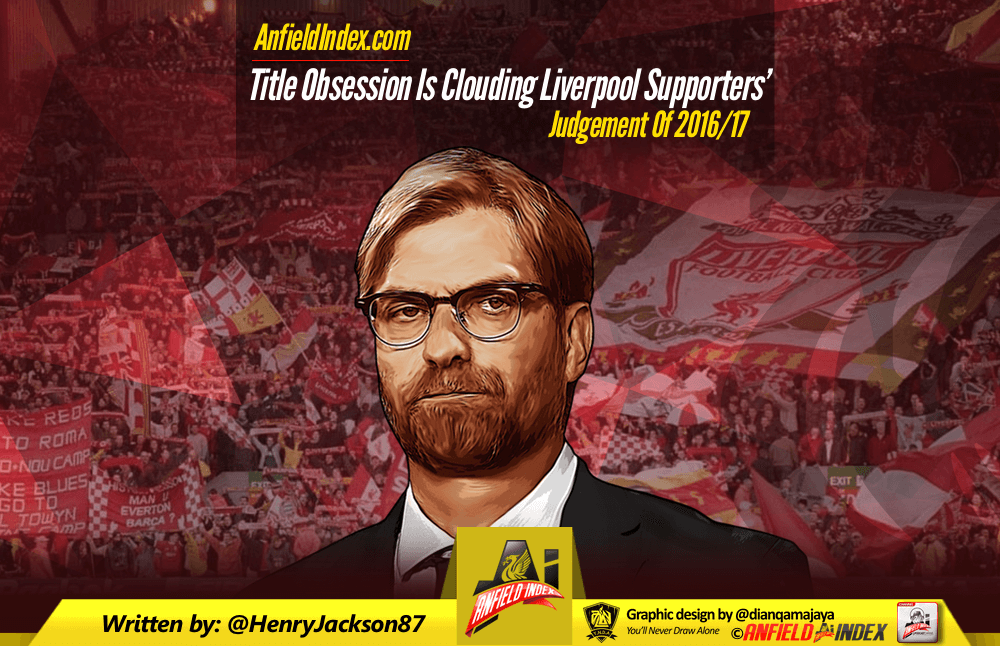 Title Obsession Is Clouding Liverpool Supporters' Judgement Of 2016/17
Few sets of supporters crave something as much as Liverpool fans crave a league title. It really is a drug. 
For 27 years, we have waited and waited for the curse to end, but unlike most footballing records, this one seems destined to last forever. 
We have had to watch Man United dominate the English game for two decades, while Chelsea, Arsenal and Man City have also notched up nine league titles between them.

Even Blackburn and Leicester have had their moment in the sun, which frankly, is tough to stomach.
This obsession with Liverpool winning another league crown is only intensifying by the year, and the longer it goes on, the more painful it gets.
The problem is, it is starting to cloud many things surrounding the team, most notably how much progress is currently being made under Jurgen Klopp.
Back in August, everyone made their pre-season predictions, which although meaningless, is something we love to do summer upon summer.
If you look back at how the majority expected things to pan out, a sixth-place finish was Liverpool's best bet in 2016/17, with possibly a trophy thrown in on top. Some will deny that now, but the predictions are there for all to see.
The huge spending of both Manchester clubs made it highly likely that they would be in the top-two, while Chelsea were always going to go up a gear with the arrival of Antonio Conte.
Arsenal were just Arsenal, seemingly qualifying for the Champions League every year, while Tottenham were continuing to develop under Mauricio Pochettino.
Fast forward eight months and Liverpool find themselves third in the table, albeit having played a game more than City.
The Reds have picked up 66 points from their 33 matches, and are on course to potentially break what is always seen as a very impressive 80-point barrier. Only five wins out of five would achieve that, mind you. 
Only on four occasions have they accumulated more points at this stage in a Premier League campaign, which says all you need to know about how well they have done.
Two of those were 2008/09 and 2013/14, both of which are widely seen as Liverpool's best title challenges of the last 25 years, while the remaining couple, 2001/02 and 2005/06, ensured second and third place, respectively.
The fanbase should be universally happy about how the season is going, yet there is an air of negativity that just won't go away until that precious league title is secured.
It hasn't helped that Klopp's Reds genuinely looked like challengers back in the autumn, with some of the football breathtaking and several teams torn to shreds at Anfield. Add to that a superb record against their rivals, and it is understandable to see why confidence was growing.
That wonderful start has ended up working against them, however, and it has become more and more evident that the team was over-performing at that point.
There was a settled starting line-up week in, week out, with injuries few and far between, and the likes of Philippe Coutinho and Adam Lallana were in the best form of their career.
As Christmas came and went, so did Liverpool's form, with January abysmal and that title dream fizzling out once again. The squad depth was exposed, certain players returned to their usual level and suddenly sixth felt likely.
Don't forget, that would still be par for the course in the eyes of many, not that it is something to feel proud of.
If the Reds had simply been consistent for much of the season, maybe supporters would be happier, but that noticeable dip has taken the edge off what is a very encouraging campaign.
No Liverpool supporter should ever feel content with finishing in the top-four, but it is also unrealistic to expect the title every year. There are some who genuinely feel it is a given, which is an arrogant approach.
Liverpool have qualified for the Champions League just once in the last seven seasons – what right do they have to be the best team in the country all of a sudden?
Much as it may frustrate the impatient among us, we have to take things one step at a time under Klopp. He is not a miracle worker, and there is huge competition at the top of the table.
A top-four finish looks highly likely, which was seen as the main target back in the summer, and it will help take the entire club to the next level. Next season is one where the title has to be achievable, however, and Liverpool have the perfect man in charge to make sure that comes to fruition.
Winning the league is the most wonderful thought for many Reds fans, particularly those under the age of around 40, who have never experienced such glory. I'm not sure about you, but if/when that day arrives, I may just ride off into the sunset and never return.
Until it eventually happens, though, the team will always be judged more harshly than it deserves.
Sadly, that desperation for a title has shone through more than ever this season, and Klopp and his players are worthy of more praise than they are receiving.
To be averaging two points per game in such an unpredictable league, as well as being on course for their fifth-best points tally of the Premier League era, is a great effort.
Failing to win the league does not constitute a disappointing season in the current climate – it's important we remind ourselves of that now and again.