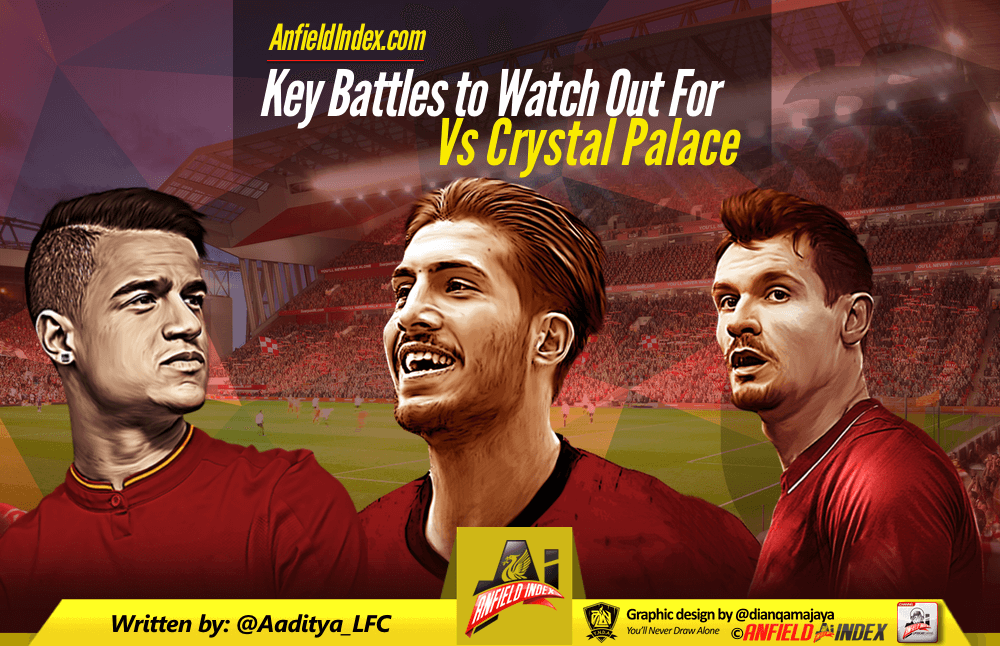 Liverpool v Crystal Palace Preview - Key Battles
Four wins and two draws from the set six Premier League games have meant that Liverpool have ensured the top 4 place is in their own hands, but that counts for nothing, if the Reds do not take as many points as possible from their remaining games. Among the teams battling for the Champions League places, Liverpool definitely have the most favorable run-in, but the problem is, football is never played on paper.
The challenge for the Reds begins with the visit of a revitalized Crystal Palace side to Anfield. Sam Allardyce has done what he always does and more or less ensured survival for the Eagles, and he will definitely look to make it as hard as possible for Liverpool, as Jurgen Klopp's side looks to consolidate third spot in the league. Palace will have a challenge on their hands, as Mamadou Sakho will be ineligible to face his parent club. Sakho's presence has tightened Palace's defense, and he will be a huge miss for them.
For Liverpool, Joel Matip, Lucas Leiva and Ragnar Klavan have not trained too much in the past week and are all doubtful starters. That could well mean a start for Joe Gomez, if all three of them do end up not playing.

Here are some key individual battles ahead of the game.
Emre Çan v Yohan Cabaye
After the game against Leicester at the end of February, Çan has been a massive presence in midfield for Liverpool. He has been physical, he's tackled well and he has brought some energy in midfield. But perhaps the biggest plus from him in the last few games is that he has been snide when has had to.
It has been nice to see that, given that Liverpool have been carrying the nice guys image for too long now. In a race as tight as this, you will naturally need to win a few games ugly, and Çan has helped us do that, particularly in our last two games against West Brom and Stoke. With Gini Wijnaldum alongside, the big German has been on the money for Klopp, which was crucial in the absence of Jordan Henderson.
Cabaye has been critical in this Palace revival. He brings finesse to the Palace midfield that he enough physicality in it. Cabaye's vision and his passing range are critical in bringing the likes of Wilfred Zaha into the game. With playing in this advanced midfield role, Cabaye has also added crucial goals to his game this season – most of them coming from him arriving late in the box. Çan has got o be aware of the Frenchman's movement and block Palace from getting the ball to him.
Dejan Lovren v Christian Benteke
Against West Brom last week, we saw the Lovren that turns up once in a while and doesn't put a foot wrong. When he plays like that, simple and uncomplicated defending, Lovren is difficult to breach. But sadly, he doesn't do that too often.
He is flustered even at the sight of the slightest pace in the attacker. Benteke's pace will not be as much a threat as his physicality and aerial ability. With Matip likely to be missing, it is important for Lovren to be alert, aware of his surroundings and commanding.
This will be Benteke's first game at Anfield since his failed one-year spell at the club, and he will be determined to show Klopp what he is missing out on. Palace are a side that play to his strengths and he will relish the possibility of facing an under-strength Liverpool defense. With Wilfried Zaha and Andros Townsend on the wings, there will be no shortage of good quality service for Benteke. From his time at Liverpool, it was evident that he preferred making the run to the far post when crosses come in, and Klopp should be well aware of that.
For Lovren, the task is very simple. Keep the ball as far away from the goal as possible, and despite Benteke's obvious threat, Lovren will know that if he keeps his concentration throughout the 90 minutes, he will be difficult to get past.
Philippe Coutinho v Joel Ward
Coutinho's goals in recent games have been instrumental in Liverpool picking up the points that they have, and the little Brazilian will now have to show the world that he is very close to being world class, if not already there. The big players have got to step up when the team really needs them to, and Coutinho has done so, admirably, especially in the absence of the likes of Sadio Mane and Adam Lallana.
Up against him on Sunday, will be as stubborn a full-back as any in the Premier League. On the face of things Coutinho is good enough to torment and defender in the league but it does look like he can be physically bullied out of a game, as West Brom did last weekend. Ward won't be as physical as Craig Dawson was last week, but he is a man whose no-how is terrific.
The early impression will be important in this particular battle. If our magician can be on his game from the first whistle, and beat Ward with his skill a few times, then the Palace man will be under pressure. But similarly, Ward will know that if leaves an impression on Coutinho with a few strong early tackles, the Brazilian might move away from the limelight.
One thing is for certain though, whether or not Ward can get a few early tackles in, Liverpool will look to feed Coutinho with the ball on the left wing, as often as possible. From there, cutting in, Coutinho can be a massive threat. A headache for Ward will arise from the fact that Coutinho is never static. He generally drifts infield to get on the ball and influence the play. That is where Luka Milivojevic and his communication with Ward will come into play.
With Sakho's absence and Palace having to play one of their substitute centre-backs, Coutinho would feel that he would have the opportunity to create a chance, by putting balls into the box and asking the other players like Roberto Firmino and Gino Wijnaldum to make late runs and catch the Palace defense unawares.