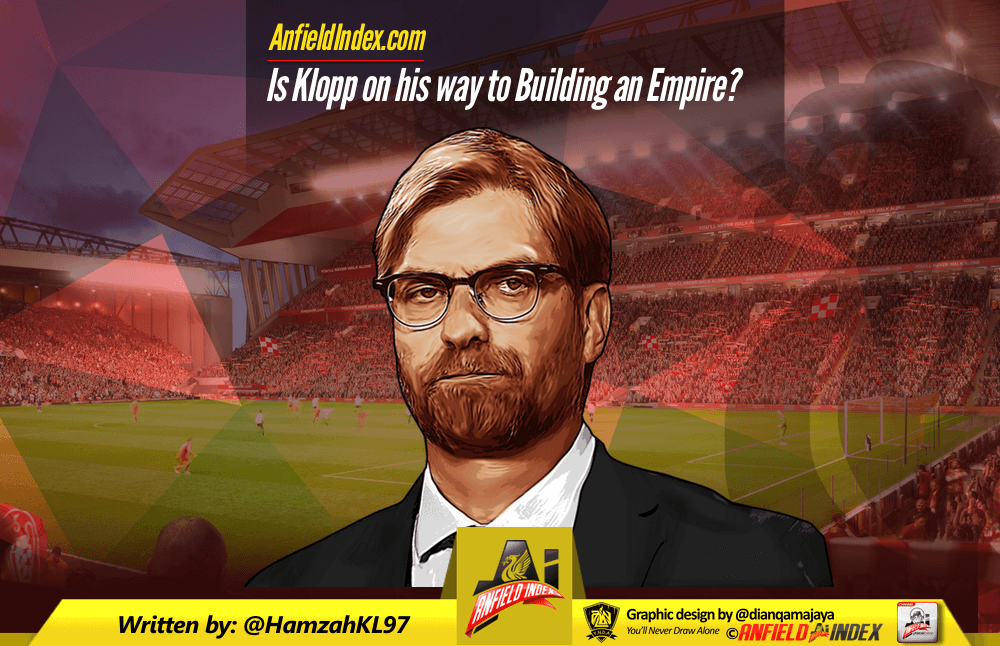 Is Klopp on his way to Building an Empire?
'There is a not insignificant chance I will have coached three clubs. It is always quite easy for me to fully commit to what I am doing because they are often long-term projects.'
A welcome statement of commitment and intent by Jürgen Klopp, and one which vindicated the board and owner's choice of manager in a way that is not immediately apparent. However, it was Klopp's last three words that really told their own story.
There is no need to detail Liverpool's situation before Jürgen Klopp's arrival again, but it is truly phenomenal the speed in which Klopp has reinvigorated the club, and changed the mentality around it. A domestic and European cup final in his first season, alongside a patchy, but certainly promising season which is soon to end, illustrates progress and has fostered growing ambition throughout the club.
A finish inside the top four, this season, would be Liverpool's second Champions League qualification since the season of 2009-10. And whilst the pressure is still palpable around Liverpool, and amongst the fanbase, belying this is a confidence that prevails, despite long-term injuries to captain Jordan Henderson and Sadio Mané – likely to be awarded Player of the Season. This confidence is one that has admittedly ebbed and flowed over the season, but supporters are just a tad more hopeful due to a sense that Liverpool FC is firmly on track towards being back where it "belongs". Recent performances have done much to rejuvenate this sense, with Philippe Coutinho and Roberto Firmino in particular really proving their value to the team, but promising reported transfer links, and most of all, a sense of direction is the root of this mood, which, as mentioned, remains, despite the high stakes nature of the race for a Champions League spot.

In another recent interview, Klopp asserted that Liverpool's misfortune with injuries this season actually hampered what could have been a title challenge, and whilst there is certainly some credence to that notion, especially when looking at Liverpool's performances at other would-be title rivals, what this shows is that Klopp has his eyes firmly on the big prize. Coincidentally, a title challenge would have mirrored the recent progression of another Premier League side with lofty ambitions: Tottenham Hotspur. This was a comparison Klopp himself drew, in an interview in which he also described Liverpool as an exciting prospect for potential players, and that players of the calibre he desires would be easier to attract. But fans should not get carried away at all by title talk, or comparisons to teams such as Tottenham, as the key to Tottenham's own impressive upturn over recent seasons has been stability and delicate management. Here is the key to sustained success and growth, what Klopp called a 'long-term project'.
What Klopp has right now are the bare bones for a top side; his ultimate ambitions will be to get Liverpool challenging for the Champions League, but he recognises the importance of playing the long-game to getting to that point. His willingness and enthusiasm to stay at Liverpool can only be a good sign, as for sustained success in football, strong foundations and continuity play a large role, and this is exactly what he is offering.
Sweeping reforms to the training ground and youth team are yet to take place, whilst FSG, whilst having backed Klopp previously, still have considerable financial clout that is reportedly readily available this coming summer. Expectations need to be managed though. We have already seen this season the arguably excessive and volatile expectations of fans, when the team went through a poor period during January and February. However, when we look at Spurs for instance, it was their collapse at the end of last season which they drew on to improve and better themselves, as they have done this season. In the long-term, the goal must remain for Liverpool to become a top European team again, hence the fans and the club should not react to setbacks, or demand trophies in the short-term, as Klopp and FSG are attempting to think beyond this.
A trophy next season would certainly be welcome, but key to Liverpool's long-term progression is consecutive Champions League qualifications, from which Liverpool can increase its own standing, not just in respect to players and other clubs but financially too. It is important that fans do not get swept away with short-term ambitions, for demanding instantaneous results is something that is not what Liverpool needs, nor what Klopp delivers.
Perhaps a comparison is in order: José Mourinho is arguably the king of short-term success, having delivered trophies to every single club he has managed, but his short-term approach has often come at the expense of long-term growth, young players, and stability – something which teams such as Real Madrid can afford, but not Liverpool for instance. The 'long-game' is the smart game, and it appears Klopp is managing Liverpool that way. The process may be slow and steady, but in a world of an unsustainable chop and change policy, choosing a model and sticking to it, as Atletico Madrid have done, and Dortmund did appears the one that pays the largest dividends in the end.
With consistency comes success, and with the foundations that Klopp is now setting, can Liverpool teams settle and flourish as they once did under the great Bill Shankly. Shankly understood the importance of getting the basics right, developing talent, and building a club that would endure without him: perhaps this is what Klopp intends to do through developing Steven Gerrard's managerial skills, and through restructuring the club.
As the phrase goes, 'Rome was not built in a day' neither was Real Madrid, or Bayern Munich; indeed, it takes time to build great things, and even now we are just starting to see the returns a Klopp premiership may provide, and we are not even three years into his tenure. It seems patience, support and trust is the way forward for Liverpool – persisting with the "Liverpool Way" in the face of alternate, reactive methods. For if Klopp can make a team in less than two seasons that has put away all of the Premier League's best teams in head-to-head matches, the possibilities for a Liverpool team five years in the making, and image of Klopp's philosophies, are promising to say the least, and bursting with potential and excitement.
Thus, individual match performances should always be taken with a pinch of salt, for they are negligible in the long-term, instead we should be looking at Klopp, and his masterclass in how to transform a club, from teetering on the verge of sustained European top-table exile, to one with promise, and perhaps something more. Keeping an eye on the bigger picture is key, and far more rewarding.
Klopp is a man of vision and ambition, and he is building something special, but something that may not be immediately visible; and so, irrespective of the conclusion to this season, Liverpool FC's future looks bright, and teeming with possibility.