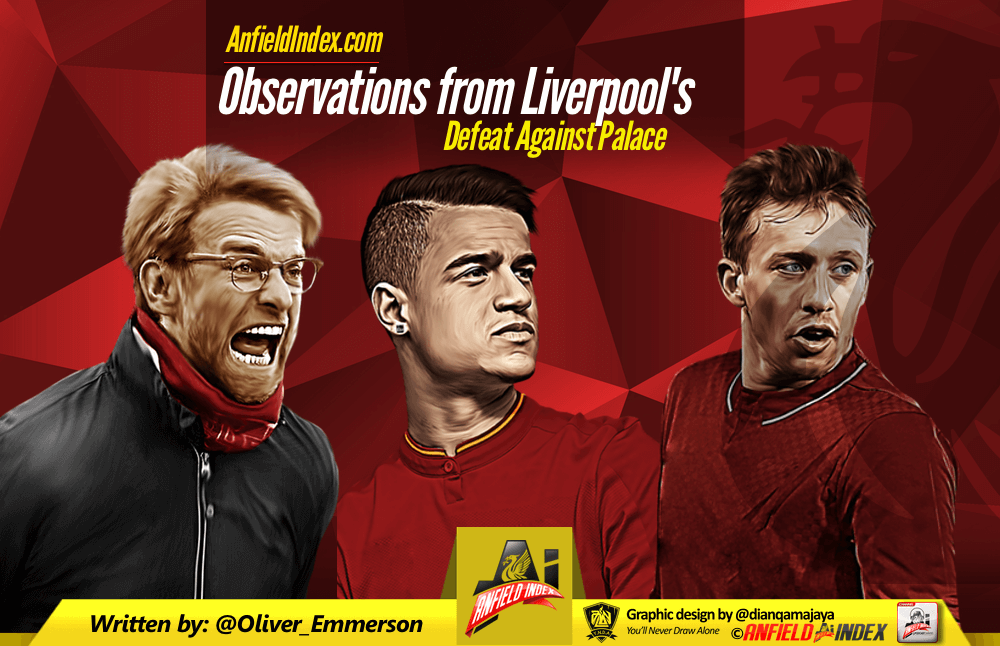 Observations from Liverpool's defeat against Palace
Just as it looked like we were pulling clear in the race for top four, Crystal Palace rear their ugly heads again. It was so inevitable, wasn't it? Well, maybe not if you've got some optimism, something I'm certainly lacking after that performance. Can Sadio Mane have my leg? I didn't observe him, but here's what was on offer at Anfield…
Top four gets that bit trickier
Oh dear. If Manchester United win the derby and their games in hand, they're three ahead of the Reds. If City loses the derby but wins their other game in hand, they're ahead of us. Uh oh, I hear you say, indeed. There's still football to be played and United's fixtures show that they can drop points, but it all felt more of the same. Liverpool must beat Watford to bounce back with momentum. We'll hear lots of talk this week about being unlucky, a disappointing loss etc. The players need to show that at Vicarage Road. United and City will have both played twice by the time Liverpool rock up at Watford, they must keep themselves in contention.
Set-piece issues rear their head again
Ah yes. Just as it looked like Liverpool had got rid of their set-piece sickness, they were back at it. In truth, it was shocking. Milner had to make an excellent tackle to force the corner after Liverpool left themselves open again, and what came next was horrific. Firmino misses the clearance, Matip misses the ball, Lovren misses Benteke. After all the hard work on corners in the past weeks, it was a kick in the teeth for the Liverpool coaching team.

Coutinho has fire back in his belly
Regardless of a disappointing result, it was pleasing to see Philippe Coutinho back to what looked like near his best. Lighting up the game by winning, and scoring, a fantastic free-kick in the first-half, he was the man who tested Palace's defence most in the second 45, right from the off. He arguably should have gone down when he danced through Palace's box and was clipped by Tomkins, the Brazilian admirably rushing back to his feet and seeing a shot blocked.
Some are simply making up the numbers
I didn't want to bang on about squad depth and buying players here, so I'll try not to even though those issues came up again today. However, it does seem like Klopp's faith in the reserves he does have is diminishing, with Liverpool reaching the 70th minute at 1-1 with still no substitutions made. Alberto Moreno's pace could have been utilised, Marko Grujic would have offered some fresh legs in midfield, Ben Woodburn could have given Palace another headache going forward. Klopp did eventually opt to make changes, but it was a little too late.
Lucas' role in such fixtures must be questioned 
I like Lucas, I'm aware that many people *really* like Lucas so I don't want to offend them, but his role in these sort of fixtures must be questioned. Yes, there was a lack of options, yes he played well against West Brom, but a different sort of quality was needed today. Alexander-Arnold, Grujic and Coutinho would have all offered a better attacking skills-set going forward, but Lucas remained.