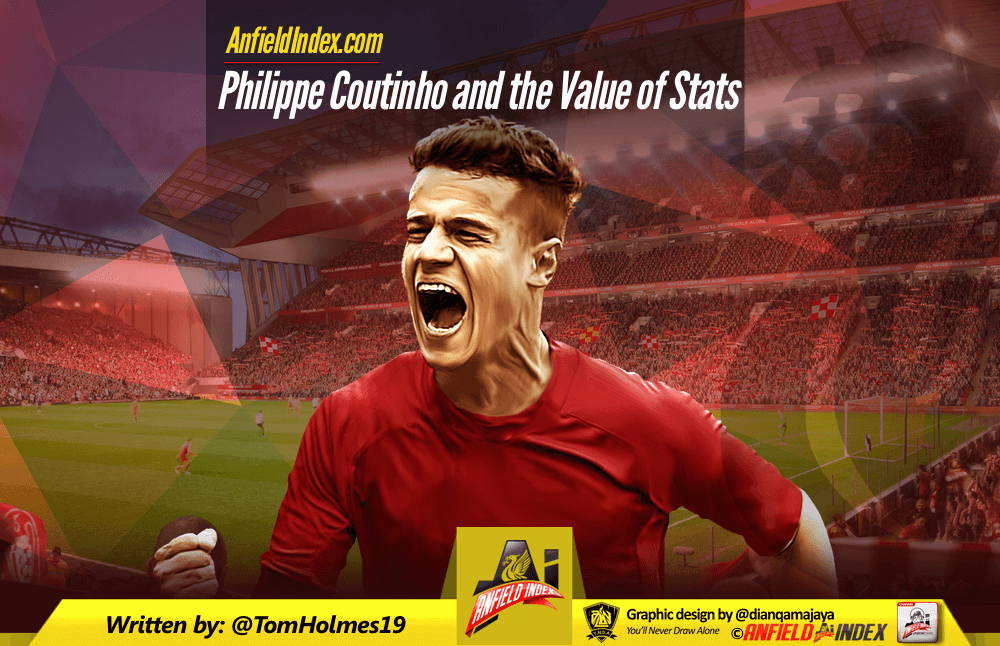 Philippe Coutinho and the Value of Stats
I am a massive fan of stats. I am unabashedly a proponent of using stats to bolster analysis wherever possible, and I think that people who generally tend to avoid stats are missing a trick. Of course stats don't tell you the entire picture, and there's no substitute for simply watching the game but nevertheless stats are a valuable addition to any sort of football analysis, which is why it's often frustrating that most pundits don't fully utilise them, or utilise them lazily.
In any case, one of my post-match rituals after any Liverpool game is to have a flick through Whoscored's stats, mostly to see if my original assessment of players' performances aligns with the statistics. With some players that's easier than others and whilst I often find that the stats back me up, particularly when I think someone has had a fantastic game, as often as not I find the stats force me to reassess my view.
Which leads to the subject of this article: Philippe Coutinho. Coutinho was unquestionably Liverpool's man of the match against Crystal Palace, a game in which the performance of Coutinho was one of the few positives to take away. And given that the majority of Coutinho's masterclasses this season have some kind of statistical basis behind them, I was eager to look at his stats to show off just how good he had been.

But Coutinho's stats failed to reinforce what was in my view, an excellent performance. Couts had seven shots, hitting the target just once; he'd failed to play a single key pass or create a chance; he'd failed to find a man with any of his five crosses; and he'd been dispossessed six times, losing the ball through poor control twice. Moreover, his passing accuracy was amongst the worst in the team, with just 77.4% of his passes finding a man. That's not to say that all of his stats were bad, in fact he completed six dribbles, five of which were in the final third and two of which were inside the box, but overall, they weren't great.
None of this, of course, undermines the brilliance of some of Coutinho's attacking play in the game. Coutinho played some staggering good passes, twice finding Milner in good areas only for Milly to make a mess of it, and spraying one or two wonderful cross-field passes. And whilst the stats will say Coutinho only won one free-kick and only hit the target with one shot, the fact that those two stats combine into one absolutely magical piece of skill for Liverpool's goal cannot be underestimated.
So do the stats undermine my initial opinion that Coutinho had a terrific game? Or does it work the other way, and does Coutinho's performance itself undermine the use of statistical analysis? Well for me the answer is neither, as they meet in the middle. Coutinho did produce some really impressive pieces of skill, a couple of flicks and tricks which were seriously impressive, and his brilliant slaloming run inside the box could have earned his side a penalty. Moreover, no stat can take anything away from the stunning goal that he scored. But then, neither does that goal undermine the stats.
As for this particular performance? Well it wasn't one of Coutinho's very best for Liverpool. He played some lovely passes and scored a fantastic goal, but his overall all-round influence on the game still wasn't quite as high as some of the breath-taking displays that he produced in October and November. And part of that is down to a poor performance from Divock Origi and missing team-mates Lallana and Mane, both of whom were incredibly important for Coutinho's form. Looking back, whilst the stats don't take the gloss off Coutinho's moments of quality, they do help to paint a picture of his overall impact on the game, which was not as strong as perhaps it has been on other occasions.
Overall, I think it's possible to mediate the two. The stats do, as I look back over the game, help to quantify Coutinho's performance compared to some of his best in a recent shirt, but that doesn't mean that Couts didn't have his own moments of brilliance overall. Just because some of his magnificent passes didn't lead to chances doesn't detract from the quality of the passes. However, on the other hand, the fact that for all of Coutinho's play he didn't create any chances for team-mates certainly is amongst the reasons Liverpool were unable to create many tangible chances.
In summary, whilst Coutinho's performance against Palace was excellent, the fact that his display isn't wholly backed up by the stats underlying it is not necessarily a reason to doubt his performance, or the stats themselves. Rather, it's a textbook case of using both in order to form a more fully rounded and informed opinion of what was clearly a very good performance.