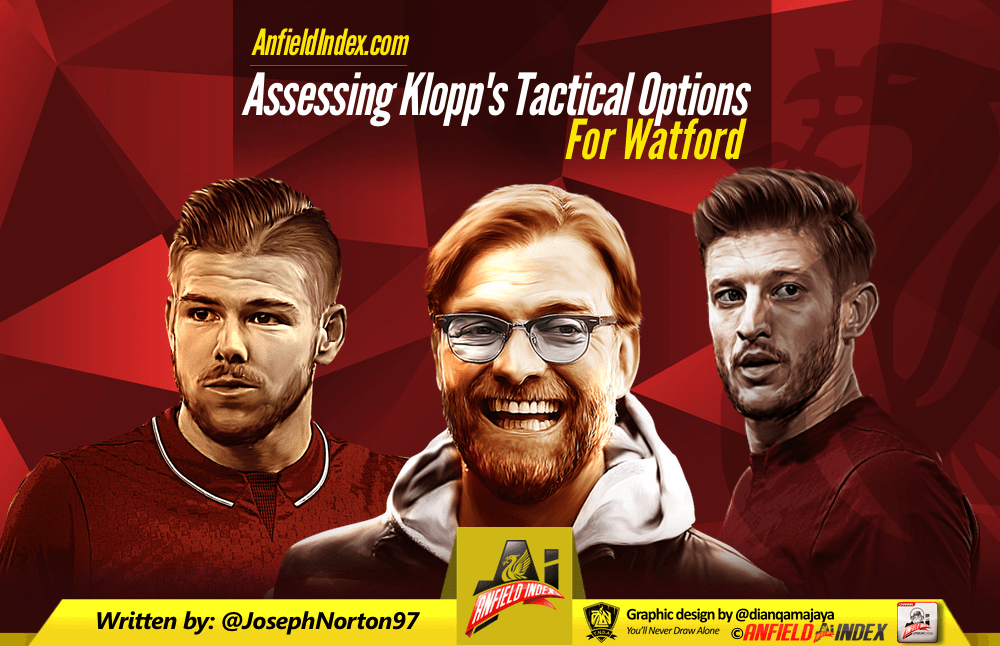 Assessing Klopp's Tactical Options for Watford

After yet another home loss to Crystal Palace at the weekend, that's the Eagles' third win in as many visits to Anfield, and the Reds' chances of top 4 are hanging in the balance. As a result, Liverpool's trip to Vicarage Road on Monday night becomes all the more important. Despite winning the previous two away games at Stoke and West Brom, this Liverpool side has looked far from their fluid best and are still struggling to find the solution when they are without key players such as Sadio Mane, Adam Lallana and Jordan Henderson. Adam Lallana is expected to be fit after he started ball work late last week but it remains to be seen whether Klopp will want to risk him from the start. Without Lallana, Liverpool's midfield has lacked creativity and misses the link he provides to the attack. So let's take a look at the options he has going into the Watford game.
Lallana Returns (4-3-3)
If Klopp does decide that Lallana is ready to start then it makes sense that he is restored to a midfield that has missed his technical ability in tight spaces, clever movement and more importantly his goals. This would more than likely mean Klopp sticks with his favoured 4-3-3 and either Can or Wijnaldum is dropped from the midfield allowing Lallana to return in the position he has thrived in all season. Others may want to see Lucas dropped and Can moved into the number 6 role, however, the balance of the midfield would largely stay the same whichever option the boss goes with. Making just one change from the starting line-up that played against Palace would far from solve all of Liverpool's problems, however, it would go a long way to giving the Reds a good chance of getting the all important win at Watford.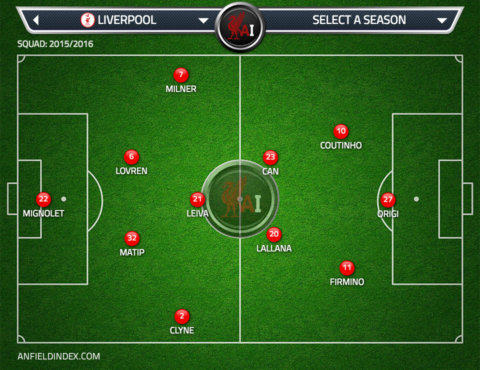 If Lallana isn't fit to start then here are a few options Klopp should consider to get Liverpool back playing somewhere near their fluid and devastating best.
The dreaded return of Moreno (4-3-3)
The thought of Alberto Moreno starting another football game for Liverpool football club is enough to spread outrage across the fan base and although I am far from his biggest fan I think it may be time to unleash him… but not at left-back! Without Lallana, the Reds need to find a way to add creativity to their midfield and pace out wide. Bringing Moreno into the team on the left of a front three does exactly this. Despite starting in his usual position on the left, Coutinho, as he likes to do drifted inside as he tried desperately to find that creative spark Liverpool needed against Palace. As a result of this, either Can or Wijnaldum started drifting into the wide left position he had had vacated, a position where neither are particularly effective. Bringing Moreno into the team means we would have greater width and pace on the left hand side something the attack lacks without Mane, therefore, this would allow us to stretch the Watford defence. Not only would Moreno provide the defence with a different problem, he would create more space for Coutinho to work his magic. Dropping Coutinho into a slightly deeper central position would mean one of Lucas, Can or Wijnaldum would be dropped, however, Klopp could continue with the 4-3-3 formation that the players are familiar with. Although Moreno does have the pace to cause Watford  problems, his decision making and end product would have to improve if we are to see Liverpool return to somewhere near their devastating best.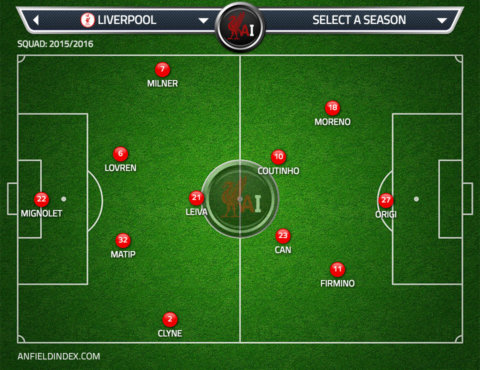 Three at the back (3-4-2-1)
If Klopp thinks a change of system is needed then a return to three at the back could be the answer. Although Klopp has said it is not a formation he has trained that much the dynamics of the team don't change drastically. If Klavan is still injured then a back three containing Lucas, (centre of the three) Lovren (left) and Matip (right) is likely. The wing-backs would likely remain Clyne and Milner, with the two centre midfielders being Can and Wijnaldum. This would mean the two Brazilians Bobby and Phil could play as two number 10's behind Divock up front. The best thing about playing 3-4-2-1 is that it allows both Coutinho and Firmino to operate in central positions where they are at their best. The two Brazilians have a fantastic understanding of each others game and the closer the two operate the better they are. Another advantage to this formation is that having two players behind Origi means he is less likely to get isolated. When he drops deep to hold the ball up and link play, the two Brazilians can run in-behind stretching the Watford defence, something we saw work well against Stoke in the second half with Firmino scoring the winner. Playing three at the back isn't without its weaknesses, Liverpool's defence was all over the place in the first half against Stoke highlighting how unfamiliar the three centre-backs were with it. It also exposes Nathaniel Clyne's weakness in an attacking sense, however, when the two Brazilians are at there dazzling best they are unstoppable and require little support.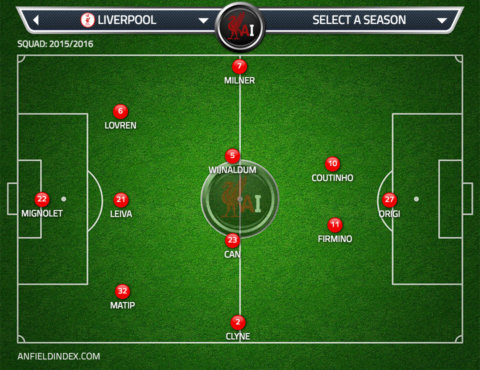 Supporters will have their own views on the changes Klopp should make against Watford, but one thing is for sure he needs to do something different to the Palace game as the lack of creativity in midfield and pace out wide was causing real problems. Watford have been an inconsistent team all season and a Liverpool side anywhere near their best should win comfortably.