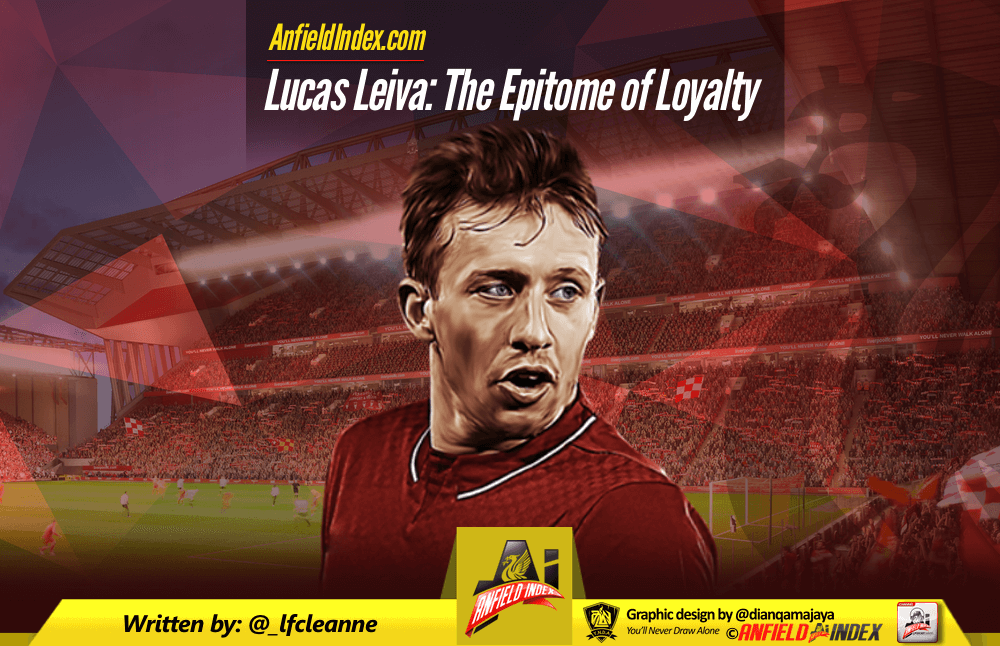 Lucas Leiva: The Epitome of Loyalty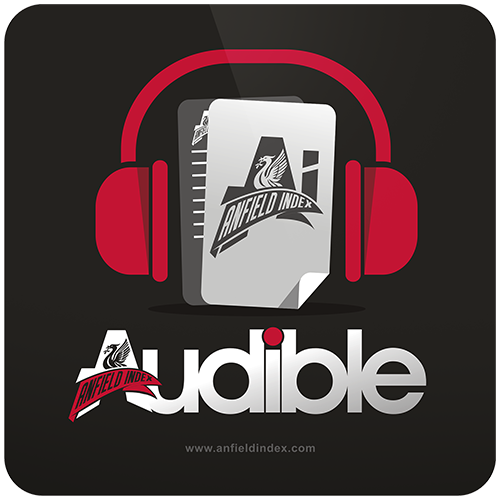 Listen to this article via @AIAudible !
114 different players have come and gone since Lucas Leiva signed for Liverpool in a £5million deal from Gremio. 10 years since the initial move and the Brazilian is now the club's longest-serving player. If anyone is deserving of a testimonial, it's him.
Only four overseas players have spent longer at Anfield – Arthur Riley, Berry Nieuwenhuys, Bruce Grobbelaar and Jan Molby. Sami Hyypia and Pepe Reina are the only two who boast a better record than Lucas' 242 appearances in the Premier League.
Playing under five different Liverpool managers, making a total of 341 appearances, Lucas represents a dying breed of footballers. Committed until the very end, he embodies professionalism and understands just what it means to play for The Reds.
There have been plenty of ups and downs along the way, with the 30-year-old often branded as an easy scapegoat. 'Too slow' and 'not of good enough in qualit'y, fans used Lucas to vent their frustrations. Christian Purslow even told him he could leave should a suitable offer come in.

That's what has made his longevity during a tempestuous era all the more admirable. While those around him have run for the exit door, Lucas has stood tall, silencing his doubters time and time again.
Lucas: Through The Years
The number 21 was thrown into the thick of it for his first league appearance which came in the Merseyside derby in 2007. Coming on for Steven Gerrard with the score level at 1-1, Lucas was entrusted with the task of steering Liverpool toward a big three points. While not known for his attacking prowess, the Brazilian dually delivered when his 90th minute strike earned a penalty after the ball made contact with Phil Neville's arm. Dirk Kuyt stepped up and converted, but all the plaudits were rightly geared in Lucas' direction.
His first goal came in January 2008 in the FA Cup against Havant and Waterlooville. 7 goals in 10 years isn't a prolific record by any means, but the quality of his goal was right up there with the best. Curling the ball into the top right hand corner from 25 yards out, the floppy haired midfielder became the first Brazilian to score for the club.
Lucas may not score often but when he does it tends to be a cracker. A long-range strike against Chelsea in 2009 followed by a clinically taken 1-on-1 against Benfica in 2010 provide evidence of just that. The Brazilian channelled his inner-Gerrard later that year against Steaua Bucharest much to the delight of the Liverpool captain to steal the headlines again. 3 headed goals against Crewe, Newcastle and Plymouth complete his tally.
Much improved in 2010-11, Lucas received a reward for his fine form after being named Player of the Season. In the absence of Javier Mascherano and Xabi Alonso and with Gerrard struggling through injury, he stepped up when the team needed it most – a standout performer in an otherwise disappointing campaign for The Reds.
The 30-year-old continued in similar fashion heading into the 2011/12 season, with previous frustrations over his qualities simply a thing of the past. 68 tackles in 12 games, Lucas had developed into one of the leading defensive midfielders in the Premier League and was an invaluable member of the squad. However, an anterior cruciate ligament injury in the quarter-final of the League Cup brought his campaign to a premature end. In his absence, Liverpool lost 12 league games, costing Kenny Dalglish his job.
In more recent seasons, Lucas has fulfilled a bit-part role for Liverpool. The summer arrival of Georginio Wijnaldum cast further doubt about his future, with Inter Milan, Galatasaray and Napoli all believed to have shown heavy interest. Adjusting to a squad player role won't have been easy for Lucas, whose 40 appearances last season marks his best record since 2010/11.
Mr Reliable
Since deciding to stay put during the January window, Lucas has gone on to fulfil an increasingly important role for Jurgen Klopp this season. Injuries to Adam Lallana and Jordan Henderson left Liverpool desperately short for the run-in and with Kevin Stewart also struggling for fitness, the German turned to Lucas to plug the void.
Much like his league debut, he was thrown in at the deep end against Everton. To everyone's surprise he delivered a dominant and wholehearted display at the base of the midfield, using his wealth of experience to provide a shield in front of the defence. Nullifying two in-form players in Ross Barkley and Romelu Lukaku, the Brazilian set a record for the most tackles completed in a league game this season – seven.
Sitting out of the trip to Stoke, the 30-year-old returned to the starting eleven at the Hawthorns, delivering another gritty display to guide Liverpool to a priceless clean sheet and another three points. Not only that, he proved to be an unlikely source of creativity, flicking a header towards the back post and into the path of Roberto Firmino for the only goal of the game.
In the absence of key men, his ability to slot into the midfield and do a job for Klopp has been crucial. He's the leader in a squad with a remarkably low average age and a role model to the academy youngsters. Jordan Henderson's comments on Lucas' off the field influence were particularly telling in this regard:
"Any person joining Liverpool Football Club, regardless of age, status or experience, who is looking for a role model or an example to follow then, for me, you look no further than Lucas Leiva."
If there were ever one sentence that encapsulates Lucas' career at Liverpool, it's that. Simply put, he is the perfect professional.
Will the story go on?
With the summer window approaching, questions are once again surfacing over what the future holds for the number 21. Having played a crucial role in the dressing room, he could still be a valuable asset for Liverpool next season. Likewise, knowing what it truly means to play for the club, Lucas' passion and professionalism isn't an easy commodity to come by.
While there have been no discussions as yet over a testimonial, the Brazilian deserves reward for his unwavering loyalty to Liverpool Football Club – a dying trait within the footballing world.