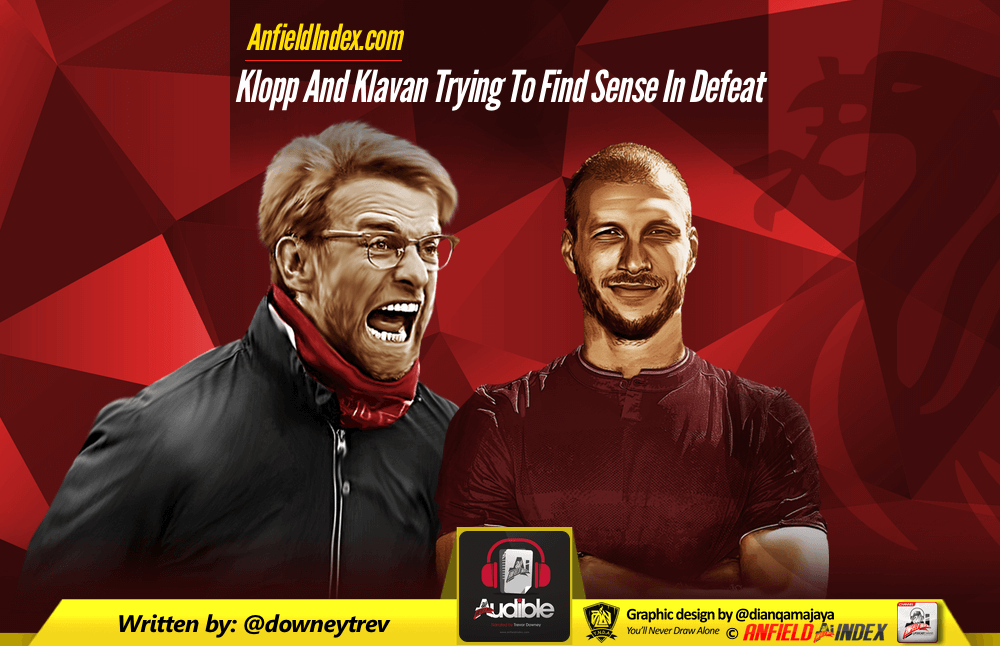 Klopp And Klavan Trying To Find Sense In Defeat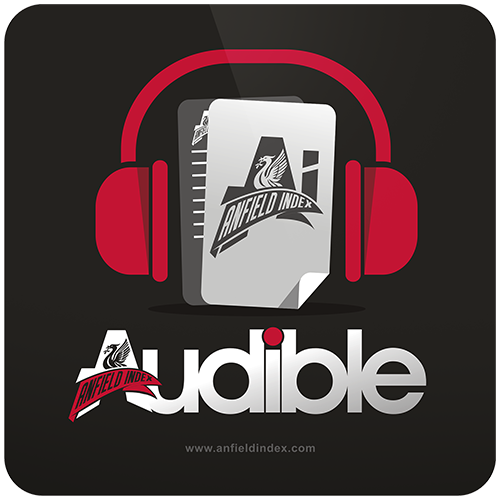 Listen to this article via @AIAudible !

I recently asked my daughter to clarify exactly what the kids mean when they say something is 'meta.' Now, you can stop your smug sniggering –  it's not like I had no idea. I may remember Kenny Dalglish gracing the number 7 for the Redmen, I may have had my first legal pint in 1991 and I may even speak like a relic of the olde worlde at times but I'm not entirely démodé. Yeah, I've probably ruined that already with 'démodé', haven't I?
Anyway, 'meta' is a term used to describe something that is characteristically self-referential. Like, if I told you I was writing a novel about an Irishman with a wonky head who was writing a novel about an Irishman with a wonky head, then you, achingly cool hipster that you are, would likely respond with a dismissive snort and say, "Dunno…bit bloody meta isn't it?"
That was the exact sentence that came to mind, earlier, as I watched Sky Sports' Jim White analysing a social media exchange between the official accounts of Manchesters City and United. "Good lord," I thought, "the media is consuming itself – how very meta." Then, as the horror unfolded, I realised that it was not meta at all. It was simply horrific. As I gaped open-mouthed at one of the worst pieces of modern television journalism in history, I felt some brain matter ooze from my left ear.
This was the type of television that you can feel making you stupider with every second you spend watching it. At least the two accounts in question seemed aware of the awfulness of the 'banter,' but Jim, Harry Redknapp's text-buddy, feigned a tone of superiority whilst milking the 'story' for all it was worth, acting out the expression of an emoji and explaining to us all that a spelling mistake is known "in the journalistic world" as a typo. Remarkably horrendous stuff.
It seems to have been a day for making bad banter-based decisions. Jamie Carragher used his Twitter account to make a dubious gag about how the arrest of Newcastle United's managing director following a HMRC investigation into transfer activity at Newcastle United was probably a machiavellian Rafa Benitez plot to seize control of "all the transfers." Eeeesh, bit close to the bone there, Carra.
Speaking of 'a bit close to the bone,' imagine your columnist's amazement to find yet another regrettable decision screaming out from the pages of the official LFC website, where we can find a photo of a very shellshocked-looking Ragnar Klavan, beneath whom is emblazoned the legend 'We have to work together to improve defensively.' Well now, in the wake of the most recent pathetic capitulation to Crystal Palace, that seems an even more redundant piece of 'journalism' than that horror show Sky actually paid Jim White for.
Reflecting on the Redmen's lamentable record of just 2 (TWO!) clean sheets in 15 2017 games, the Estonian talked of how identifying the issues causing the ineptitude in our rearguard is "not so easy" and insists that it's not just "down to a couple of things" – at this point Dejan Lovren and James Milner were seen to shift very uneasily in their chairs. It's a "harsh" league, insists Klavan, as he endeavours to convince us that, well, these things happen.
"It's not easy to put down to a couple of things, but we have to work together as a team," the left-footed centre half told Liverpoolfc.com. "That's our goal, of course, to not concede any goals in any game, but this is football and everybody has good strikers as well. It's not so easy to pinpoint exactly what is going on. I think it's not just one thing, there are multiple things put together that make the whole difference. At this level, it can be one moment, just a lack of concentration, and that's it. In this harsh league, those things get punished straight away and that's how it is when you play at the highest level."
The concept that other teams have "good strikers" must surely, you fancy, have crossed the mind of Jürgen Klopp, as he has sent out repeatedly shaky defences in Red, but having defended them all season, the manager is unsurprisingly bullish but admirably frank about the latest setback. He insists he's a fighter who can see the "sense" in every defeat and learn from it.
"I am used to nothing more in my life than getting up after a knock," the German averred. "That is no problem. I spoke to the boys after the game and it is no problem for me. The defeat is frustrating and we made mistakes, which is disappointing, but that's how things are. It makes sense, defeats always make sense – there is a reason for them. It is about what you did in the game, but also how you react, and we have a few days now to recover from this. There is one month to go – four games, and we will not give up."
With Arsenal and Tottenham registering narrow wins ahead of tonight's Manchester derby, the pressure on Liverpool to beat Watford is building, but it will increase exponentially in each of the remaining games against Southampton, West Ham and Middlesborough. Only 12 points will leave the Redmen with a fair shout of retaining their currently held 4th spot but even four wins is not the guarantee that some are suggesting. Tragically, we will all be watching the Mancunian face-off in the hope that Pep Guardiola's lot can beat a Jose Mourinho team that I swear will have the extra motivation that the sour Portuguese always seems to find when it means thwarting Liverpool. Sky and Jim must be rubbing their hands in gleeful anticipation of all the Twitter 'bantz' they'll be able to analyse.