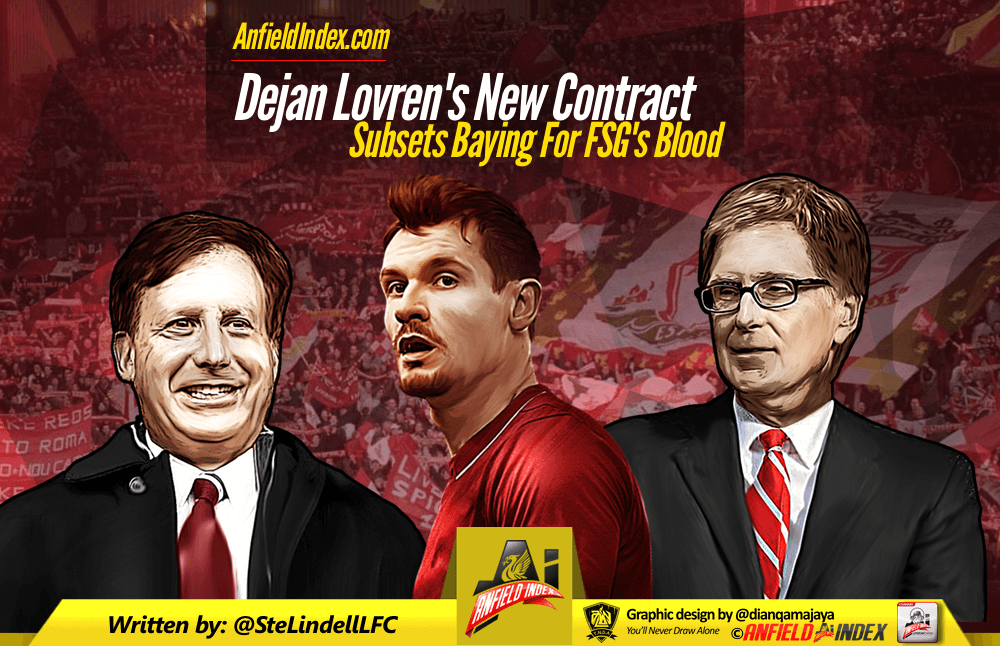 Dejan Lovren's New Contract; Subsets Baying For FSG's Blood
On Friday, news erupted that under-fire defender Dejan Lovren penned a new contract with Liverpool, which would last until 2021.
To put it lightly, this judgement by manager Jurgen Klopp was greeted with a lot of divisive views on social media. The majority of Reds fans were in absolute disarray following the announcement; many believing he shouldn't have a first-team role next season & the consensus he is simply not good enough.
However, more ardent Liverpool supporters will claim that Lovren has improved since his tumultuous first season at the Reds, and deserves to be rewarded with this extension. But, it appears that this breed of fans are lessening as the centre-back continues to turn in more unreliable performances.

Klopp compounded matters, when he made the following comments on Lovren's four-year deal:
"I am really happy about this decision[…] in a situation like this, you really have to look from the outside. If Dejan played for another club, you would think about signing him[…] I don't know exactly about it but I heard about a difficult start at Liverpool, but he has really settled, so that's really good, really good. He is physically strong, he is quick and he is a good footballer.
The manager is beginning to bear the brunt of the fans' anger, and you have to say, he hasn't particularly aided his connection with the supporters with these comments. That said, I do believe there are coexisting issues with the hypocrisy in subsets of the fanbase.
I will address all of these in this article – but please note, this does not imply that I am a fan of Dejan Lovren or advocate his new contract.
Hypocrisy
When the Croatian put pen to paper on Friday, there were a lot of disgruntled supporters as I have already mentioned.
Many feel he has done next to nothing to yield a new contract at the club – despite his slight improvement under Klopp after a difficult first season on Merseyside.
Having cost £20m in the summer of 2014, many people had hailed him as the leader of a Southampton side that had over-achieved the previous season. The centre-back had only made one defensive error for the Saints in the 2013/14 season. Another noticeable trait of Lovren bar his reliability was his ability in the air. He had won 58% of aerial duels, and was cited as a commanding defender who could inspire defence into what was a very leaky Liverpool defence.
However, it did become apparent after his first season that he had un-mitigating weaknesses which resulted in an even worse defensive proposition than the season before. His positioning sense, authority on the ball and general reliability was non-existent. It didn't appear as if he had a future at the club.
Then the arrival of Jurgen Klopp was announced two months into the 2015/16 season. This would mark a new dawn for many of Liverpool's previously underwhelming performers, and also a small rejuvenation for Lovren too.
The Croatian contributed a vital goal on the Merseysiders' run to the Europa League final last term at home to Borussia Dortmund – one that will live long in the memory of any Anfield supporter.
Unfortunately, his performances have not improved since his debacle debut season at Anfield – and this leads to many questioning the 27-year old being rewarded with a long-term future at the club.
Whilst it is completely understandable to see why many would disagree at the new contract extension. But what is most damning is the hypocrisy by subsets of supporters.
When I mention it, I'm mainly aiming this at the anti-FSG brigade who have been baying for their blood. There are no grudges held against their opinion, but it's frustrating when they moan at the lack of 'ambition' being shown at the club; yet are the first to preach against the outlay in wages (e.g Lallana, and now Lovren). This, for me, epitomises what is wrong with modern football.
It's been a prevalent trend among some sections of the fan base, sadly. Implausibly, many supporters aren't willing to spend £30-50m on Virgil Van Dijk – a CB who could ideally displace Lovren from the first team next season; and would rather spend £20-30M instead. They then consequently baulk regarding the lack of ambition being shown for the transfer committee This cycle of negativity needs to be precluded, as it is giving the fanbase an embarrassing name to contend with at times. It's almost as if some members anti-FSG brigade are baying for negativity and pessimism.
I do believe that £100,000 in wages is a ridiculous feat for a footballer who has not shown any distinct improvement in the space of three seasons. For him to be earning more than the likes of Jerome Boateng and Giorgio Chiellini is very difficult to fathom.
Lovren's Future At The Club
Dejan is a player who come in leaps and bounds in his Liverpool career – but unfortunately the highs are outweighed by the lows.
When Lovren signed for the Reds back in the summer of 2014 for £20M, he was touted as one of the leaders of a Southampton side that had overachieved in the 2013/14 season. Having only made one defensive error all season, many people thought that he would be the ideal centre-back to inspire confidence in the Merseysiders' back-line after manager Brendan Rodgers overseeing a leaky defence the previous campaign.
Aside his general reliability, he was cited as a defender who could win aerial duels and provide sufficient protection for attacking full backs and the sitting central midfielder.
However, his weaknesses became apparent in his first season. In Steven Gerrard's biography, he spoke of how Lovren struggled with the media pressure despite impressing in training on occasions and 'putting his body in the way of shots'. Gerrard himself admitted there were occasions where he began to see why he arrived for £20M. His positioning sense, composure and all round reliability was non-existent.
At least he was slightly reborn under Klopp. There were some games where he enjoyed a new lease of life – particularly at home to Dortmund where many hailed him as an Anfield hero for European nights to come. But despite showing flashes of quality, he hasn't really cemented a sustained good run of form to this day.
His poor performances of late – most notably against Crystal Palace arguably cost the hosts the points. The Croatian is seriously beginning to bear the brunt of fans' anger.
In my opinion, I don't think he's anything more than a backup CB. He is definitely an acceptable second-choice defender, but isn't cut out for the regular demands of first team football. If Liverpool are seriously looking to mount a serious title assault next season, they will need to sign a CB who is proven and can inspire more confidence into the back-line at the moment. I do not believe that Dejan Lovren is worth £100,000, but it would be incredibly knee jerk to sell him now.
Conclusion
In my opinion, I am lukewarm on the new contract. Whilst I do believe the wage demands that have been met are out of proportion for a player of Lovren's calibre, the reaction from some fans to his new contract was very concerning. I do not feel that baying for negativity/signing marquee players for low prices satisfies the consensus for more ambition. I don't think the ex-Southampton defender's recent performances yield a £100,000 contract. But it is damning to see this attitudes in modern football being presented – as it really constitutes the problems with some football fans nowadays.
On one final note, I thought I'd discuss Emre Can. The box-to-box midfielder has impressed since his patchy form in January, and looking like a player who should reap the rewards of a new contract. This has, mysteriously been put on hold. Can is a very useful squad member as he can operate in a back three/four as well as being a midfielder given the license to roam by the sitting midfielder. I do believe in the prophecy that we need another mobile CDM who can provide creative passing from deep – but it would be incredibly knee-jerk, again, to let him go.
I wouldn't be surprised if Can's agent was outraged by Lovren's wage demands, but the situation must be sorted as soon as possible.