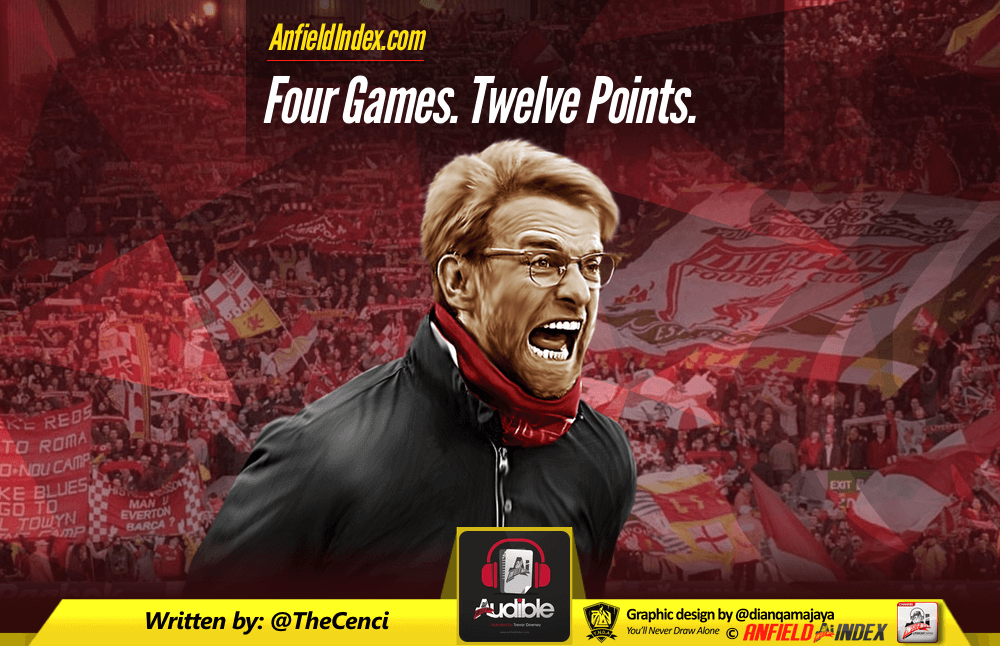 Four Games. Twelve Points.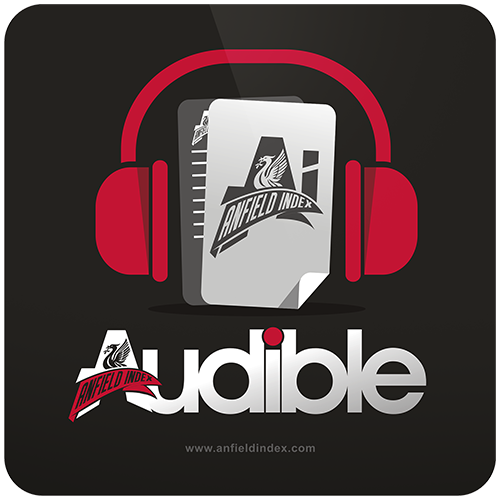 Listen to this article via @AIAudible !
This is no time for faint hearts.
This is no time for shrugs and voices whining 'What? We have to win all four of them?'
The Mancunian derby did all it could to help the Reds out so let's not throw away that luck by going into the final sprint with chewed lips and winces. It all comes down to this.

Watford. Southampton. West Ham. Middlesbrough
Four sides. Four teams. One good but one we've already battered, the swines who did for us in the League Cup, the most inconsistent side in the League and one who should be a division lower by then. Four games. Twelve points.
It may not be enough, but let's get them first and see where we are. Remember when everyone gave up on catching Chelsea as they had the league won when we collapsed in January? They're only four points clear of Spurs now and with a worse goal difference. Spurs didn't give up.
And nor should we just because we didn't fancy Palace. That game's gone now and there isn't a much we can do about it, though there is one thing. We can learn from it. The Reds were all shit in that game and defended and attacked like sulking teenagers who wanted to go indoors and sit in their bedrooms, but now we have focus. They're only four games from the beach now. Leave it all out there on the pitch, lads.
That goes for us too. Lovren's got a new contract but that doesn't affect the next four games. Sakho's injury may cost us, literally, in the transfer market but his lying on a sick bed won't help us at Watford so forget him. It's all about those six hours of football and all concentration should be on the pitch and not the flying ephemera about this week's fume. Fuck that.
I've had to recalibrate my own ambitions over the last few weeks as I find an all-out assault to become the fourth best team in the League a bit embarrassing, but needs must. I can't help but feel that we've thrown this league away somehow as we were easily the best team in the land right up to the point when Gini rose and planted one into City's net on New Year's Eve. Then the wheels fells off and we sat about waiting for Kwik Fit rather than put them on ourselves when the January transfer window and the African Cup of Nations came about.
But that's spilt milk and this is where we are. May 2017. Four games. Twelve points. A wasted opportunity, yes, but all is not lost. Another season without Champions League football is unthinkable and one appearance in eight years is ridiculous for a club of this size so let's make this the first of our return.
And it's in our hands. Forget games in hands etc. Arsenal have to play Spurs while United have three consecutive aways at Southampton, Arsenal and Spurs. If they can win those three then you'd have to put your hands up. We took seven points from those games when we were good and given that United like a draw we can afford to be a little bit confident, though not over-confident.
And, as everyone knows, Arsenal are mad. Quite, quite mad.
Our chief issue is personnel. The loss of Henderson and Lallana has hurt us though, pre Palace, we did okay without them. It sounds odd to say now but there's a chance that that Palace game may help us. An exercise in hubris. A reminder that if we drop our pressing and energy levels ,even a bottom half club can hurt us on our own pitch. Sometimes the best tactic is a relentless and ruthless attack rather than clever in-game management.
Yes, the SpiderCam derby (and what the fuck was that, by the way?) may have helped us out and Jurgen's Reds along with Jurgen's Red Crèche on the Bench still sit in third place with four to go when City could have climbed above us. We have to sit on twelve points at the end of this run and we, as shouty Reds, have to do our bit. It's nearly beach time so let's not sun ourselves with the sick feeling of a Europa League place and a year of Thursday/Sunday games. It's hard enough trying to win this League, but that small window of turnaround would make it doubly so. Actually, even if you think, as I do, that the Champions League is an overinflated bunch of advertising shittery, the mere thought of being part of its lesser sibling should spur us on. I'd be happy for Liverpool never to be involved with that nonsense ever again.
Regardless of what happens, this season has been a pretty good one given the horrors of eighth place last season. We have a first team who can beat anyone when fit, but we have seriously misjudged squad size and not replacing Mane and even Danny Ings (out since October without replacement) has cost us so let's just take advantage of at least being third. Third is nothing like acceptable, of course – Liverpool should be trying to win the League – but it would at least be a lesson learned and mistakes are fine if you can spot them returning and do something about them before they derail your entire season.
This is no time for faint hearts.
Four games.
Twelve points.
Shout and scream till your throat is no sore then no more.
Who's in?