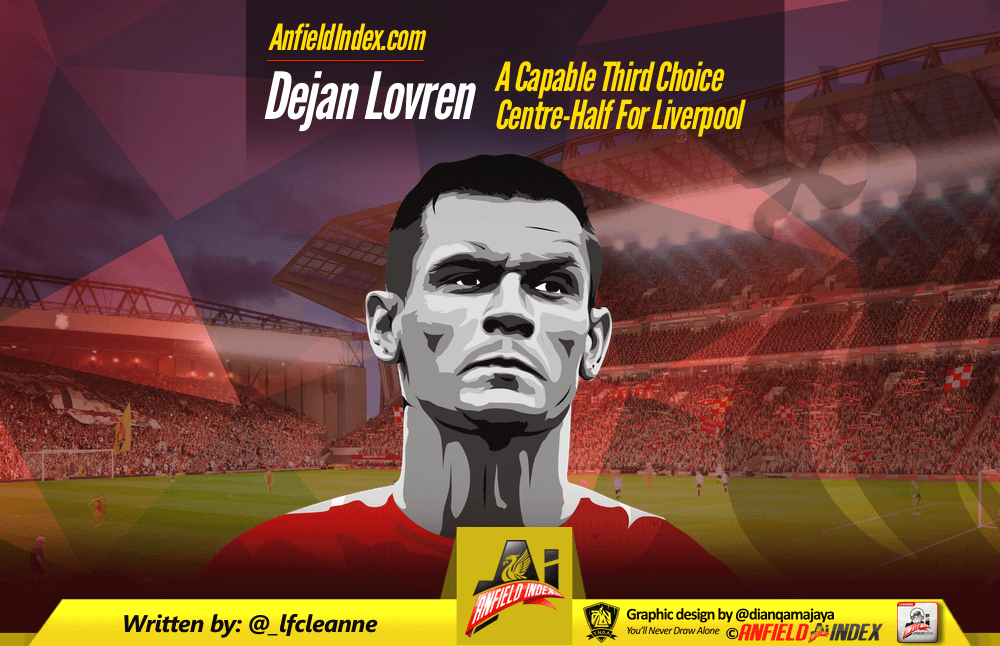 Dejan Lovren: A Capable Third Choice Centre-Half For Liverpool
There are a number of players that seem to split the opinion of the Liverpool fanbase, but none more so than Dejan Lovren. Since joining for approximately £20million, his Anfield career has been one sickening rollercoaster – with incredible highs such as his winning goal against Dortmund contrasting with his annual shit show against Crystal Palace.
After an almost laughably bad debut season under Brendan Rodgers, questions were raised over whether there would ever be a place for Lovren within the first team. Bought for his authority and experience at the back after a stellar tenure at Southampton, he showed no signs of his former self with a string of error-prone performances adding to an already shaky back line.
The image of Rodgers painfully watching on as Lovren face planted into the ground while Yannick Bolasie broke away will always live long in the memory – a sight which has become increasingly common for the Croatian. In that sense, he perfectly optimises Liverpool's struggles against their bogey-team Palace.

Despite Lovren's latest hiccup against The Eagles, contract negotiations between the club and player reached a successful conclusion on Friday afternoon as he became the latest player to commit his long-term future to The Reds. The 27-year-old's new deal has raised several eyebrows, especially with a reported wage of £100,000, but was Jurgen Klopp right to renew his deal?
Lovren has experienced somewhat of a resurgence since Klopp took up the reigns at Liverpool. Last season, having been told to focus on the basics and keep things simple, he was far more recognisable to the powerful and focused centre-half we had so often seen at Southampton. He knew his limits and with that ensured a reduction in costly errors and poor decision making.
Scoring the winner against Borussia Dortmund earmarked just how far Lovren had come since his first season on Merseyside. It was an acute turning point for the Croatian, who became a much more accepted member of the team by the fans.
Prior to the Palace game, Lovren had been enjoying a rich vein of form for Liverpool, who were unbeaten in the 14 Premier League games in which he and Matip made up the centre-back pairing. Respective injuries aside, that record would suggest that the 27-year-old does possess the quality to lead at the back.
It's also important to note that this summer will likely see an array of change at Liverpool, which could leave Jurgen Klopp desperately short of options. Lucas Leiva's future remains up in the air with Inter Milan and Galatasaray circling. Should he be offered a deal from a reputable club with guarantees over playing time, his tenure at the club would come to an end.
Ragnar Klavan meanwhile has failed to cover himself in glory since joining last summer and represents a large step down in quality from the starting eleven – albeit having produced a few good performances. Joe Gomez, one of the club's brightest defensive stars, is still on the road to recovery following a long injury lay off and it would be unfair to mount all that pressure on his shoulders, while Mamadou Sakho's career is all but over.
With injuries already causing problems in the current campaign, Jurgen Klopp will be desperate to bolster his defensive options this summer. Virgil van Dijk is the number one priority, with Koulibaly an alternative option that would greatly improve the starting eleven. That would likely see Lovren drop out of the squad, with Joel Matip the preferred choice at centre-half.
However, he could still have a big role to play. Having to contend with a busier fixture list next season due to the return of European football, Klopp will need a deeper squad to choose from. Lovren represents a good squad player who can ensure competition for places remain high.
As far as wages go, Manchester United's fourth choice left-back is sitting on £100,000, proving that in this day and age, with money circulating around football as it is, an option from the bench will more than likely command a hefty wage. Michael Keane was a possible alternative to Lovren but with reports of a deal costing up to £30million, a new deal for Lovren seems the far more sensible option.
It's public knowledge that Liverpool are in the market for a quality centre-back this summer, which would more than likely see Lovren demoted to a role on the bench. After a relatively good campaign, the Croatian still has a role to play at the club and it's hard to see why there can be any qualms about him being third choice centre-back for the upcoming season. Here's hoping we see less brain-fart moments from him over the next four years.