 Liverpool and Their Kits
If the sight of Dejan Lovren signing a contract extension at Liverpool has left you in a quivering mess on the floor, blubbing uncontrollably at the prospect of more Skrtel-esque brain fart defending with enough comedy moments to fill a Danny Dyer video, then fear not because just take a look at the new kit he's wearing.
Lovren getting a pay rise and contract extension may be difficult to fathom, especially with it coming just days after another one of his games where he appeared to forget how to play football. However, the shots of him leaning, like a new signing, around Melwood in the new home kit did distract the despair somewhat because that shirt is bloody lovely. It has to be said that New Balance have done well on this one. It's reminiscent of the shirt we were wearing back in 1984. Of course, we had a fully functioning defence back then, well actually we had a bloody good defence back then, but let's leave our defence, in the way they leave opposition attackers at set pieces, because this kit is worth talking about.
Kit designs are such a subjective thing; one person's innovative design is another's textile vomit.

Our home shirts over the past few years with New Balance and Warrior have been ok, not terrible, but not exactly inspiring. In fact, I'd go so far as to say our 2015/16 home shirt looked a bit cheap, like something you'd expect to find on a market stall, not something that you'd been asked to part with nearly fifty quid for. This one that has been unveiled for the 2017/18 season is quite the opposite though, sleek, stylish and more befitting a club the stature of Liverpool.
Although the away and third kits have yet to be released, rumours of 'leaked' kits have been doing the rounds on social media and, as you would expect, most of them will be complete bollocks. Different variations of a green and white kit have been circulated and that got me thinking of some of our previous green kits. This season we've had the aluminous green one and I think I am in the minority who actually likes it, maybe because it somehow reminds me of the classic 1990's Borussia Dortmund kits. I still have a green Liverpool away shirt from the 1991/92 season that had the three adidas stripes running over the shoulder; that was a kit that grew on me. The green and white one that replaced it, with black adidas stripes on the mid-riff I also liked; a lot. The 1995/96 green and white 'quadrant' shirt was another one that grew on me.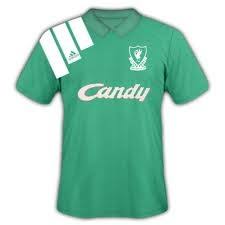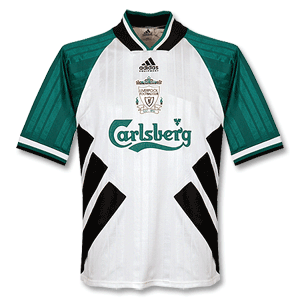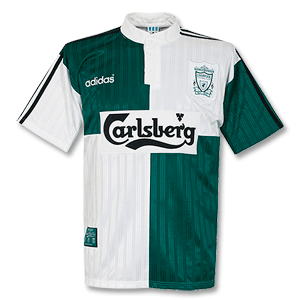 However, the effort Reebok came up with for a green away shirt for the 1999/2000 season was never to my taste; boy that was a god-awful shirt with the blue and white sash going across it. It wasn't until 2006/07 before we saw green again, back with adidas on a shirt that was mostly white. I liked this from day one and I'm happy to say I bought one, which I still have to this day. The following season's very plain green shirt I'm still undecided about, though 2008/09 was a memorable season, so I'm willing to give it the benefit of the doubt.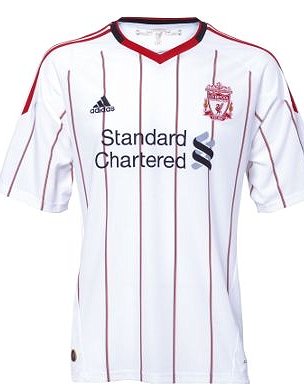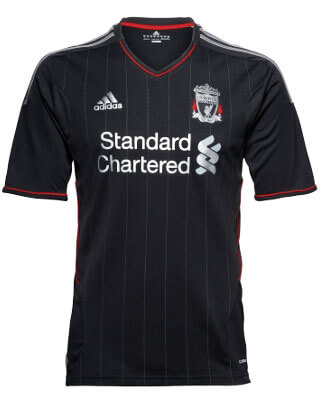 Over the years, we've had a multitude of white away or third shirts that have looked great, from the 1970's design to the 1985/86 one which looked bloody fantastic. It's difficult to get a white shirt wrong and, apart from the 2001/02 effort that had blue in it, we've had some snazzy white numbers and 2010/11 one is right up there in my estimation. I almost forgot the 'tyre track' Warrior shirt from 2013/14, so that's two dodgy white shirts. Warrior inflicted that purple number on us in 2012/13, as well as the black, purple and white jazzy 1990's throwback in 2013/14. I won't hold it against Warrior though because they did give us a couple of nice black away and third strips, though nothing as magnificent as the black adidas away strip in 2011/12. The black strip we're using this season from New Balance is a nice one too, but nothing touches the silver away kit from 1987/88, that was as special as the team that wore it.
Anyway, enough of all those trendy and funky alternative strips, the home kit is what matters most, or to paraphrase the late great Bob Paisley, our bread and butter. The all red introduced by the incomparable Bill Shankly is what defines Liverpool to this day and putting the many weaknesses of Dejan Lovren aside, that new red shirt looked the part. I just want to see it lifting a trophy or two next year.