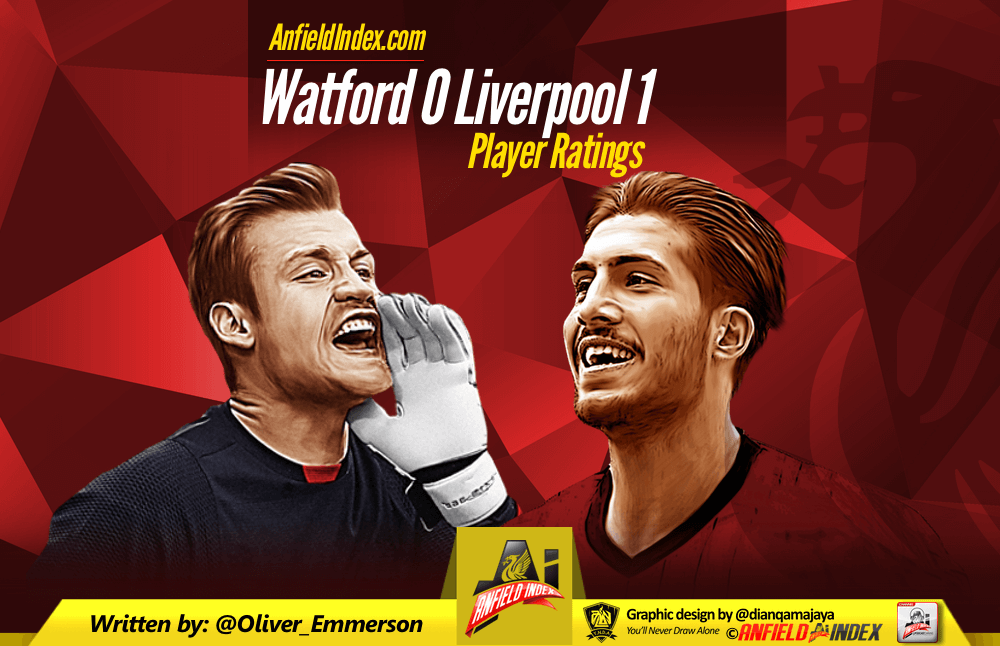 Watford 0-1 Liverpool: Player Ratings
Yes! The Reds never do things the easy way but a belter from Emre Can secured all three points for Liverpool against Watford. Let's take a closer look at the individual performances, rating each player out of 10 for how they got on.
Simon Mignolet – 7 – Not much in terms of shots on target for the 'keeper but solid again with crosses into the box, an area in which he's improved heavily in recent months. Distribution a little off but it's what we've come to expect at this point.
Nathaniel Clyne – 6 – Ponderous going forward but steady enough at the back bar one or two moments against substitute Success, Clyne played his part in the clean sheet.

Dejan Lovren – 6 – Should have had an assist as he nodded a corner beautifully back into the six-yard box, something that bugged me the whole of the second-half. Defensive wise, had the better of Deeney but was fortunate to see the flag raised incorrectly when he dropped too deep from a lofted pass, allowing Deeney to find space in behind.
Joel Matip – 6 – The majority of Watford's attacks were aimed at unsettling the side of Lovren and Milner, meaning Matip had a quieter night than he may have expected. Was solid when needed though, an important clearance from a testing Success cross one of his finer moments, whilst he deserved an assist for a wonderfully crafted through ball to Divock Origi. Shot on target in the 88th minute at 1-0 too, which is sound of him.
James Milner – 5 – A poor performance from Milner, who was Liverpool's worst player and may have picked up a four had the Reds lost. Not a disgrace but nothing seemed to go his way, crosses off, passes misplaced and shaky defensively. Still, though, Alberto Moreno remained on the bench.
Lucas – 7 – Very much a 6/10 performance from Lucas, who gets a seven given that ludicrous dive that woke us all up with some laughter and for being the man who set up one certain man for a piece of brilliance…
Emre Can – 8 – Goal of the season? Probably. Most important up to now? Might have edged out Firmino's against Stoke. Goal scored with the best hair? Definitely. Can had already given us a glimpse that he was in the mood for a goal with a sweetly-struck left-footed shot early on in the game, but nobody could have foreseen the brilliance that was to come, with the 6ft German defying everything that man has learnt about physics to assault through the air resistance and volley the ball top bins with a fantastic overhead kick. Was solid elsewhere throughout and should have picked up an assist when his superb cross found Lallana on the breakaway.
Georginio Wijnaldum – 6 – Still no away goal for Gini, unsurprising as he resisted a few good opportunities to shoot during the game, but you can't criticise as he did what he does so well, breaking up the play and keeping the ball safe in tight areas.
Philippe Coutinho – N/A – Crocked after five minutes. Bless his soul for looking to run it off for around 10 minutes. Please don't let it be a bad one.
Roberto Firmino – 6 – Still seems to be adjusting to playing a wide role that he clearly isn't at his best in, however, was his usual self in pressing the opposition well. Some silky footwork should be mentioned as the Brazilian helped his teammates run the clock down.
Divock Origi – 5 – Would be unfair to say the Belgian was poor throughout as he battled well enough and won enough aerial duels to justify the reasoning for his inclusion, however, he suffered from a potential lack of confidence having not scored in the last three games, fluffing a good chance early in the second-half.
Adam Lallana – 6 – Back into the team quicker than he'd have thought as Coutinho limped off and Lallana looked fairly sharp, to begin with, nearly getting on the scoresheet as he cracked a volley off the crossbar at 0-0. Should have got on the scoresheet when Can set him up in the final 15, but his touch let him down. Had drifted for half an hour or so before that chance, but was impressive enough after a month on the sidelines.
Danial Sturridge – N/A – Came on, nearly scored and drew a foul seconds after Prodl gave us all heart scares by hitting the bar.
Ragnar Klavan – N/A – Came on to help with the final aerial onslaught, spent most of his time in the opposition half and watched on as Prodl hit the bar. Interesting one.