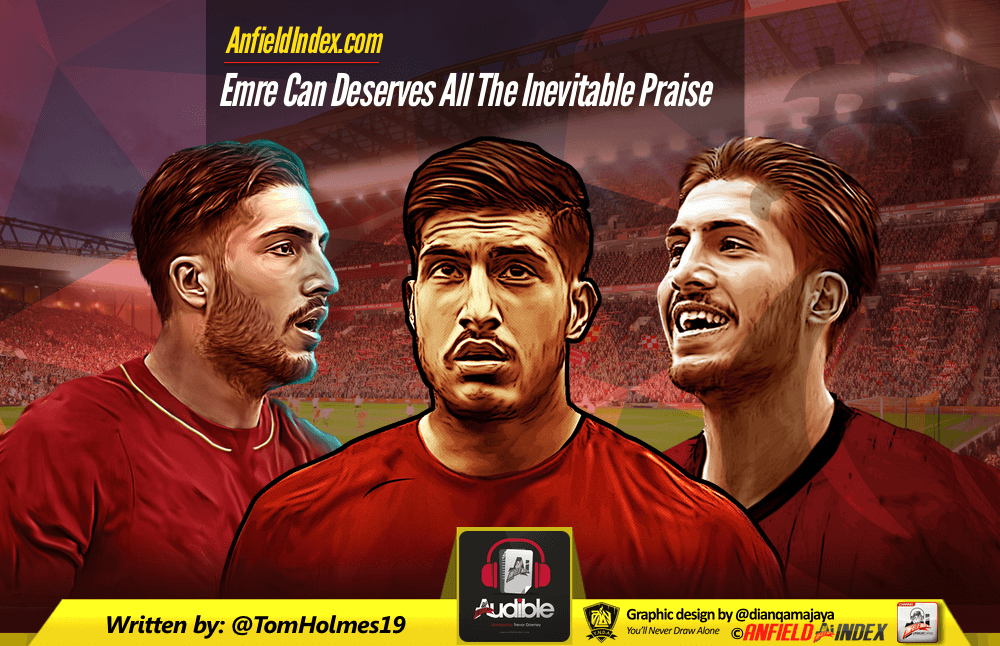 Emre Can Deserves All The Inevitable Praise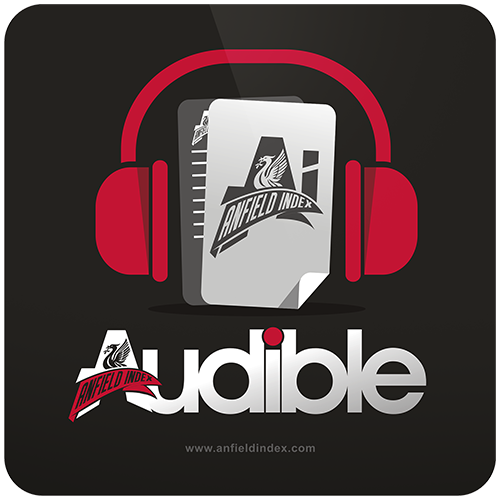 Listen to this article via @AIAudible !
Emre Can deserves this. In the following days, maybe even weeks, he's going to be eulogized by Liverpool fans, waxing lyrical over his talents and all rushing to be the ones to claim that they always believed in him, as his spectacular bicycle kick, Liverpool's goal of the season despite Phil Coutinho's best efforts, gifted Liverpool a 1-0 win over Watford that puts them one big step nearer to Champions League football. And he absolutely deserves it.
And it was a perfect goal. The clipped pass from Lucas, the way Emre rose majestically through the air, the way he struck it, the stunned looks on the Watford fans faces, the knee-slide celebration, the context of it being a goal that won us the match, and possibly top four. And all whilst maintaining perfect hair.
It was the sort of goal that earns you a Sky Sports advert for life if you play for Man United. The sort of goal that has fans up in arms. Think Suarez against Norwich, Torres against Blackburn, Gerrard against…well okay everyone. And Emre Can has put himself amongst the lot of them.

And to reiterate my original point, he absolutely deserves it. This is a man who was "living off one good game against Villareal" for most of the season, despite actively participating in our best run of the season with goals against Palace and Watford, scoring a majestic goal and brilliant assist against Bournemouth despite us losing, turning in a man of the match performance at Old Trafford in January, and playing through the pain throughout January and February.
This is a man who gives more to the team than anyone, having covered the second highest km per 90 in the side and who is one of the foremost pressers in our team (again, this despite being injured for two months and playing through it). He is a workhorse, who leaves everything on the pitch. As far as the defensive side of his game goes, he's exceptional. His aerial ability is bettered only by Dejan Lovren, the tackling side of his game is strong although nowhere near Jordan Henderson's level and he breaks up play effectively.
He's also an exceptional player on the ball when he needs to be. Again, whilst his passing skills aren't up there with Jordan Henderson and his dribbling isn't as strong as Adam Lallana, Can is a jack of all trades, the only player in our midfield capable of doing everything. His shooting, particularly from range, is excellent and he now has five goals to his name, which is as many as Wijnaldum and just two less than Lallana, despite playing deeper for significant periods of the season.
Overall, whilst Can has not been Liverpool's most sensational player this season, he's done everything that Klopp has asked of him, suffering a dip in form in January and February when he was carrying an injury. But since shaking that injury off he has been absolutely exceptional for two months now, scoring the winning goals in two huge games, and turning in consistently excellent performances for what is now over two months. He is one of the few players who actually turns up against the smaller sides (100% of his goals and assists have been against teams outside the top six, he's the only one of our front six to have that stat), and he is a brilliant box to box midfielder. Crucially, he's still young, and improving every game.
Look, I'm not here to suggest we give the Can the new contract he deserves. I pointed out how embarrassing it was he was earning significantly less than Wijnaldum, Henderson and Lallana back in January for goodness sake, I'm so far over that hill we were still in the title race. I'm not even here to say 'I told you so' although I really should because I took a horrible, horrible amount of flak from LFC fans for suggesting that Can wasn't playing significantly worse than some of our so-called key players.
I'm actually here to go one step further. Give that man a new contract, give him the captaincy, give him the keys to the city for all I care. That goal was as beautiful as the man himself. But above all else, Liverpool have to give Emre Can a starting berth. Whoever we sign in the summer. Whoever our fully fit squad is. Emre Can is our most talented young central midfield player, and he simply has to be starting for us week in, week out. He should be one of the first names on the team sheet. Liverpool fans talk so much about what a Klopp player is, but Emre Can is the ultimate Klopp player and he has just about every core aspect to his game and is improving all the time.
Oh and I told you so. Man that feels good. I'm off to watch that goal on repeat for ten hours straight.