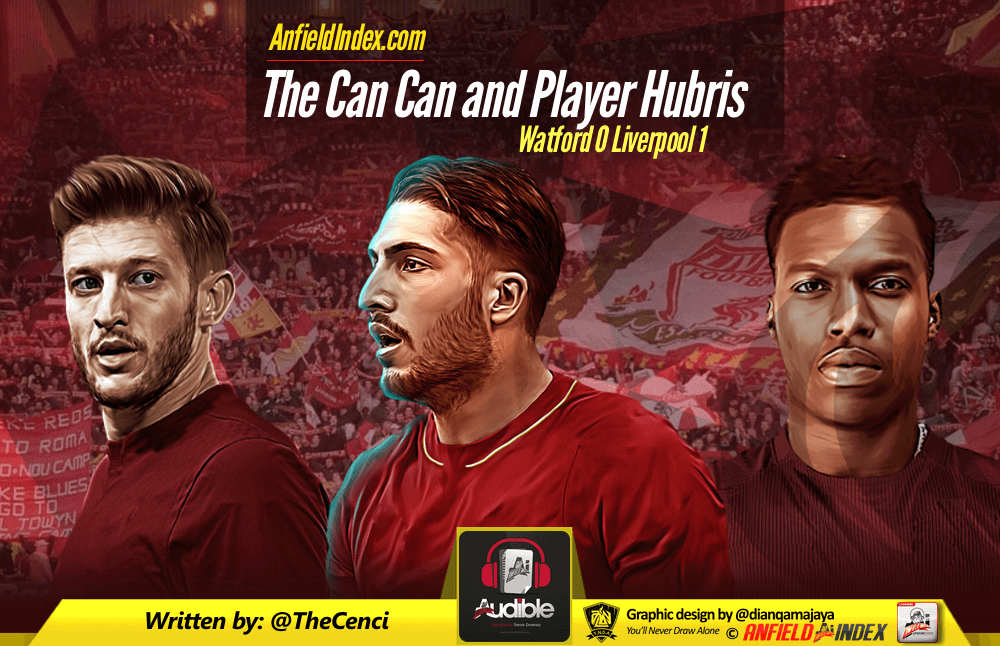 The Can Can and Player Hubris - Watford 0 Liverpool 1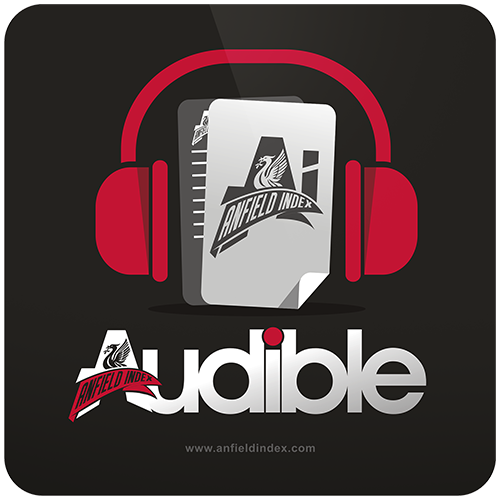 Listen to this article via @AIAudible !
Oh Emre.
Emre, Emre, Emre.
Something incredible happened in Hertfordshire last night. Something very special indeed.
Once I'd stop jumping around the Vicarage Road Stand and got my bearings, four different thoughts simultaneously arrived in my mind. They were…
I'm getting too old to be jumping around stands.
We've done it again. A goal just before half time at an away game.
What's Emre doing the sliding-on-the-turf thing? True, it looked like it was his goal, but surely that must have been Firmino as there's no way Emre could get his arse that far above the ground.
Please God, don't make this a Sebastian Coates moment i.e. a great goal forgotten because we lost the game.
There's a striker's adage I've always liked about scoring worldies in the wrong types of games such as pre-season games or meaningless dead rubbers. I think it was Gary Lineker who said that 40 yard screamers against Ebbsfleet Town in July were a waste of a good goal. You don't need them then, you need them for more important games. Games like last night.
I must admit that I thought the same about Marko Grujic at Wembley last summer. Though the setting and opposition were worthy enough for his incredible looping header (and the keeper had made it look even better with a full flying fish impression), it didn't win anything for the Reds. It was merely the final brushstroke on an already pretty decent canvas.
So when we walked off the pitch at half time there was still a small creeping worry that it would all count for nought, but this is a Liverpool side that has become adept at protecting a lead away from home. Not so good when we go a goal down but, y'know, small steps.
We all love a frighteningly magnificent goal but when it proves to be the only one in such a vital game it gilds an already decorous lily. Even Watford – mostly toothless up front save for the last ten minutes – can say that they only lost to a goal which no one could have stopped. Faces saved all round.
Incidentally, I loved Emre's self-conscious applause to the away fans when we sang his name as he strolled off at half time. He clearly wasn't sure if he was supposed to do that yet so gave us the smallest handclap while looking at us from under his eyelashes like Princess Diana.
It should have been more, of course. Lallana and Sturridge went close and if Lovren had converted Matip's cross many of us would be checking our pre-match pints for hallucinogenic pastilles and compounds. After all, if we're holding onto a lead, what the hell were two of our (by then) back three doing gallivanting up field. The journalist Jonathan Northcroft tweeted about that earlier today and suggested that maybe Lallana and Sturridge covered for the centre backs. I won't sleep tonight because of that.
Speaking of Sturridge, he came on last night to a song. He hadn't kicked a ball at that point but the away end sang his name loudly. He seemed to appreciate it too as he was an immediate threat. There was a moment when he took a tricky cross-field ball onto his instep while simultaneously pointing to the area where he wanted Firmino to run. He didn't so much look at the ball as it came towards him. An outrageous piece of skill from a man I'd like to keep him inside the tent rather than casting him outside. Oh, I know he's injury prone and all the arguments against him, but what a talent that lad has when it's utilised properly. I know people want him gone but a replacement doesn't always mean that they can do what he does. An incredible footballer.
In fact it was a night for the maligned players. At the final whistle, two men walked down the pitch to the away end and celebrated vociferously with shouts and fist pumps to those gathered behind the goal. They made Jurgen look like a shy debutante at her first public ball. Ladies and gentlemen, Dejan Lovren and Simon Mignolet. Both imperious last night and playing like they'd never put a foot wrong in their lives. They've been slated by all and sundry over their Anfield careers so it was great to see what that win meant to them. A real sense of togetherness with the support when we achieved our goal.
I think I'd feel less engaged if I were a Watford fan and tasked with providing unilateral support to Tom Cleverley. For those who missed it, the former United and Everton midfielder told the press that he was keen to 'do United a favour.' To quote Danny the dealer in Withnail and I, 'very foolish words, man.' Still, he had a good view of the game from pitch level when Emre put him on his arse with a Beardsleyesque shuffle of the hips.
I'm not sure why players do that. It makes for good copy but it's just asking for trouble. In 2001, when the Reds lost the League Cup semi-final 2-1 at Selhurst Park, Palace striker Clinton Morrison talked about how he'd be able to put away some of the chances that Michael Owen had recently missed. Before the second leg he told the Evening Standard 'We know we will always score and we are capable of doing a good job up there.'
They lost 5-0.
Even Igor scored.
Ah, the danger of hubris.
Sometimes it's better to play a straight bat to the usual questions. 'It's all about us tonight, not the race for top four etc.' That sort of thing.
Anyway, three games to go. Three games. Nine points. And if even if a mountain of muscle such as Emre Can can defeat gravity then the Reds should at least be capable of a third place finish.
Three games.
Nine points.