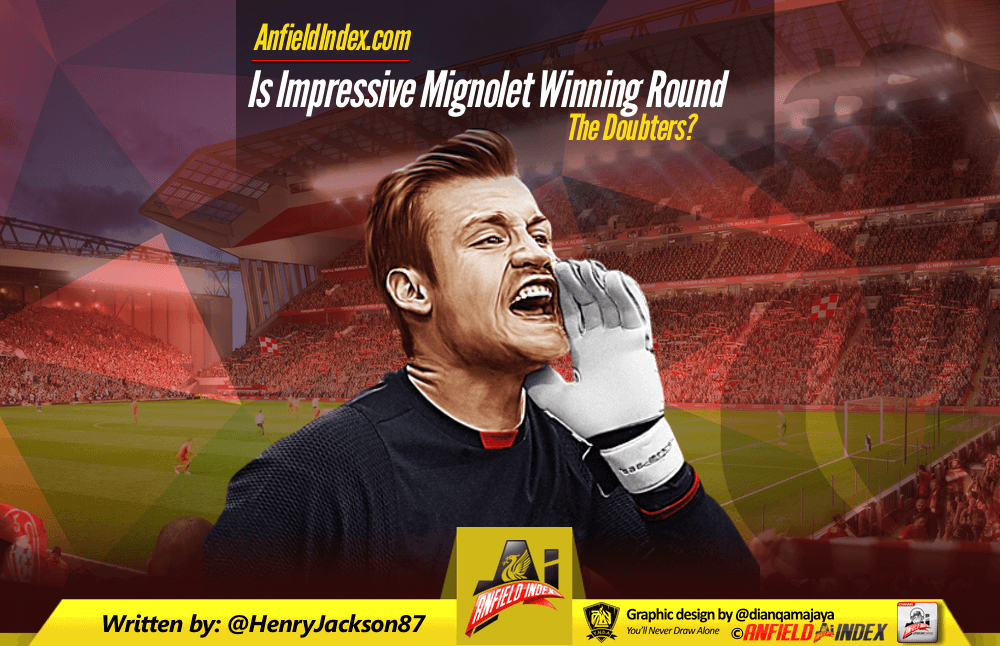 Is Impressive Mignolet Winning Round The Doubters?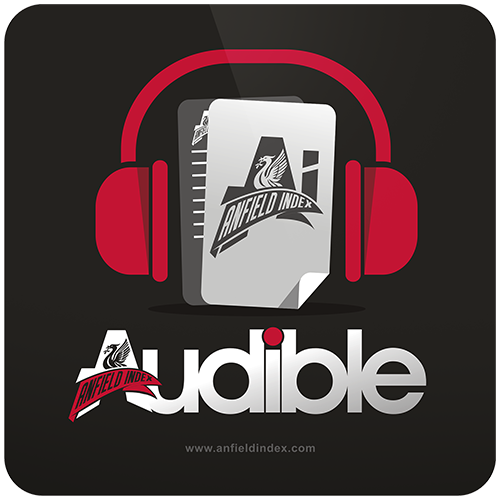 Listen to this article via @AIAudible !
Who else remembers that bizarre moment at Burnley in 2014/15, when Simon Mignolet allowed the ball to run out before kicking it? It left you lost for words.
It was one of many strange occurrences during the Belgian's time at Liverpool – the kind that have ensured he has never earned universal praise from the Reds fanbase.
He got off to a sensational start in August 2013, making a late penalty save to deny Stoke's pesky Jon Walters on his debut, but for too long, it has almost felt as though his Liverpool career peaked at that point.

Mignolet seems like a genuinely decent man, and someone who you can't help but wish good things upon, but he has never convinced for a consistent period of time.
There have been too many errors – his sloppy mistakes against Man City and Chelsea in 2013/14 proved so costly in the title race – and he has often spread uncertainty in an already shaky defence.
Too many shots have beaten him a little too easily; too many kicks have sailed into the crowd; too many mix-ups with Dejan Lovren have earned the wrath of the Kop End.
When Loris Karius came in last summer, looking like Mignolet's cooler, younger, more handsome replacement, his days as Liverpool's go-to man between the sticks looked numbered.
Here was a goalkeeper picked out by Jurgen Klopp as his first-choice stopper for the foreseeable future, and it looked like there was no way back for his much-maligned new teammate.
Karius had a shaky time of things, however – not nearly as shaky as some would have you believe, mind you – and it reached a stage when Mignolet simply had to come back in to take the pressure of an increasingly under-fire young 'keeper.
That came in the 3-0 win at Middlesbrough back in December, and since then, the 29-year-old has hardly looked back, enjoying his most impressive spell in a Liverpool jersey to date.
At Boro, one highly impressive save at his near post outlined the shot-stopping ability that has always been one of Mignolet's best assets – I know, I know, goalkeepers should save shots, etc etc – and that performance seemed to instil so much confidence in him.
There has been the odd blip here and there, most notably the howler that gifted Hull the lead earlier this year, but all in all, the former Sunderland man has really stood tall when others around him have started looking jaded and out of form. 
It would be wrong to go overboard about Mignolet, and there are still plenty of the opinion that he must still be replaced, but he is doing his best to alter supporters' opinions of him.
Every facet of his play appears to have gone up a gear, even though his aforementioned wayward kicking can remain infuriating on occasions.
He is so much more decisive in his decision-making, whether that be claiming crosses or getting into the right position early, and arguably for the first time since he joined in 2013, he looks as though he believes he is good enough to be a Liverpool player. 
Most important, though, is the fact that he has actually saved his team on a number of occasions – something that has forever been seen as a negative against him.
Those who don't rate Mignolet feel he doesn't possess the influence required to be a top-level 'keeper, but it is impossible to deny his influence since spring arrived.
Huge saves against Stoke and West Brom helped earn Liverpool six invaluable points, in two tricky away games that saw the Reds generally underperform.
He was less involved against Watford on Monday night, but he did everything in relatively immaculate fashion, and made one important stop to deny Etienne Capoue in the second-half.
A certain nervousness and insecurity has always been arguably Mignolet's greatest weakness – we all remember how he admitted to agonising over his form to his wife and other family members – but that looks as though it has changed for the better.
It would be wrong to suggest he is now the undisputed answer moving forward, but he is doing his darndest to show that he deserves to be persevered with.
Perhaps he is the answer and will improve further as he enters his 30s, or maybe Karius will be back in the team at the start of next season.
Given how difficult Klopp is to second-guess, he may even have decided that both Mignolet and Karius are not good enough in the long run. 
Whatever your opinion of Mignolet, he deserves great credit for the level he has found in 2017. You may even find yourself rooting for him a little, considering the flack he has taken over the last four years.
Three more solid performances to end the season, thus helping ensure Champions League football for Liverpool, would only enhance his chances of remaining on Merseyside.
He's not perfect, but is he starting to show he is good enough after all?