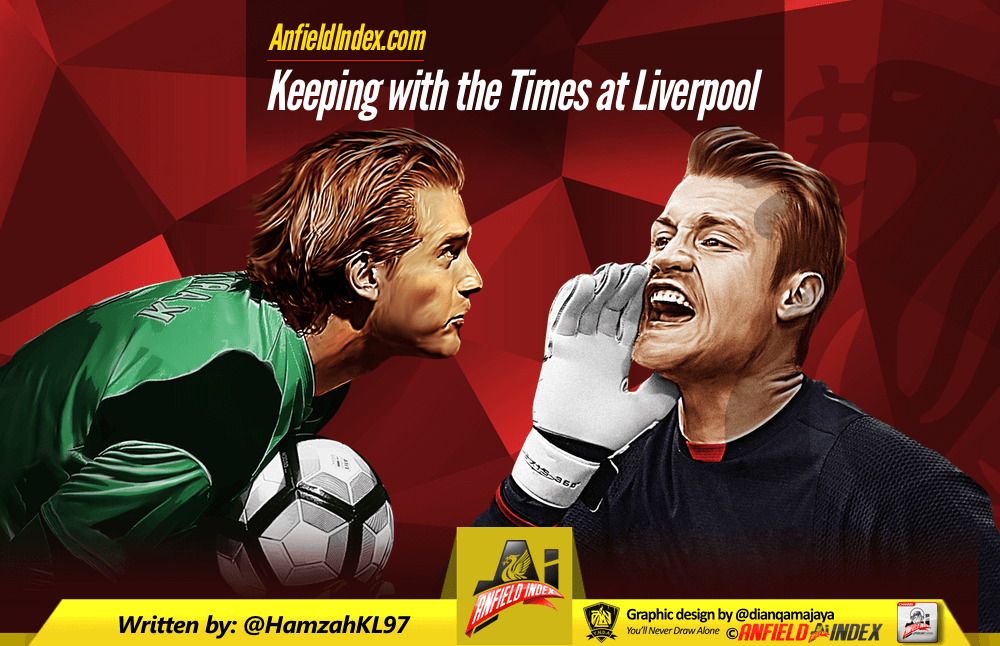 Keeping with the Times at Liverpool
Over recent weeks, Simon Mignolet has been nothing less than fantastic, making match winning saves in consecutive games, and taking defensive responsibility in Liverpool's pursuit of a Champions League qualification spot. In the recent match at Vicarage Road, Mignolet put in a truly commendable display, claiming crosses with confidence, and relieving pressure on the team at crucial points within the game; he appeared to be playing with confidence and authority, a far cry from the goalkeeper, dropped mere weeks into the season. Indeed, following Mignolet's demotion to the bench, he made it clear that he would be fighting and training harder than ever before to get back into the starting XI, and eventually he did, at the expense of the new summer signing Loris Karius.
Karius' position in the team is a curious one; no doubt after being dropped he would have expected to have an opportunity to prove the very same talent and quality that earned him a transfer to Liverpool. However, despite some strong performances by Karius in the cup, Liverpool were knocked out, and he has been resigned to the bench ever since. Yet when Karius joined, he made clear that his intentions were to become Liverpool's new number one, but in the light of some brilliant performances from Simon Mignolet, the questions of whether should Karius be given another chance to stake his claim, whether he is technically strong enough to be Liverpool's goalkeeper, or even if he has a future at Liverpool F.C. may be asked.
First we need to establish just how good Mignolet has been, when looking at whether Karius has a credible case for being Liverpool's first choice 'keeper.

Dan Kennett for the AI Under Pressure pod collected data on Mignolet (43:47-53:50), specifically in respect to aerial duels, claims and punches; an area in which many considered Mignolet suspect, and particularly nervous too.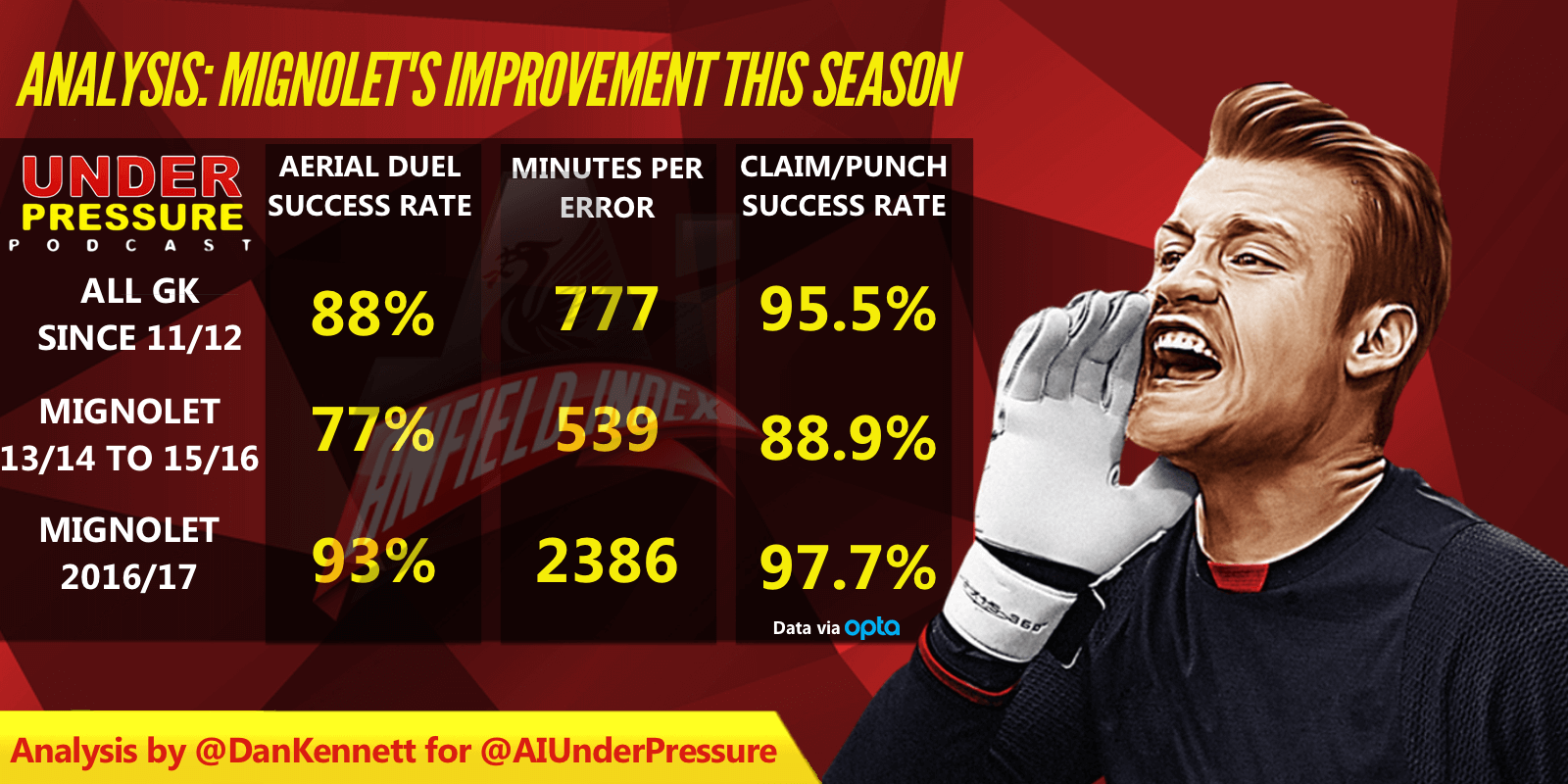 The statistics above certainly support the notion of an improved Mignolet, but the degree to which he has improved is truly astounding: an 8.8pc increase in his Claim/Punch Success rate, and a Minute per Error rate which is over triple the Premier League average rate, since 2011/12.*
Mignolet's error rate this season outstrips the averages of De Gea, Courtois, Cech and Lloris since 2011/12, and seems unbelievable when considering Mignolet's average Minutes per Error since 2011/12 is 728.
This season, his Minutes per Goal Conceded rate stands at every 79 minutes, the same as in 2014-15, but better than 2013-14 and 2015-16, at 72 and 77 minutes respectively. However, statistics in respect to conceded goals are naturally not mutually exclusive to the sole goalkeeper's performance, and instead what we should focus on is not just how Mignolet has now progressed to having a Claim/Punch success rate 2.2pc above the Premier League average, but rather the quality of those claims/punches, alongside the context to it.
Mignolet this season has flourished in a hostile environment; opposition players within the box target him on set-pieces and open-play, evidenced in that he is exposed to over 0.53 aerials duels (i.e. when an opposition player physically contends for the ball) per 90 minutes.
In the Watford fixture, Mignolet made two saves, punched once, claimed six crosses balls, and engaged in three aerial duels; to put that into context, the average goalkeeper claims/punches just under two per match, and faces an aerial duel every six matches (0.16 p/90). Aerial duels are exceedingly rare amongst other goalkeepers within the league, yet despite this Mignolet has faced up to the challenge with strength and resolve. This aspect of his play this season is what fans have craved and demanded, a goalkeeper that is commanding his own box.
However, the demands of a Liverpool goalkeeper go beyond this; one aspect that Mignolet has been criticised for, and which Karius was perceived to have improved on was distribution.
Simon Mignolet has, in the league, made on average a successful pass 59.8pc of the time, around 0.3pc lower than that of De Gea, but well below that of Courtois and Lloris (63.6 and 74.5 respectively); contrariwise Loris Karius has successfully made 64.9pc of his passes in the Premier League. A few issues arise here, one being that despite these statistics reflecting successful passes per 90, the sample size is skewed: Karius has only played 10 league games, and that Mignolet has played 25, so analysing career averages may prove to be more revealing. Indeed it is, as Mignolet's pass success rate this season is the lowest it has ever been at Liverpool, whilst Karius' career average is 10 points lower, at 54.9pc.**
Mignolet's long pass success this season is also far poorer than his average during the rest of his Liverpool career, that being said, the 13.6 inaccurate long passes per 90 is still better than any of Karius season averages at Mainz. Perhaps Mignolet's falling pass success rate can be attributed to a higher demand for long passes, especially when compared to the Rodgers era, in which recycling through short-passes was paramount to the system. Rather curiously though, Mignolet's passing accuracy has decreased at Anfield this season, perhaps revealing a nervousness borne out of pressure and expectation. Nonetheless, it could be a simple blip.
Mignolet's shot stopping ability is rarely called into question, and for good reason too. He boasts a save average of 1.63 per 90, better than Courtois and De Gea (1.63 and 1.52 per 90 minutes, respectively), but naturally, teams with stronger defences are less likely to face shots, so this must be taken with a pinch of salt.
From the bench, Karius has seen Mignolet both make errors, but also progress and develop, indeed that should be the very same challenge for him, over the coming season. For a player that will be 24 after June, Karius must demonstrate the qualities that earned him a move to Liverpool, and that were on display in Liverpool's cup fixtures, notably against Southampton. Those particular performances and his age should be more than enough reason for Jürgen Klopp to offer Karius another opportunity to attempt to be Liverpool's first choice goalkeeper, whilst the competition between the two goalkeepers has no doubt driven Mignolet in particular to improve his own game.
The challenge cannot be understated however, we have already seen the physical demands that Liverpool goalkeepers have far outstrips those of most other Premier League goalkeepers, but in fairness to Karius, Klopp cannot ignore Mignolet's previous inconsistencies or lapses in concentration. Admittedly this season Mignolet has only made one logged error, however it led to a goal for Hull, and Mignolet's priorities certainly appeared questionable against Chelsea at Anfield, back in January. The form that Mignolet is currently in certainly warrants his claim to be Liverpool's number one, but he has a way to go yet to banish his past demons.
The demands of a Liverpool goalkeeper are immense, not only must they play in the most difficult position on the pitch, they are often exposed by their defensive line, are targeted physically, and are always held up against the immense standards of rival goalkeepers. In terms of the future, the Liverpool goalkeeping situation is intriguing; it is highly unlikely that a new goalkeeper will arrive, and both Karius and Mignolet have undeniable talent whilst also provide good competition for one another. But for Karius, a defining pre-season in his Liverpool career awaits, if he can accept the challenge he may well go on to be a fantastic goalkeeper, but Mignolet's future really does rest in his own hands: should he keep improving, and manage to hold off a challenge to the starting goalkeeper position, he may finally win over his critics, and prove those qualities – that have not been on display enough over his time at Liverpool – are still there, and are the qualities upon which Klopp can base his own team around.
*Minutes per Goal, Claim/Punch Success Rate, Minutes per Error sourced from Dan Kennett.
**Passing statistics sourced from Opta.