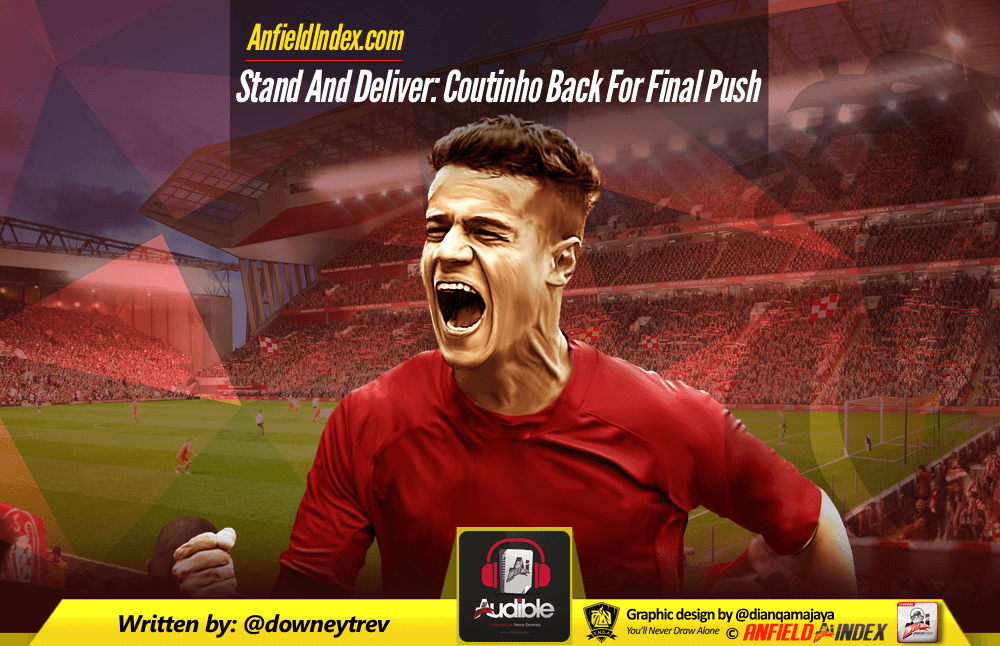 Stand And Deliver: Coutinho Back For Final Push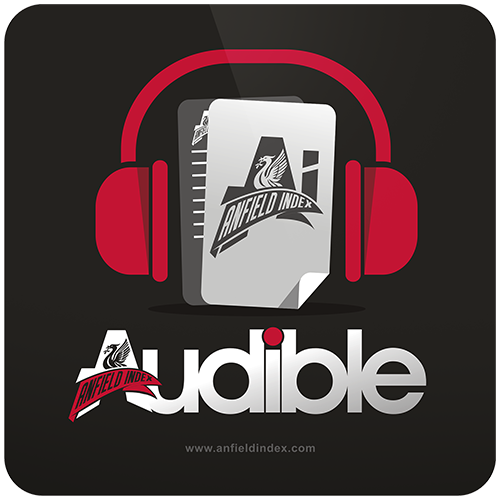 Listen to this article via @AIAudible !
Following the announcement yesterday that the Centenary Stand will soon bear the exalted name of Kenny Dalglish, it was interesting to note the response from some fans. For many of an older vintage, like your columnist, there was an understandably emotional reaction to the honouring of a man we had worshipped on the field and in the dugout, a man as vital to our identification with Liverpool Football Club as Bill Shankly would have been for the generation before us.
I will admit to being wholly, guilelessly enthusiastic about the move. After 43 years on this planet, I've found less and less to recommend its denizens in general. A slowly building misanthropy starts to seize one after the umpteenth example of people being truly awful. And yet, upon hearing about this honouring of my hero, I was filled with an innocent artless joy, genuinely pleased for another person, a man who has given me so much delight and pride through his innumerable achievements for Liverpool. It had been a wretched day and yet this made me beam as broadly as the Scot himself on each of the 172 times he netted for the Redmen.
You can imagine my surprise, then, when I became aware that there was, apparently, another way to react to the news, a way more in keeping with my own generally fatalistic outlook. Several people whom I respect wondered aloud if this was not some Machiavellian ploy by FSG, a piece of positive spin ahead of some less savoury revelations – a transfer target soon to be missed, say, or a downward revision of the promised summer budget. Essentially, these poor tormented souls smelt a rat and feared the owners were endeavouring to ensnare us all in a crafty confidence trick.

I will admit to actually considering this bleak assessment for about half a minute, before returning to being inordinately pleased by the whole thing. I'm like a happy child considering buying tickets for the Kenny Dalglish Stand. I'm afraid, even my hard-bitten cynicism has been overcome by innocent glee. Even Jamie Carragher exploiting the situation for Twitter 'banter' and an opportunity to troll El Hadji Diouf didn't take the sheen off it. My blind contentment was not even lessened by the latest display of Duncan Castles' disturbing Mourinho sycophancy in an article about Monaco which he presented as a rebuke to FSG, out-trolling Carra by tweeting directly at John Henry. Where I'm concerned, there's no news like good Kenny news. I was untouchable.
Of course, it couldn't last. Something had to ruin my mood by doing the one thing I had feared. Somebody had to refer to the remaining Premier League games as "three cup finals." That it was the impossibly nice man that is Simon Mignolet who made the blunder was no consolation. It was out there now. I had to deal with it. None of the Belgian's blather about unity, hunger, the greatness of the club and the players' desire could rescue the situation.
"We have a very good squad and a very good dressing room," the goalkeeper insisted. "Everyone is united and everyone is willing to fight for each other. There are no bad characters in there. There's a really good spirit. We're hungry to play in the Champions League. We know what it means, not only for us, but also for the fans of the club. The history of this great club has been all about fighting at the top end of the Premier League and against the best teams in Europe. Everybody wants it so much and we're going to keep fighting for it. We have three finals left to play."
*SIGH* I'm immediately inclined to contradict Big Si and insist that he is a "bad character," but there is, at least, news of a far more positive nature breaking this afternoon, with Philippe Coutinho, who hobbled ominously off the field of play on Monday night, revealing that he is doing well and should be fit to play in the first of the three cup fi….MATCHES…against Southampton on Sunday. With Adam Lallana having returned to great effect in the last game, Klopp will be hopeful that the Brazilian is correct in his self-diagnosis. There is still no sign of the lesser-spotted Jordan Henderson, but hey, it wouldn't be a Liverpool team without at least two major absentees.
"The injury is much better," Coutinho told Liverpoolfc.com. "It was a hard tackle and what happened was a dead leg. It caused a lot of pain in the area I was hit, but the pain has reduced now. At the moment, I am feeling very well – the first couple of days were the most painful. Of course, when you have to come out of such an important game like this one, and when you leave that early, it frustrates you, but thanks to God it was nothing major – just a strong tackle. It was nothing too serious and the main thing was we won the game and we left the match very pleased and happy because the result was very good for us. The main thing was for us to come home with the three points."
Nine more points will ensure, that no matter what Manchester United, Manchester City or Arsenal do, Liverpool will finish third and automatic Champions League qualification would be a wonderful consolation to fans who feel as though a realistic title tilt was thrown away by a failure to bolster the squad in January. The qualifying round of ten teams is no fun and many sides have come a cropper unexpectedly. With their fate back in their own hands, let's hope Coutinho and chums continue to grind out the wins that would turn this campaign into a real success.