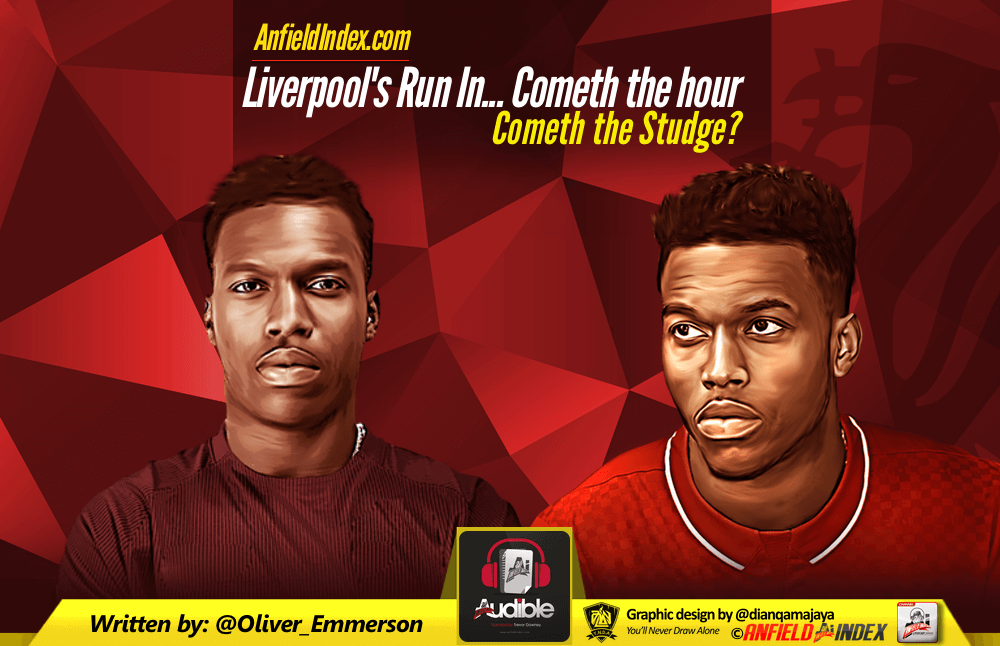 Liverpool's run in: Cometh the hour, cometh the Studge?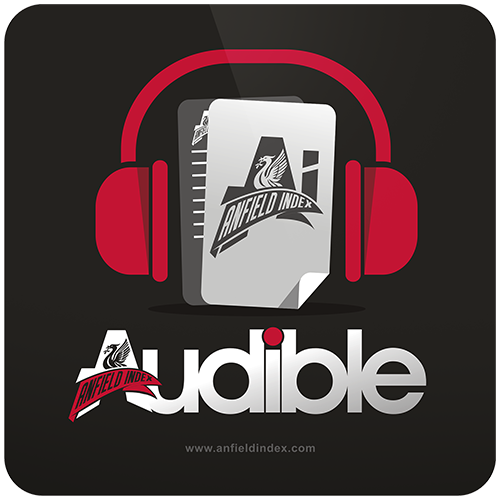 Listen to this article via @AIAudible !
Hello, hello. Here we go. It's getting closer.
Southampton at home, West Ham away, Middlesbrough at home.
"Six points will do us," says Fred. "Nah, we need seven" offers Barry. "Don't be so pessimistic, four points and Champions League football is as good as ours" predicts Bob.

Maybe all Liverpool need is Daniel Sturridge, in order to go above and beyond those totals.
To say that Sturridge is a secret weapon is unfair. Everyone's aware of his qualities, to the extent where in a quiet season where he's struggled for form, minutes when fit and fitness in general, he's still managed eight goals (for club and country).
With Liverpool's fixtures to come against Southampton, West Ham and Middlesbrough, all have little to play for. Southampton and West Ham are lodged in mid-table, whilst 'Boro should be relegated by the final day.
With this in mind, and given Liverpool's weaknesses, it's going to be very easy for the players to mimic sitting on the sand by sitting in at the back, making it tricky and looking to counter when given the chance.
Given Sturridge seems to have lost a tiny bit of pace this season, it's only natural for Liverpool to use his skills on the ball, rather than running off it. His touch, guile and vision are greatly underrated qualities when compared to the striker's lethal finishing, and having Sturridge in the team not only adds a striker who knows where the goal is, but also how to set others up.
Where does he play though? Divock Origi hasn't been at his best recently but is certainly trying hard and providing a useful outlet as a fairly powerful striker at the top of the pitch, even if that sort of role isn't one that will shoot the Belgian to greatness.
Origi hasn't scored in his last four, so could do with sitting a game or two out. That's an even greater idea when you consider that Liverpool *haven't* actually been playing that well recently. Of the Reds' last five goals, I count three wonder-strikes, one from a set-piece and one scrappy one from a knockdown.
Whilst grinding out wins is all well and good, and given Liverpool's leaky defence it seems great, it's perhaps not sustainable and we certainly wouldn't want it to come crashing down right at the most important part of the season.
Plus, you can't say that a line-up of Can-Wijnaldum-Lallana-Firmino-Coutinho-Sturridge doesn't look a little sexier than what we've seen in recent weeks.
It must be said too that cometh the hour, usually cometh the Studge. It's easily forgotten the huge part he played in the run to the Europa League final last season, when the pressure was on.
Scoring a penalty against Manchester United at 0-0, he was dropped in favour of Origi against Dortmund but still showed a cool head to make an intelligent run and tee up Milner for *that* cross to Lovren, before scoring a decisive goal against Villarreal and then the beautiful strike against Sevilla that unfortunately led to nothing.
Should Sturridge come in and make the difference, something he's well capable of, he'd also be firmly putting himself in the shop window for a summer move.
Like it or not, the 27-year-old will likely be off in the summer. Talk of £40M bids earlier in the week was laughed off by even the most optimistic of Reds, but their tune may change if he comes in and scores some important goals to round off an injury ravaged – but ultimately very impressive – Liverpool career.
Cometh the hour, cometh the Studge. Just think about it, Jürgen?